//= Helpers\Templates::to_string($resource_meta['hero'], 'hero') ?>
Beware of Traveling While on Disability with Unum
In the past several months our office has been hired by two separate clients who had individual disability policies purchased privately through insurance agents; that had received benefits for an extended period of time; and that were denied by Unum, in part, on the basis that their ability to travel was indicative of the ability to work. The first client, a doctor had coverage with Paul Revere Life Insurance Company, and the other client, a Court Reporter had coverage through New York Life Insurance Company- both of which are administered by Unum.
The Ability to Travel Does Not Mean the Ability to Work
When purchasing a disability policy through an agent one of the most common riders selected is an "Own Occupation" rider in which "disability" is determined based on the inability to perform your actual job duties. More often than not this "own occupation" definition of disability is for the term of the policy. Both our clients had such language in their respective policies.
In the case of the doctor, he had been receiving disability benefits for nearly 15 years when Unum terminated his claim due in large part to online investigations conducted which indicated that he had traveled extensively while on claim and had written about it on a personal blog.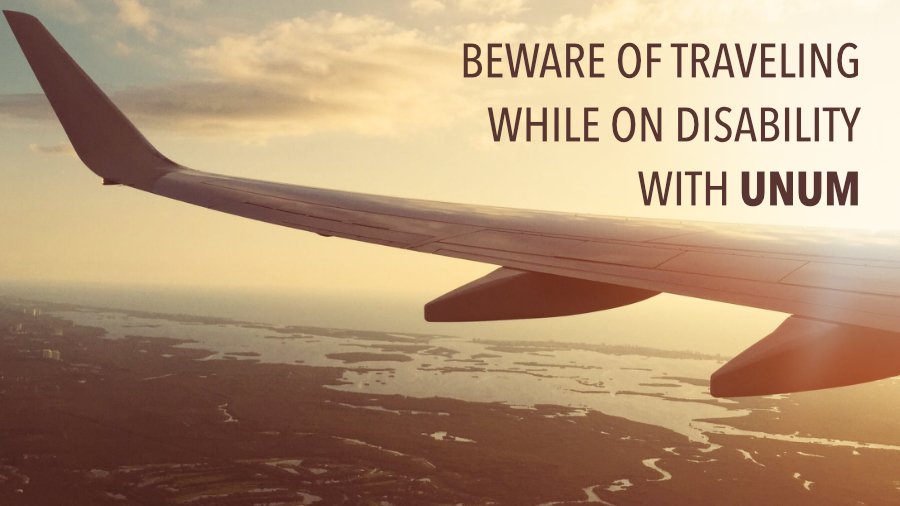 As Attorney Stephen Jessup would come to find out our client took extended trips with his spouse in order to have additional days to rest as he would inevitably experience a great deal of pain from any physical activity; that the travel was usually in business or first class so he would be able to lay down through the flight (a position he spends most of his day in regardless); and given his love of writing he embellished the trips to make the blog posts more appealing to readers and often recounted the stories of friends he vacationed with an passed off as his own. To that and he provided Attorney Jessup with documentation to verify everything. However, prior to terminating his claim Unum made no inquiry whatsoever regarding the travel, nor did they seek any additional clarification as to what the travel entailed. Without verification, the claims manager found the blog posts on the internet and saw it as a "smoking gun" justification to deny benefits.
Administrative Appeal Challenges the Definition of Total Disability
Attorney Stephen Jessup prepared and submitted an appeal with Unum on our client's behalf. Although an individual disability policy does not require an administrative appeal be filed it was agreed that given the horrible misrepresentations made by Unum in the denial letter it would be appropriate to clarify our client's travel and provide additional medical information in support of continued benefits prior to filing a lawsuit. It is our position that our client's travel does not have bearing on his ability to practice medicine or how Unum must review policy language to determine disability. The applicable portions of the definition of total disability contained in his policy read:
You are unable to perform each of the important duties of Your Occupation; and
You are not engaged in any other gainful occupation
There is nothing in that definition that defines disability to mean that one is disabled if they are unable to perform activities of daily living, or if you are unable to perform at the physical demand level your job requires as determined by the Department of Labor (ex: Sedentary, Light, Medium, Heavy, Very Heavy). Policies are written to mean that due to injury or sickness one is unable to perform one's occupational duties.
So how is that Unum will justify the argument that the ability to travel is indicative of the ability to practice medicine? It essentially comes down to is the appearance of impropriety. Unum is more concerned with how something appears rather than the reality of the situation.
This was also the case with the second client who worked as a Court Reporter. Her policy contained substantially similar language regarding "disability" in that she would be deemed disabled if she was unable to perform her pre-disability occupation. Similar to our doctor, she had been on claim receiving disability benefits for a period of time, and Unum's initial review of her continued eligibility was predicated on information that she had taken a once in a life time trip overseas. Unum argued in its denial letter that her ability to take an extended trip was indicative of physical ability to perform the "light" duty physical demands of her prior occupation.
In both cases Unum's reviewing doctors paid more credence to the "travel" than they did the actual medical records. No matter what information was provided Unum had blinders on and focused so heavily on the ability to travel as some great wrong that I believe they saw our clients more as frauds trying to "pull one" over on Unum.
Despite detailed clarification and strong additional evidence of disability, Unum denied the doctor's appeal and Attorney Jessup is pursuing legal remedies on his behalf. The appeal for our Court Reporter client is still pending, but given Unum's actions during the claims and appeal review of our doctor client it would not be unreasonable to expect Unum to continue with such behavior.
Beware.
In a world of social media and online postings insurance companies are now, more than ever, scouring the internet to obtain information about their insureds. The digital footprint you leave, no matter how seeming innocuous, can have lasting ramifications. Without a doubt disability policies do not define disability to mean you are unable to perform activities of daily living, but insurance companies will review your abilities to travel or perform normal activities as evidence that your symptoms may not truly be impacting your ability to work.
If you have concerns with your disability insurance carrier due to inquiries into travel, requests for interviews, or over video surveillance that may have been shown to you or sent to your doctors please contact our office to speak with Attorney Jessup or one of our other disability insurance attorneys to discuss your claim in detail.
Resources to Help You Win Disability Benefits
Disability Benefit Denial Options
Submit a Strong Unum Appeal Package
We work with you, your doctors, and other experts to submit a very strong Unum appeal.
Sue Unum
We have filed thousands of disability denial lawsuits in federal Courts nationwide against Unum.
Policy Holder Rating
Timely Payments
1.8out of 5
Handling Claim
2.1out of 5
Customer Service
2.1out of 5
Showing 8 of 58 Reviews
Answered Questions by Our Lawyers
Showing 8 of 87 Answered Questions
Showing 12 of 805 Videos
JB Hunt Truck Driver Wins Unum Long Term Disability Appeal
Unum Disability Denial Lawyer Tips (Disability Benefit Tip #45)
Louisiana State College Director Wins Unum LTD Appeal But Then D...
What is Unum Relying Upon to Deny Disability Benefits?
Unum Approves LTD Benefits for Pharmacist with Eye Disorder
Senior Project Manager with Cognitive Limitations Wins Unum Long...
Billing Manager With Back Disorder Wins Unum Long Term Disabilit...
Legal Secretary with Depression Wins Unum Short and Long Term Di...
Financial Advisor with Fibromyalgia & Depression Wins Unum Long ...
Paralegal with Back & Neck Disorder Wins Unum Disability Appeal
Can Unum Use their Own Hired Doctors to Deny Disability Insuranc...
How to Protect Your Unum Disability Benefits
Showing 8 of 329 Benefit Tips
Showing 8 of 359 Dell Disability Cases
Disability Lawsuit Stories
Showing 8 of 763 Lawsuit Stories
Reviews from Our Clients
Martin R., Florida
I have nothing but deep, sincere thanks for the way in which you have taken care and protected me and my LTD income since April 2014. I am forever grateful to you both and your staff. You took a frightened man who was being hoodwinked by the Hartford who was fearful of losing his income, to one who was confident. I had a Lion protecting me and indirectly my dear wife Deborah. I will always be humbled by how you all treated me with reverence and professionalism. Your company is the standard to what all others should emulate.
Darryl Hammond
Attorney Alex Palamara and paralegal Danielle are both consummate professionals. Since the inception of my experience with them both they were very attentive thru the entire process and settled my case in a timely fashion.
Why would you recommend Dell Disability Lawyers?
I would unequivocally recommend attorneys Dell Disability Lawyers.
What could we do to improve?
They don't need improvement.
Rhiannon H., Alaska
I have a rare genetic condition that my insurance company didn't want to acknowledge. Stephen and his aide Sonia worked tirelessly for over a year and successfully forced The Standard into covering my policy. They are both empathetic and effective, the best combination.
Janice C., Vermont
Dell Disability Lawyers is an excellent law firm for dealing with disability companies. I tried for 18 months to get disability for a medical condition. I found Dell Disability Lawyers and spoke with Mr. Jay Symonds about my case. He was very understanding and explained how he could help me in a simple and easy to understand manner. Within 6 months of him taking on my case he was able to resolve the case to my satisfaction.
I could concentrate on my health instead of worrying about money to pay my bills. Mr. Symonds staff were all very kind and helpful. I never had a problem with contacting them for help and they were quick to respond to issues. I would highly recommend Mr. Symonds and his firm to anyone who needs assistance with disability claims with insurance companies.
Roycelyn G., Kentucky
After exhausting all efforts to find a local disability law firm to assist me with submitting claims for LTD non-ERISA and ERISA disability insurance policies, I resorted to a Google search for disability law firms. I decided to contact Dell Disability Lawyers after reading their clients reviews and watching videos on their website. Within 24 hours of contacting Dell Disability Lawyers, I received I call back and an appointment was made with Steven J. Dell, who after hearing my story decided to personally work with me.
He told me that he would put 100% effort to get me on claim. Mr. Dell and his assistant, Merlin Bryan were always available via phone or email to answer any questions that I had regarding my application for long term disability. He was meticulous in guiding me through the process leaving no stone unturned. My claims were approved on the initial application! I know that it was due to the diligence of my attorney, Steven J. Dell. Without Mr. Dell, my application for long term disability would have been rejected. I am very grateful to have had the representation of attorney, Steven J. Dell. 
Why would you recommend Dell Disability Lawyers?
Experts in non-ERISA and ERISA disability law. Dell & Schaefer Law Firm have a well-deserved reputation of taking on big disability insurance companies and winning for their clients. If you find yourself in need of a disability attorney, I highly recommend this firm. You will not be disappointed!
What could we do to improve?
Not a thing. I am a satisfied client.
Robert Z., Idaho
Awesome, super quick email response to my initial request, followed up by a phone call from the attorney to discuss details of my claim, all in the same day, and all free of charge.
Why would you recommend Dell Disability Lawyers?
Very responsive and super helpful, in addition I am very impressed at the level of service I received free of charge with no pitch to retain them.
What could we do to improve?
Nothing, perfect service.
David T., Florida
Appreciated the straight forward and direct answers to my questions. All paperwork and communication was handled in a timely manner.
Why would you recommend Dell Disability Lawyers?
Level of professionalism, excellent communication and world class client service.
What could we do to improve?
Nothing, very smooth process from A to Z !
James
This firm does exceptional work. I worked with them for my application for long term disability. My claim was approved on the initial application with one of the most notoriously difficult insurance carriers in the business. I'm 100% sure that this was due to my attorney Steven Dell. He was meticulous in shepparding me through the process making sure everything was done with precision and done correctly.
My anxiety thought this process was through the roof and Mr. Dell was always there to reassure me and peal me of the ceiling if needed. Mr. Dell and his assistant Merlin were always diligent and immediately responsive when I needed reassurance, help or something needed to be done. If you have a disability claim hire Mr. Dell and this firm. It will be the best money you ever spend.
Michael D., West Virginia
Efficient, energetic, experienced, and prompt. Quickly and cleanly dealt with. Each call was on time, outcomes reviewed, and confirmed. Highly professional and polite. I strongly recommend his services!
Why would you recommend Dell Disability Lawyers?
A professional dealing with professionals. Every time I thought … "I wonder what our status is?" I received an update, he provided great communication with awesome engagement.
What could we do to improve?
Advertise more so more people knew about your firm.