//= Helpers\Templates::to_string($origin_page_meta['hero'], 'hero') ?>
Disability Insurance Tips for Financial Advisors and Planners
If you work as a financial advisor and are struggling with an illness, injury, or other disabling condition that is affecting your ability to continue working, you may want to know if you qualify for long term disability insurance benefits. In many cases, the answer is yes – and because long term disability insurance policies have some strict time limits when it comes to claiming benefits, time is often of the essence.
In this article:
We provide some tips and strategies that can benefit financial advisors and financial planners who are considering whether to seek long term disability benefits. Should you have any questions or would like a free review of your long term disability claim, please contact us for an immediate free phone consultation with one of our disability insurance lawyers.
Disability carriers often ignore the cognitive demands and duties required to be a financial advisor.
Through our experience of helping hundreds of financial advisors nationwide, we understand the way in which all of the disability insurance companies will evaluate the duties of a financial advisor. Long term disability insurance carriers tend to minimize the duties of the job, placing special focus on the physical demands a financial advisor endures. Most disability companies ignore the tremendous cognitive demands required to be a financial advisor. Job duties such as multi-tasking, attending meetings, researching, earning's calls, employer meetings, staffing responsibilities, and always being on-call for demanding clients make the job of financial advisor extremely demanding.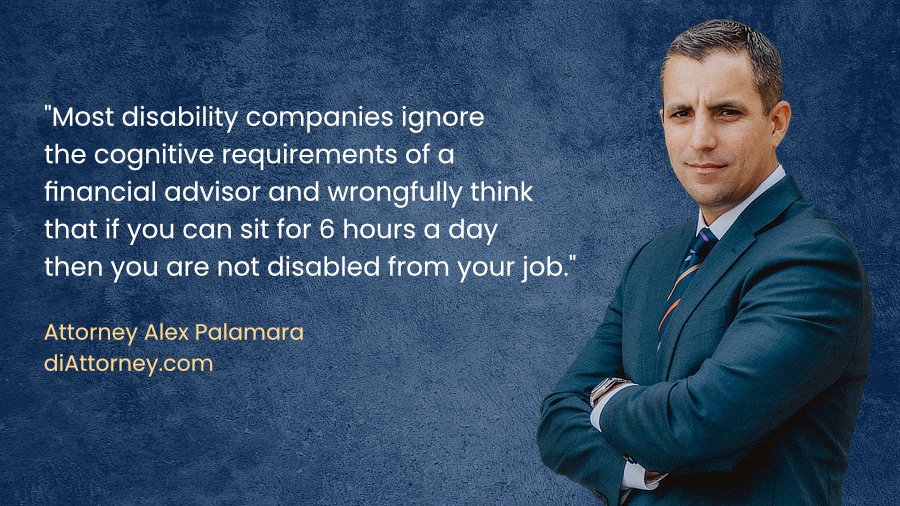 Because the job tends to be on the sedentary side, the focus on physical capabilities ignores the significant cognitive demands imposed on a financial advisor. Someone who is distracted by chronic pain or the side effects of certain medication won't be able to maintain the focus and concentration necessary to advise clients on their finances, taxes, or investments. The ability to sit in a chair for 6 out of 8 hours a day should not be the standard as to whether a financial advisor can perform the duties of their job.
The definition of "disability" will vary from one disability company to another.
Not only does every disability insurance carrier have a slightly different definition of "disability," but even within the same carrier, group and individual long term disability policies can be very different. Group disability policies are governed by the federal Employee Retirement Income Security Act (ERISA). Most of these policies will classify a claimant as disabled if they're unable to perform their "own occupation" – or the position they enjoyed before their disability. After about two years of benefits, the definition of disability switches to "any occupation," allowing benefits to continue only if the claimant is unable to perform any occupation. This stricter standard can lead to more denials.
Individual long term disability policies, on the other hand, generally have a more expansive definition of disability that allows more claimants to qualify for benefits. Unfortunately, even these policies tend to shift the definition of disability over time, requiring the financial advisor to keep their medical records up to date to be prepared for this shift. Most financial advisers have individual disability insurance policies and these policies usually have an "own occupation" definition of disability.
Diagnosis does not equal disability and you need to have strong documentation to win benefits.
Being diagnosed with a serious or chronic medical condition isn't the end of the story when it comes to qualifying for long term disability benefits. In addition to providing medical evidence supporting the disability, the claimant also will need to show how this disability affects their ability to work as a financial advisor. Some chronic conditions like multiple sclerosis may not initially impact a claimant's ability to do their job, but can progress over time and impact the claimant's ability to concentrate, comprehend, or perform even the limited physical functions of the position.
Proper medical record documentation is very important for claim approval.
Many financial advisors who seek disability benefits are dealing with "hidden" disabilities that aren't apparent to the naked eye. These conditions, ranging from chronic pain to autoimmune disorders, can be tough to document in a way that will capture the insurance carrier's attention. As a result, financial advisors must have sufficient medical documentation to support their claim for benefits. In some cases, this may require extra testing, including cognitive testing, that can better demonstrate the impact the disability is having on your physical and mental performance.
We've helped hundreds of financial advisors and financial planners recover the disability benefits they're entitled to, and we can help you too. Get in touch with one of our attorneys today so that we can discuss your long term disability claim.
Resources to Help You Win Disability Benefits
Disability Benefit Denial Options
Submit a Strong Appeal Package
We work with you, your doctors, and other experts to submit a very strong appeal.
Sue Your Disability Insurance Company
We have filed thousands of disability denial lawsuits in federal Courts nationwide.
Disability Company Reviews
Answered Questions by Our Lawyers
Showing 1 of 1 Answered Questions
A:
If you have physical disabilities that prevent you from working then you have options to get around the mental...
Read More >
Showing 12 of 834 Videos
Prudential Denies LTD Benefits to JP Morgan Financial Advisor Wi...
Financial Advisor with Fibromyalgia & Depression Wins Unum Long ...
Disability Insurance Tips for Financial Advisers and Planners
Lawyer Wins 24 Month Mental Nervous Prudential Disability Denial
Florida Disability Insurance Denial Lawyers Discuss Florida Disa...
KPMG Tax Consultant Wins Prudential Disability Appeal
How Our Disability Lawyers Get Long Term Disability Benefits App...
California Disability Insurance Denial Lawyers Discuss CA Disabi...
Don't Apply For Disability Benefits Without a Lawyer
Corporate Attorney with Long COVID & Cognitive Limitations Wins ...
Is it Easy To Get Disability Benefits Paid?
Insurance Companies Don't Want You to Have a Long Term Disabilit...
Showing 8 of 329 Benefit Tips
Showing 8 of 363 Dell Disability Cases
Disability Lawsuit Stories
Showing 8 of 763 Lawsuit Stories
Reviews from Our Clients
Vain V.
Very satisfied with the work of this team. Took well care of my case and took all the necessary time to be responsive and attentive when I had questions. Guided me through recovery and returning to normalcy. All thanks to Jason & Tabitha, thank you!
I.P.
I'm extremely satisfied with the experience I have had with this firm from day one. The lawyer who has handled my case, Alex, is very efficient and attentive to all my questions and concerns. They are always aware of how my case has gone and they care about my health. I feel optimistic with them because they are very attentive during the process of my claim. I would not hesitate to recommend families and friends if in any situation they need their services. Kathleen as well has been very well and assisted me with this case. I highly appreciate everything they have done for me.
Steven P.
It's unfortunate when disability insurance companies come after older disabled policyholders just to help their bottom line. It can be a living nightmare the damage they can do to a family. Dell Disability Lawyers are polite, understanding and knowledgeable. They call you back and answer any question you have no matter how unimportant it can be. The amount of stress they took off of myself and family was incalculable. I recommend them highly to take care of any disability case whether it be filing for benefits or reversing a claim decision. They are outstanding.
Michael A.
I could not have been happier or more appreciative of the hard work they performed on my behalf. I was well briefed on my case and it was closed in a timely manner with a financially successful resolution.
Tonya D.
Mr. Symonds and Sonia as well as everyone else we have worked with throughout this process have been very helpful, professional and caring to our situation. We are very thankful to have this great team on our side.
Mommy M.
Without them my LTD company was dropping my plan with me still suffering from my accident, even with doctor's statements I'm still disabled. The LTD company didn't want to advance my policy to the next stage of years of pay. Dell Disability Lawyers saved my policy, and helped to enforce the LTD company's own policy (for its policy holder, me) that I would be covered still under the LTD policy I had paid for at my previous job, when my accident occurred. These lawyers know what they are doing and can help you too. LTD companies will try to drop you when you still need coverage just because they don't want to pay on your policy anymore. Don't let them break contract with ya because they are trying to get out of it. Hit em with legal action to ensure the continuation of your policy you paid for. Dell Disability worked very well for me and continue to do so.
Dawn D.
I was denied long term disability benefits from The Hartford after being on it for years. I found Dell Disability Lawyers after doing research online. In a matter of days they responded and explained to me everything that would be done. Dell Disability Lawyers were able to settle my suit against The Hartford very quickly and responded to me quickly. I would definitely recommend this team of lawyers for anyone that is fighting for their disability insurance.
Jimmy H.
I have had nothing but a great experience with Dell Disability Law Firm. Mr. Alex Palamara and his team went above and beyond my expectations. They will respond to emails and phone calls in a timely manner. Thank you once again for taking my case.
Michelle P.
This law firm is the best so far. MetLife denied me two times, they appealed two times for me and they won of course. So if you are on disability and want a chance at winning your case use this firm Dell disability lawyers, kind courteous understanding and they get the job done. You won't be disappointed.