//= Helpers\Templates::to_string($origin_page_meta['hero'], 'hero') ?>
Cardiologist Disability Insurance Claim Challenges & Tips
If you are a cardiologist seeking long term disability insurance benefits, there are several important factors that you must consider in order to obtain claim approval. Cardiologists and cardiac surgeons have different duties in their occupation, and it's important to handle your long-term disability insurance claim knowing all the potential pitfalls and issues. Our disability insurance attorneys have helped cardiologists nationwide to collect long term disability benefits and we welcome the opportunity to discuss your long term disability claim.
In this article:
Attorneys Stephen Jessup and Gregory Dell share some helpful tips and advice on how to best navigate these claims as a cardiologist, regardless what stage of the claim you are in.
What Is the Definition of Disability for Cardiologists?
The definition of disability varies in all disability policies, and as a cardiologist it is very important that you understand the language in your disability policy(s). Employer provided versus private individual disability policies usually have different definitions of disability. Every cardiologist does not perform the same duties nor do they practice in the same manner. This is important because it is the occupational duties that the disability insurance company is going to look at to determine what you are disabled from performing. It's vital to prove how your condition prevents you from doing the material and substantial duties of your job, and how you performed your duties before you became disabled. The insurance company is going to require your CPT code production reports and review your billing history to see what you were doing before your date of disability. In some instances they will want your patient schedule and also want to speak with co-workers or hospital administrators. We always try to prevent them from speaking to anyone without your permission.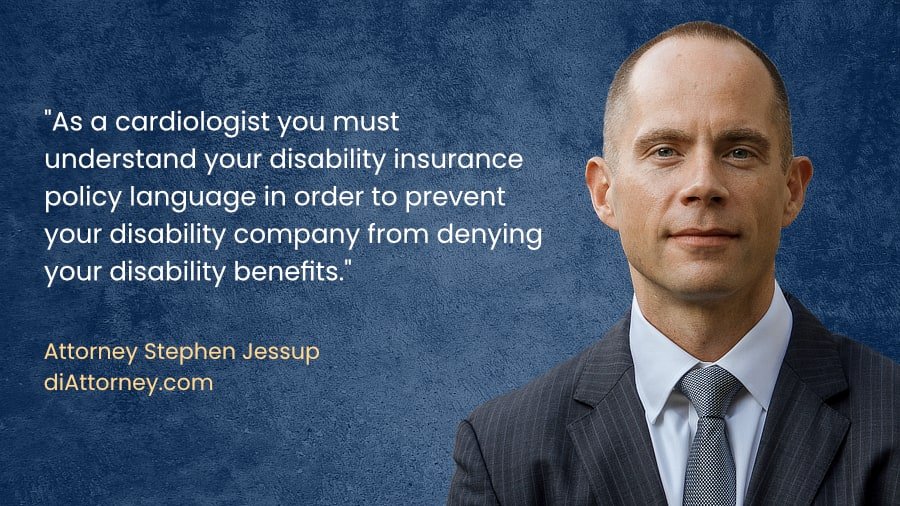 Some cardiologists only do office visits and any procedures are referred out. There are interventional cardiologists where in a group setting, one of the other doctors gives them all the surgeries and they only do the surgical side. And then, there are cardiologists that do a combination of it all. So there is a lot more diversity than an insurance company would even consider depending on who you work for: for yourself, in groups, or perhaps a hospital system.
The National Economy Definition of Disability is Not Good For Claimants
Sometimes, disability companies will rely on a national economy definition of cardiologist as the standard of what exactly a cardiologist does, but realistically, there's no such thing until you really get into the nitty gritty of what the billing codes are. A national economy definition is usually a generic definition of your occupation, but with regards to cardiologist it could be as simple as any job requiring a medical degree. A national economy definition is commonly only found in employer provided disability policies. Most cardiologists have disability policies that they purchased on their own.
A typical definition of disability in most disability policies (at least during the first two years) is, "unable to perform the substantial material duties of your occupation". The challenge in determining substantial and material duties lies in situations where the cardiologists who do interventional cardiology as well as office practice cardiology get to a point where, for example, they cannot do the interventional cardiology procedures anymore, but they think perhaps they could continue in office practice. This gets evaluated by the disability insurance company, and there is also a timing element to that.
We had a case of an interventional cardiologist who only did the procedures while the other doctors did the exams; he left that practice and was on his own for five or six years doing some procedures and clinical exams. When he filed his claim before hiring an attorney, he presented it as an interventional cardiologist, but the evaluation of the CPT codes showed that for years, most of his time and money was made in regular cardiological exams procedures, not surgeries. He attempted to argue that he was totally disabled because he was an interventional cardiologist, and not just an office based cardiologist. However, the position of the insurance company was that he was only partially disabled, as he was still performing the material duties of the job, and they determined those material duties based on the billing.
You must be aware that your disability insurance company is going to really take a hawkeye approach at looking at your billing, billing history, and investigating how much of your time and money is tied into doing surgery procedures or office visits. It can become very complex, and how you set up your claim when you finally submit the application can really determine if you're going to be able to maximize the actual value of your policy. It's important to have a plan before you file your disability benefit claim.
A Disability Insurance Companies Interpretation of Your Duties is Often Arbitrary
A lot of the claim denials that we have handled for cardiologists have recently been structured around disability insurance companies not fully understanding the duties of the occupation. It happens a lot with cardiologists who perform interventional cardiology or surgery, because insurance companies tend to forget the fact that these doctors do surgical procedures and only look at the general definition of cardiology.
And the person who really suffers is the interventional cardiologist or the cardiac surgeon. Often, those particular types of cardiologists are disabled because they can't go into the operating room anymore. However, the disability carrier makes the argument to say, "well, you could be a cardiologist and just do patient evaluations and diagnostics, and you don't have to be in the OR. We don't disagree that you can't do the surgeries, but under this policy of national economy definition of cardiology, we think you could still be a cardiologist". This is especially frequent in employer-provided policies where the insurance companies really try to diminish it. They'll say, "if you're a doctor, it's anything within the scope of your license". Obviously, it's not: as a cardiologist, you are specialized; you can't expect a cardiologist to all of the sudden practice internal medicine. There are specialties for a reason.
In addition, when you're looking in the medical profession itself, too, there is always this underlying theme and idea of patient safety. Especially with cardiac surgeons and interventional cardiologists, people's lives are in the doctor's hands while he or she is working. If a cardiologist has a bad day at work, someone can die, so there is this overriding theme of patient safety, and it's important to not only look at how your disability is impacting your well-being and how you can do your job, but how could this impact your patients as well.
What Is the Difference Between Employer-Provided and Individual Disability Policies?
It's extremely important to know the different insurance carriers and the different types of policies you are going to face. Every insurance company has its own method of operation in the way they will handle things, so it does take a level of care and planning, especially under the employer-provided policies.
Generally speaking, employer-provided policies are not as good as a private disability policy due to the terms and conditions of the disability policy. We have represented a lot of cardiologists that have both their own private policies as well as policies they got through their employers. In most employer provided policies it is rare to find a true own occupation definition of disability and most of these group policies do not allow you to collect your full disability benefits while working in a different job. With a private disability policy you can usually be disabled from cardiology, work in another occupation, and collect your full disability benefits. Both types of disability policies are highly scrutinized by the disability company so you must do everything you can to be prepared.
One of the best things that we always recommend is to educate yourself about how your disability insurance company will evaluate your long term disability claim. You can search our website and learn tons of information about your disability insurance company and the process of obtaining long term disability benefits. Through our experience of having represented hundreds of cardiologists and thousands of doctors, we have, in essence, seen everything.
We encourage you to give us a call and we will provide you with an initial free review of your policy or your denial letter if you've been denied. We represent claimants nationwide and have hundreds of references available for you. We will let you know right away whether or not we think we can assist you.
Resources to Help You Win Disability Benefits
Disability Benefit Denial Options
Submit a Strong Appeal Package
We work with you, your doctors, and other experts to submit a very strong appeal.
Sue Your Disability Insurance Company
We have filed thousands of disability denial lawsuits in federal Courts nationwide.
Disability Company Reviews
Answered Questions by Our Lawyers
Showing 1 of 1 Answered Questions
A:
Ryan, they are both good companies, but they both offer very different definitions of disability. Northwestern...
Read More >
Showing 12 of 834 Videos
Cardiologist Disability Insurance Claim Challenges & Tips
Lawyer Wins 24 Month Mental Nervous Prudential Disability Denial
Florida Disability Insurance Denial Lawyers Discuss Florida Disa...
KPMG Tax Consultant Wins Prudential Disability Appeal
How Our Disability Lawyers Get Long Term Disability Benefits App...
California Disability Insurance Denial Lawyers Discuss CA Disabi...
Don't Apply For Disability Benefits Without a Lawyer
Corporate Attorney with Long COVID & Cognitive Limitations Wins ...
Is it Easy To Get Disability Benefits Paid?
Insurance Companies Don't Want You to Have a Long Term Disabilit...
Don't Fear Video Surveillance in Disability Insurance Benefit ...
Building Engineer Wins Lincoln Financial Disability Appeal
Showing 8 of 329 Benefit Tips
Showing 8 of 363 Dell Disability Cases
Disability Lawsuit Stories
Showing 8 of 763 Lawsuit Stories
Reviews from Our Clients
Vain V.
Very satisfied with the work of this team. Took well care of my case and took all the necessary time to be responsive and attentive when I had questions. Guided me through recovery and returning to normalcy. All thanks to Jason & Tabitha, thank you!
I.P.
I'm extremely satisfied with the experience I have had with this firm from day one. The lawyer who has handled my case, Alex, is very efficient and attentive to all my questions and concerns. They are always aware of how my case has gone and they care about my health. I feel optimistic with them because they are very attentive during the process of my claim. I would not hesitate to recommend families and friends if in any situation they need their services. Kathleen as well has been very well and assisted me with this case. I highly appreciate everything they have done for me.
Steven P.
It's unfortunate when disability insurance companies come after older disabled policyholders just to help their bottom line. It can be a living nightmare the damage they can do to a family. Dell Disability Lawyers are polite, understanding and knowledgeable. They call you back and answer any question you have no matter how unimportant it can be. The amount of stress they took off of myself and family was incalculable. I recommend them highly to take care of any disability case whether it be filing for benefits or reversing a claim decision. They are outstanding.
Michael A.
I could not have been happier or more appreciative of the hard work they performed on my behalf. I was well briefed on my case and it was closed in a timely manner with a financially successful resolution.
Tonya D.
Mr. Symonds and Sonia as well as everyone else we have worked with throughout this process have been very helpful, professional and caring to our situation. We are very thankful to have this great team on our side.
Mommy M.
Without them my LTD company was dropping my plan with me still suffering from my accident, even with doctor's statements I'm still disabled. The LTD company didn't want to advance my policy to the next stage of years of pay. Dell Disability Lawyers saved my policy, and helped to enforce the LTD company's own policy (for its policy holder, me) that I would be covered still under the LTD policy I had paid for at my previous job, when my accident occurred. These lawyers know what they are doing and can help you too. LTD companies will try to drop you when you still need coverage just because they don't want to pay on your policy anymore. Don't let them break contract with ya because they are trying to get out of it. Hit em with legal action to ensure the continuation of your policy you paid for. Dell Disability worked very well for me and continue to do so.
Dawn D.
I was denied long term disability benefits from The Hartford after being on it for years. I found Dell Disability Lawyers after doing research online. In a matter of days they responded and explained to me everything that would be done. Dell Disability Lawyers were able to settle my suit against The Hartford very quickly and responded to me quickly. I would definitely recommend this team of lawyers for anyone that is fighting for their disability insurance.
Jimmy H.
I have had nothing but a great experience with Dell Disability Law Firm. Mr. Alex Palamara and his team went above and beyond my expectations. They will respond to emails and phone calls in a timely manner. Thank you once again for taking my case.
Michelle P.
This law firm is the best so far. MetLife denied me two times, they appealed two times for me and they won of course. So if you are on disability and want a chance at winning your case use this firm Dell disability lawyers, kind courteous understanding and they get the job done. You won't be disappointed.