//= Helpers\Templates::to_string($origin_page_meta['hero'], 'hero') ?>
Airline Pilots Disability Benefit Claim Tips to Avoid Denial
Airline pilots are in a unique position when it comes to long-term disability claims. Because of their very specific line of work, airline pilots may sometimes face additional challenges when trying to get claims approved, and in this video disability insurance attorneys Rachel Alters and Gregory Dell share some tips and advice on how to best handle your long term disability claim to get approved.
Our disability insurance lawyers have handled hundreds of claims for pilots, and we'll discuss some of the potential pitfalls and things to keep in mind when seeking disability as a pilot. We encourage you to contact us for an immediate free phone consultation to discuss your disability benefit claim.
In this article:
What Is the Definition of Disability for Most of the Insurance Policies That Are Sold to Pilots?
The definition of disability varies in every disability policy, yet in most of the policies you must prove whether you can perform the substantial material duties of your occupation. If you have a group/employer provided policy, your definition of disability may be how your occupation is defined in the national economy. And if it's a private policy, it's going to be your own-occupation as defined by how you actually did your job prior to disability.
Usually with pilots, most disability policies define it as unable to perform substantial material duties of your occupation. However, it may not be the same definition for the duration of the policy. Some policies only have the "own occupation" definition of disability for 24 months, then it switches to "any gainful occupation" for which you have experience, education, and training.
Often, you see a lot of claim denials at the change of definition from own to any occupation. This is because, in the eyes of the insurance company, they assume that since pilots are highly educated, they can do some other type of work based on their previous training and education.
What is an Objective Proof of Evidence Standard in a Disability Policy?
If you are an airline pilot, often, a lot of insurance policies have what's called an objective proof of evidence standard.
If they have that standard, it means they require proof of what is the cause of your disability. For example, if you have a back issue – perhaps a herniated disk – and you cannot sit for long periods of time and therefore, unable to fly, because flying requires sitting for extended periods of time, you may need to provide evidence such as an MRI or a CT scan that shows you have a herniated disk, or a bulging disk, or whatever it is that is impairing your ability to work.
In addition, it means that your doctor needs to be documenting everything and putting objective proof into their records. The pilot's subjective complaints of pain are not enough; there has to be proof in the medical records, including testing like MRIs and CT, as well as the doctor's notes and more proof of the actual disability. It's extremely difficult to get approved if you do not have a well and clearly documented medical history.
Another thing that is unique to pilots is the FAA medical clearance. If the FAA-authorized doctor does not clear you, usually, that's going to be very strong evidence that you're not able to fly. However, sometimes, a pilot may pass the FAA physicals, but they feel they are not able to fly and their own doctors recommend that they don't fly. In a case like this, the claimant needs to work with the doctors and get them to put the reasons why they believe that the pilot is unable to fly into writing.
Obviously, if the pilot is a danger to the passengers and if he or she is not able to be 100% while up in the air, it's a very precarious situation. You don't want a pilot who is on pain medicine and who is potentially not lucid from the meds that they're taking. Equally, if the pilot is not taking pain medicine and is in severe pain, they may not be able to focus clearly, especially when there is a complication in the air that could be a life and death situation.
This is why it's essential to work with physicians and potentially get more testing, get some sort of an independent medical evaluation or, alternatively, an expert who will confirm that the pilot cannot do certain things or cannot sit for extended periods of time and who will recommend that even if the pilot has passed the FAA, it's their medical opinion that the pilot is not capable of handling the material duties of their job.
What If You Continue to Fly With a Chronic Condition, Then File for Disability?
A lot of pilots who file claims have chronic medical conditions such as chronic back or neck pain, chronic fatigue, or shoulder pain, or there is a variety of orthopedic conditions or autoimmune disorders that may have been bothering them. However, often, they continue to fly with these conditions without any reduction in their flight schedule. Because of this, the disability carrier may think: if this pilot has been unwell for a year but did not cut back on their schedule at all, how come they are now unable to continue to work?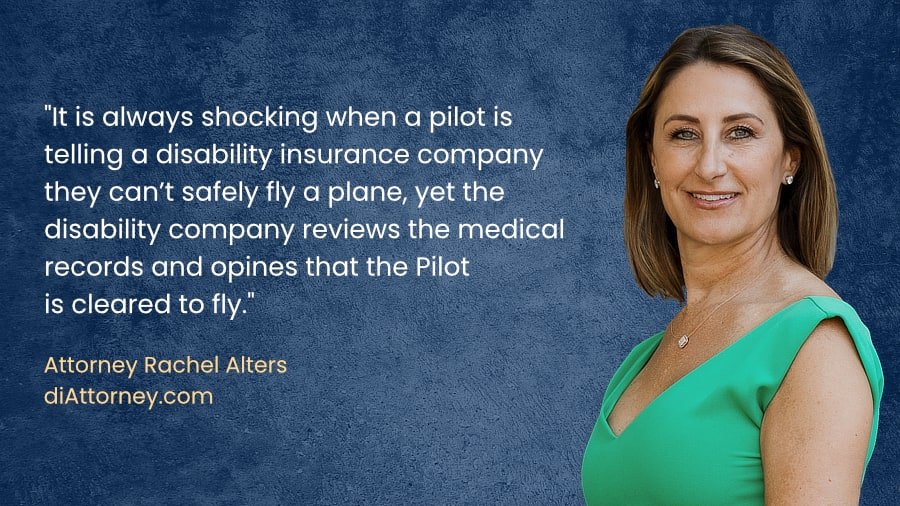 Unfortunately, your perseverance and determination to try and work as hard as you can through the pain often will hurt you with the insurance carriers. Because when they see that you have been working despite your condition, they say, well, this person has been capable of flying for the last year and he or she hasn't cut their hours down, so what's changed? The condition seems to be the same as it was about a year ago, so why are they filing for disability now?
Often, what changes is that the person can no longer handle the pain – their pain threshold is decreasing. They have been pushing themselves so much, and at this point, they can't do it anymore.
If that is your case, see if you can decrease your hours and discuss with your physician to document the flight hours that they recommend you should be flying. In most cases it is either all or none for pilots. Make sure that the doctor is saying that the condition has progressed and the pain has gotten worse, because if you are unable to show those things, it is easy for the insurance carrier to deny.
However, as a pilot, you typically do not have the luxury to simply cut back on the hours. Pilots usually do an overnight of one or two nights when they go, and they can't just say, "I'm going to work two or three hours a day and then I'd like to go home". This is a very difficult proposition if the doctor recommends you to cut back your hours, but you can't really cut back on a shift. Also pilots are don't have fixed flight schedules and often don't know when or if they will be called to fly.
Perhaps you could fly once a week instead of two or three times a week and see how you do on one shift. Usually, however, pilots are required to be in the cockpit for eight hours a day as well as traveling and carrying their bags back and forth to the hotel and in and out of the airplane. Because of this, a cutback of one day a week (which their airline may not even accommodate) usually doesn't help a pilot in their specific situation.
Another struggle for many pilots is that the retirement programs and the pensions deal with years of service; the longer you're there, the greater your pension is going to be, so a lot of pilots try to hang on, because the more years they go, the greater they're going to get in their pension.
If You Can't Fly, Can You Do Other Types of Work and Keep the Disability Benefits?
Often, if someone has a true own-occupation definition of disability and they can't fly planes anymore, a good solution is exploring the option to engage in any other type of work.
If the insurance policy does have a true own-occupation definition of disability, then it translates to whether you can do the material substantial duties of your own-occupation. If you could do other things, like becoming an instructor or teach or do other things that do not involve actual flying, there are many policies that will pay you for that disability while you're working. So that is definitely an option, but it depends on the policy, of course. The issue at that point is going to be whether or not you're going to get a set-off for the additional income that you're going to earn.
The biggest struggle is going to come if you have a change of definition from your own occupation to any gainful occupation after 24 months of receiving disability benefits. After those initial 24 months of payments it is a very common point to see disability benefits denied.
To get more helpful tips and advice and stay informed, we suggest you take a look at our website and look up your disability insurance company specifically. You'll learn a lot of information there: we have lots of videos, articles, and helpful advice about your disability company and how they handle your particular claim at all different stages.
You can always call Rachel or contact any of our disability lawyers nationwide for a free initial phone consultation. Thank you for considering our law firm!
Resources to Help You Win Disability Benefits
Disability Benefit Denial Options
Submit a Strong Appeal Package
We work with you, your doctors, and other experts to submit a very strong appeal.
Sue Your Disability Insurance Company
We have filed thousands of disability denial lawsuits in federal Courts nationwide.
Disability Company Reviews
Answered Questions by Our Lawyers
Showing 12 of 834 Videos
Airline Pilots Disability Benefit Claim Tips to Avoid Denial
Lawyer Wins 24 Month Mental Nervous Prudential Disability Denial
Florida Disability Insurance Denial Lawyers Discuss Florida Disa...
KPMG Tax Consultant Wins Prudential Disability Appeal
How Our Disability Lawyers Get Long Term Disability Benefits App...
California Disability Insurance Denial Lawyers Discuss CA Disabi...
Don't Apply For Disability Benefits Without a Lawyer
Corporate Attorney with Long COVID & Cognitive Limitations Wins ...
Is it Easy To Get Disability Benefits Paid?
Insurance Companies Don't Want You to Have a Long Term Disabilit...
Don't Fear Video Surveillance in Disability Insurance Benefit ...
Building Engineer Wins Lincoln Financial Disability Appeal
Showing 8 of 329 Benefit Tips
Showing 8 of 363 Dell Disability Cases
Disability Lawsuit Stories
Showing 8 of 763 Lawsuit Stories
Reviews from Our Clients
Vain V.
Very satisfied with the work of this team. Took well care of my case and took all the necessary time to be responsive and attentive when I had questions. Guided me through recovery and returning to normalcy. All thanks to Jason & Tabitha, thank you!
I.P.
I'm extremely satisfied with the experience I have had with this firm from day one. The lawyer who has handled my case, Alex, is very efficient and attentive to all my questions and concerns. They are always aware of how my case has gone and they care about my health. I feel optimistic with them because they are very attentive during the process of my claim. I would not hesitate to recommend families and friends if in any situation they need their services. Kathleen as well has been very well and assisted me with this case. I highly appreciate everything they have done for me.
Steven P.
It's unfortunate when disability insurance companies come after older disabled policyholders just to help their bottom line. It can be a living nightmare the damage they can do to a family. Dell Disability Lawyers are polite, understanding and knowledgeable. They call you back and answer any question you have no matter how unimportant it can be. The amount of stress they took off of myself and family was incalculable. I recommend them highly to take care of any disability case whether it be filing for benefits or reversing a claim decision. They are outstanding.
Michael A.
I could not have been happier or more appreciative of the hard work they performed on my behalf. I was well briefed on my case and it was closed in a timely manner with a financially successful resolution.
Tonya D.
Mr. Symonds and Sonia as well as everyone else we have worked with throughout this process have been very helpful, professional and caring to our situation. We are very thankful to have this great team on our side.
Mommy M.
Without them my LTD company was dropping my plan with me still suffering from my accident, even with doctor's statements I'm still disabled. The LTD company didn't want to advance my policy to the next stage of years of pay. Dell Disability Lawyers saved my policy, and helped to enforce the LTD company's own policy (for its policy holder, me) that I would be covered still under the LTD policy I had paid for at my previous job, when my accident occurred. These lawyers know what they are doing and can help you too. LTD companies will try to drop you when you still need coverage just because they don't want to pay on your policy anymore. Don't let them break contract with ya because they are trying to get out of it. Hit em with legal action to ensure the continuation of your policy you paid for. Dell Disability worked very well for me and continue to do so.
Dawn D.
I was denied long term disability benefits from The Hartford after being on it for years. I found Dell Disability Lawyers after doing research online. In a matter of days they responded and explained to me everything that would be done. Dell Disability Lawyers were able to settle my suit against The Hartford very quickly and responded to me quickly. I would definitely recommend this team of lawyers for anyone that is fighting for their disability insurance.
Jimmy H.
I have had nothing but a great experience with Dell Disability Law Firm. Mr. Alex Palamara and his team went above and beyond my expectations. They will respond to emails and phone calls in a timely manner. Thank you once again for taking my case.
Michelle P.
This law firm is the best so far. MetLife denied me two times, they appealed two times for me and they won of course. So if you are on disability and want a chance at winning your case use this firm Dell disability lawyers, kind courteous understanding and they get the job done. You won't be disappointed.