//= Helpers\Templates::to_string($origin_page_meta['hero'], 'hero') ?>
A Guide For Doctors Seeking Total or Residual Disability Benefits
As a doctor filing a long term disability insurance claim, your disability policy usually provides you with two definitions of disability: residual and total disability. The challenge is figuring out which definition gives you the best chance of collecting disability insurance benefits. Our disability insurance lawyers have helped thousands of doctors to evaluate their disability policies and implement a strategy that maximizes their long term disability benefits.
There are several key differences between the total and residual disability, and in order to determine which will be easier to qualify for, you need to consider things such as your specific occupational circumstances, the nature and severity of your disability, and what you want to do on a daily basis.
In this article and video above, disability insurance attorney Gregory Dell explains the differences between residual and total disability and shares advice on which option may be best for you, how do you maximize the benefits, and potential pitfalls should to watch out for when preparing your long term disability claim.
In this article:
The Difference Between Total And Residual Disability
The key difference between total and residual disability is defined by your capacity to work. Total disability is usually defined as due to sickness or injury you are unable to perform the substantial or material duties of your occupation.
Residual disability, which is in most disability policies, says you're unable to perform one or more of the important duties of your occupation or you're unable to perform duties that you were performing pre-disability for as much time as before. Residual disability is usually included in most private disability insurance polices, although sometimes you have to buy it as an added benefit.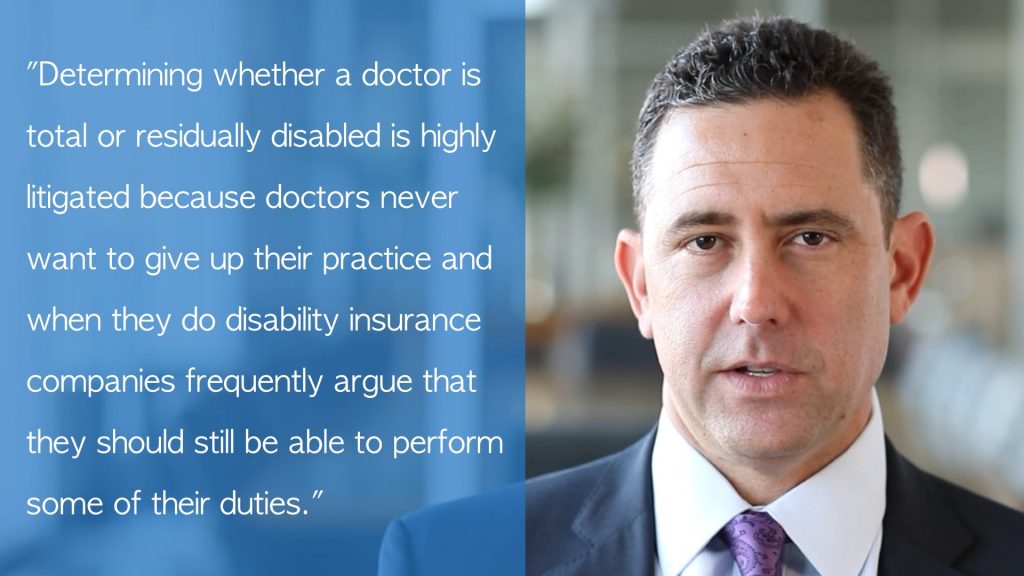 To be eligible for residual disability you must have at least a 15% or a 20% loss of your pre-disability income. Pre-disability income will be defined in your disability policy. The percentage of loss that you have is going to depend on the language in your disability policy. When you purchase these policies, every disability carrier has different language, but often, they're fairly similar.
The Disability Company Will Calculate Pre-Disability Income Based on Your Date of Disability
When determining the percentage of income that you lost compared to your pre-disability income, your disability policy is first going to define what your pre-disability income is and what the method is for calculating that. Often, it's either the 12 months just before you became disabled, or an average of the 24 months before you became disabled. Depending on the policy, it could also be the average of your two highest-grossing years out of a five-year period.
If you have a residual disability claim, when you determine your date of disability, choosing your date of disability has to be strategic so that you can maximize what your pre-disability earnings are. In some cases, when looking at the definition of pre-disability income, it could be the prior calendar year. So for example, if you're on the fence of a date of disability between, say, December of 2020 and January of 2021, it could make a big difference in your pre-disability earnings from looking at the earnings in 2020 versus taking into consideration the earnings in 2019.
Calculating your pre-disability income is a fairly simple financial analysis done by looking at your tax returns and your P&L statements. However, determining the date of disability can be a complicated process because it has to correspond with your reduction in work duties, which in turn has to correspond with your medical care and treatment.
When you submit your claim to the disability carrier, they're going to go back and look at the paper trail. Do you have the medical support showing that you were having difficulty working on the date that you claim you could no longer do your duties or were reduced in your work capacity? Do you have the loss of income at that particular period of time? All of these things have to come together to properly choose your date of disability and then support the claim.
Should You File for Total or Residual Disability?
We often see doctors struggle to determine whether they should file for total or residual disability. This will largely depend on the type of work environment you're in and how flexible your employer will be. A doctor is an overly broad occupational term because there's hundreds of different types of doctors: you could be an employee for a practice, a hospital staff member, or you could be running your own practice as a business owner and a doctor. This matters when determining whether you can just stop working completely, or can you still run your practice but cut back on the hours.
For doctors, it's particularly difficult because once the word that you're unwell gets out (either that you're unable to practice or you're having difficulty practicing), your referrals may dry up. If you are a surgeon, you rely on other doctors to refer you, and if the word that you're disabled (whatever the cause of your disability may be) gets out, the referrals are going to stop. Equally, if you have to report to your medical licensing that you're having difficulty doing your job and you potentially have a limitation on your license, then, obviously, you can't do your job, either. It's the same with hospital privileges: if you have to report that you're having some kind of difficulty and you lose hospital privileges as a result, then you may not be able to work at all.
Think about your options: do you have the opportunity to cut back on your duties at work? Can you go from five days a week to three or four days a week? If you cut back on your work and have at least a 20% loss of income, can you truly continue to do the job with your physical limitations? These are important questions to ask yourself before you tell your disability carrier that you can't work for as much time as you used to. Telling them that you can't do this particular long surgical procedure, but you can do a shorter one, or do procedures that are five minutes long but nothing longer, or see 5 patients a day but not 10 – all of this will increase your chances of getting your disability claim approved more than telling the insurance company you cannot work at all. It's often recommendable to first go down the road of a residual disability claim versus total disability.
Take all of these factors into consideration when deciding whether you should aim for total disability or whether you're still able and willing to work in a reduced capacity and file a residual disability claim.
Gathering Strong Medical Evidence Is Essential
In many cases, the disability is not a result of an accident or a sudden and unexpected onset of a disease but rather a chronic condition that worsens over time. For example, it may be a chronic pain-type disability, degenerative-type conditions, whether it's your neck, your back, your shoulder, your wrist, or it's a neurological disorder that's progressively gotten worse, and now it's getting to the point where you can't work. What makes these claims difficult is the fact that you've likely been working through this condition for a number of months or maybe even a number of years, and the insurance company will want to see evidence of what has changed now that makes you disabled.
What helps the most in cases like this is having an extensive and well-documented medical history. Medical evidence is going to put you in a much better spot to have your claim more easily approved because it shows that you've been undergoing treatments for a period of time, and you can objectively show the change in your condition. However, if you haven't been treated and don't have a medical history, you're starting from ground zero, and you'll have to work through the process of building the medical support for your claim.
Always remember that your claim is only as good as how bad you look on paper. In the eyes of the insurance company, if it's not in the medical records, it doesn't exist. When you are seeing your doctor as a patient, you have to have every single one of your complaints, every restriction, every limitation, any type of objective physical complaint, any type of subjective complaint that you have added to your records or it doesn't exist. This is crucial.
How Do You Determine a Date of Disability
Choosing the date of disability must be determined strategically. Any disability insurance claim is usually going to have a minimum of a 90-day elimination period. That means that you have to be either residually or totally disabled for a period of 90 days before you're going to be eligible. Then, the insurance company is going to take another 30 days before they pay you, so realistically, it's 120 days before your first benefit payment.
In this 90-day period, chances are that if you're someone with chronic pain, you have an opportunity to cut back. You shouldo reduce your work week to a few days, change your procedures, or modify your work duties and the time that you're cutting back, which will be documented in your CPT reports.
The cutback in duties has to correlate with your medical treatment: every month, you should be going to the doctor, telling them what's going on, informing them that you're cutting back, and telling them how you're feeling. If you're feeling better with the cutback in duties and your pain is limited, then you may be able to start out with a residual disability claim as long as you have a 20% loss of pre-disability income.
How are Residual and Total Disability Benefits Calculated
As an example of how a residual disability benefit is calculated, let's assume you're a doctor making $30,000 a month. Because of your disability, you're cutting back and going down to $15,000 a month. You're going to have a 50% reduction in your monthly income. With the 50% reduction, the disability company will pay you 50% of your disability benefit. If you have a $20,000 a month benefit and you have 50% reduction, this means they'll pay you $10,000 a month. So you'd be netting $25,000 a month compared to the $30,000 you were making before while working at half the capacity, hopefully reducing the amount of stress on your body and being able to do that for a limited period of time. Now, this is making the assumption that you can continue in that capacity.
Another option that a lot of doctors have been able to do is if you have greater than a 75% loss of income, you get 100% of your long-term disability benefit, which means you get paid in full. A doctor was making $400,000 a year, may face a scenario where they get paid under $100,000 a year, and then they're able to continue working in a very limited capacity and collect their full disability benefit. That is still residual disability.
On total disability, if you're a doctor who's working for somebody, it's usually an-all-or-nothing situation. You stop working, you end your relationship with that employer, and you seek total disability.
You May Be Able To Collect Total Disability Benefits and Start a New Job
Depending upon the definition of disability, if it says, for example, unable to perform substantial material duties of your occupation and it's limited to that particular medical specialty, then you may be able to do another job that doesn't require any of the same skills as to what you were doing before. This way, you collect your total disability benefits and work in that other job. We have seen many doctors that left medicine, went into some kind of real estate or real estate development, made a million dollars in the new field, and continued collecting their $250,000 (assuming this was their income as doctors) total disability benefits even though they were making a lot more money in their new occupation.
We've also seen a lot of doctors that make less money but still collect their total disability. For example, a lot of doctors go on to become professors, teachers, in-house doctors at insurance companies, do file reviews, or become expert witnesses. All of these things or potential options if the duties are different from what you were previously doing.
However, if you didn't buy a very strong true own occupation definition of disability, there are definitions of total disability out there that say, unable to perform the duties of your occupation and not gainfully employed. Those are not true own occupation policies because if it says "not gainfully employed", then you can't go do another job and you are basically locked up by that disability policy. The insurance company will pay you full total disability, but you can't go do anything else.
What it really comes down to is what you want to do as a doctor. What do you think you can do? How can we help you to maximize the benefits under your policy? If you were sold a good, true own occupation disability policy, there is a lot you can do – work in a limited capacity, do extra work, or choose another field altogether.
When to Hire a Disability Insurance Attorney
While it is entirely possible to prepare and file a disability claim on your own, it's always best to consult a lawyer to ensure you get the best outcome and the process is as fast and smooth as possible. If you need help, contact our office, email us a copy of your long-term disability insurance policy or policies (often, we have doctors that have many), and we'll review all of your disability policies and provide you with an initial free consultation. We'll let you know right away what we think your options are and what it's going to take to get your benefits approved.
Many doctors contact us months in advance of even considering filing a claim, which is the best way to plan and be prepared for filing a claim. Often, your insurance agent isn't the best person to handle your claim: after all, their interest was to sell you the policy; your purchased the policy and paid your premiums for years. That's the easy part. However, the claims handling side is a whole different animal, and you need someone on your side to help you navigate the process.
Our disability insurance lawyers can help you no matter where you live in the country, and we have hundreds, if not thousands, of references of other doctors for you to speak with.
We welcome you to subscribe to our YouTube channel so that you can be regularly updated about videos like this where we talk about different types of disability insurance claim-related issues. You can also search our website by your disability insurance company, your medical specialty, or by your medical condition, and you'll find lots of different articles that are relevant to your claim.
Should you need us in the future, we look forward to the opportunity to speak with you.
Resources to Help You Win Disability Benefits
Disability Benefit Denial Options
Submit a Strong Appeal Package
We work with you, your doctors, and other experts to submit a very strong appeal.
Sue Your Disability Insurance Company
We have filed thousands of disability denial lawsuits in federal Courts nationwide.
Disability Company Reviews
Answered Questions by Our Lawyers
Showing 1 of 1 Answered Questions
A:
Chris, thank you for asking this important question. Without actually seeing the exact policies that you are r...
Read More >
Showing 12 of 805 Videos
Hospitalist at Kaiser Permanente Disabled by Knee & Back Pain Wi...
Long Term Disability Denial Options for Doctors Disability
A Guide For Doctors Seeking Total or Residual Disability Benefit...
Disability Insurance Challenges For Doctors That Work While Disa...
Substance Abuse Disability Insurance Claims For Doctors
Unum Disability Company Forced to Extend Disability Insurance Co...
If I Am A Physician Claiming Long Term Disability Can I Treat My...
Tips For Doctors Seeking Long Term Disability Insurance Benefits...
Long Term Disability Insurance Application Process for Doctors, ...
If I Am Physician Claiming Long Term Disability Can I Treat Myse...
Zurich Disability Denial Help. What To Expect. (Long Term Disabi...
Guardian Long Term Disability Denial Legal Help (Disability Atto...
Showing 8 of 329 Benefit Tips
Showing 8 of 359 Dell Disability Cases
Disability Lawsuit Stories
Showing 8 of 763 Lawsuit Stories
Reviews from Our Clients
Martin R., Florida
I have nothing but deep, sincere thanks for the way in which you have taken care and protected me and my LTD income since April 2014. I am forever grateful to you both and your staff. You took a frightened man who was being hoodwinked by the Hartford who was fearful of losing his income, to one who was confident. I had a Lion protecting me and indirectly my dear wife Deborah. I will always be humbled by how you all treated me with reverence and professionalism. Your company is the standard to what all others should emulate.
Darryl Hammond
Attorney Alex Palamara and paralegal Danielle are both consummate professionals. Since the inception of my experience with them both they were very attentive thru the entire process and settled my case in a timely fashion.
Why would you recommend Dell Disability Lawyers?
I would unequivocally recommend attorneys Dell Disability Lawyers.
What could we do to improve?
They don't need improvement.
Rhiannon H., Alaska
I have a rare genetic condition that my insurance company didn't want to acknowledge. Stephen and his aide Sonia worked tirelessly for over a year and successfully forced The Standard into covering my policy. They are both empathetic and effective, the best combination.
Janice C., Vermont
Dell Disability Lawyers is an excellent law firm for dealing with disability companies. I tried for 18 months to get disability for a medical condition. I found Dell Disability Lawyers and spoke with Mr. Jay Symonds about my case. He was very understanding and explained how he could help me in a simple and easy to understand manner. Within 6 months of him taking on my case he was able to resolve the case to my satisfaction.
I could concentrate on my health instead of worrying about money to pay my bills. Mr. Symonds staff were all very kind and helpful. I never had a problem with contacting them for help and they were quick to respond to issues. I would highly recommend Mr. Symonds and his firm to anyone who needs assistance with disability claims with insurance companies.
Roycelyn G., Kentucky
After exhausting all efforts to find a local disability law firm to assist me with submitting claims for LTD non-ERISA and ERISA disability insurance policies, I resorted to a Google search for disability law firms. I decided to contact Dell Disability Lawyers after reading their clients reviews and watching videos on their website. Within 24 hours of contacting Dell Disability Lawyers, I received I call back and an appointment was made with Steven J. Dell, who after hearing my story decided to personally work with me.
He told me that he would put 100% effort to get me on claim. Mr. Dell and his assistant, Merlin Bryan were always available via phone or email to answer any questions that I had regarding my application for long term disability. He was meticulous in guiding me through the process leaving no stone unturned. My claims were approved on the initial application! I know that it was due to the diligence of my attorney, Steven J. Dell. Without Mr. Dell, my application for long term disability would have been rejected. I am very grateful to have had the representation of attorney, Steven J. Dell. 
Why would you recommend Dell Disability Lawyers?
Experts in non-ERISA and ERISA disability law. Dell & Schaefer Law Firm have a well-deserved reputation of taking on big disability insurance companies and winning for their clients. If you find yourself in need of a disability attorney, I highly recommend this firm. You will not be disappointed!
What could we do to improve?
Not a thing. I am a satisfied client.
Robert Z., Idaho
Awesome, super quick email response to my initial request, followed up by a phone call from the attorney to discuss details of my claim, all in the same day, and all free of charge.
Why would you recommend Dell Disability Lawyers?
Very responsive and super helpful, in addition I am very impressed at the level of service I received free of charge with no pitch to retain them.
What could we do to improve?
Nothing, perfect service.
David T., Florida
Appreciated the straight forward and direct answers to my questions. All paperwork and communication was handled in a timely manner.
Why would you recommend Dell Disability Lawyers?
Level of professionalism, excellent communication and world class client service.
What could we do to improve?
Nothing, very smooth process from A to Z !
James
This firm does exceptional work. I worked with them for my application for long term disability. My claim was approved on the initial application with one of the most notoriously difficult insurance carriers in the business. I'm 100% sure that this was due to my attorney Steven Dell. He was meticulous in shepparding me through the process making sure everything was done with precision and done correctly.
My anxiety thought this process was through the roof and Mr. Dell was always there to reassure me and peal me of the ceiling if needed. Mr. Dell and his assistant Merlin were always diligent and immediately responsive when I needed reassurance, help or something needed to be done. If you have a disability claim hire Mr. Dell and this firm. It will be the best money you ever spend.
Michael D., West Virginia
Efficient, energetic, experienced, and prompt. Quickly and cleanly dealt with. Each call was on time, outcomes reviewed, and confirmed. Highly professional and polite. I strongly recommend his services!
Why would you recommend Dell Disability Lawyers?
A professional dealing with professionals. Every time I thought … "I wonder what our status is?" I received an update, he provided great communication with awesome engagement.
What could we do to improve?
Advertise more so more people knew about your firm.