One common question the attorneys here at Dell & Schaefer receive comes from policyholders with UNUM long term disability policies. These claimants want to know, "Is UNUM a "good" insurance company?" But what is this question really asking? Learn more about what claimants may be able to expect when filing a disability benefits claim with UNUM.
Is UNUM a good company?
What claimants really want to know is how UNUM compares to other long term disability insurance providers when it comes to denying claims and seeming to set forth roadblocks along the way. Can claimants expect to be treated fairly in their interactions with UNUM? The answer, generally, is yes. Although UNUM (like many other disability insurance carriers) denies a lot of long term disability claims, it is one of the biggest disability insurance carriers in the world, offering both individual and ERISA disability insurance policies, and has little to gain by treating disability insurance claimants poorly.
The person assigned to handle your UNUM disability claim is significant
Once a disability insurance claim is filed, an initial reviewer will begin working the case – usually starting with a telephone call to the disability insurance claimant. The reviewer is likely to ask many of the same questions covered in the disability insurance application itself, often checking for minor inconsistencies that can form the basis for a later denial of the disability insurance claim.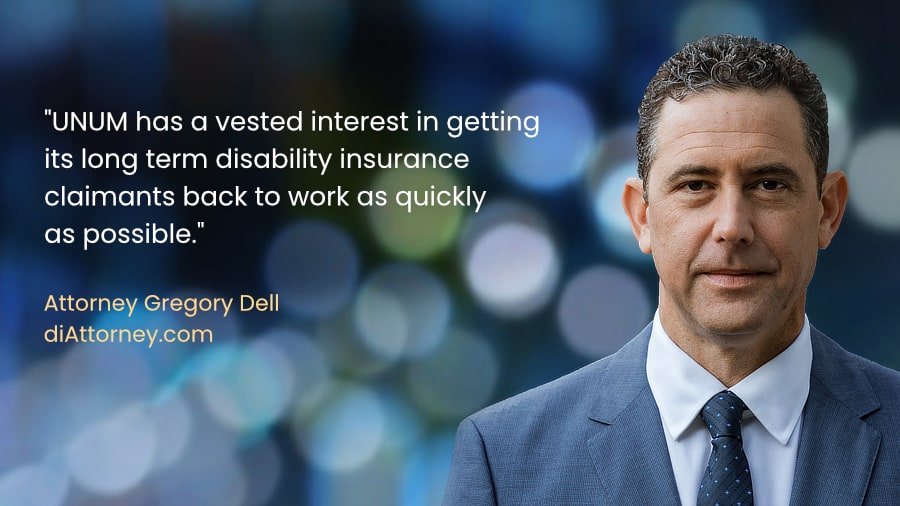 UNUM is trained with a "return to work" methodology
UNUM has a vested interest in getting its long term disability insurance claimants back to work as quickly as possible. Some tables and charts indicate when an individual can be expected to be back to work after a disabling illness or injury (from an aortic valve replacement to cancer treatment), and once this period has expired, UNUM claims representatives are going to be reviewing the disability insurance claimant's insurance file with a fine-toothed comb.
UNUM is conducting roundtable reviews of disability claims at the application and appeal levels
UNUM is a little different from other long term disability carriers in that it engages in a roundtable review process. During this review, a claims representative, a nurse, a doctor, and a vocational expert will sit around a table (or, in the age of COVID, on a video call) and discuss the merits of a specific disability insurance claim. This process doesn't always provide the same type of quality control as a multi-tiered disability insurance review process where each decisionmaker must independently review the data and conclusions reached by the other decisionmakers instead of essentially negotiating a single path forward at a group meeting.
The UNUM claim representative assigned to your claim is a front person who usually has no decisionmaking power
Though UNUM disability benefits denial letters are usually signed by a claims representative, this person has no real decision-making power within the organization and is essentially just the messenger. This can make it frustrating to appeal disability insurance benefits denials, since the person you're communicating with can't take any action on a claim without clearing it with their superiors. Having a disability insurance attorney help you through the process can often improve your odds of success while freeing up your time to concentrate on more important things.
Whether you're thinking of filing for disability insurance benefits, have a long term disability insurance claim pending and are receiving communications from UNUM, recently received a disability denial letter, or are ready to file a lawsuit, the attorneys at Dell & Schaefer can help. Set up your FREE consultation today to learn more about your legal options.