Disability Application
---
Applying for Short or Long Term Disability Insurance Benefits Should Not Be Done Alone

How Important Is The Support Of My Doctor In Obtaining Disability Insurance Benefits

Long Term Disability Insurance Application Process for Doctors, Surgeons & Dentists

Three Important Things to Consider When Applying for Disability Insurance Benefits

When is the best time to file for STD or LTD disability insurance benefits?

Did Disability Insurance Claims Examiner Understand A Physician's Job Duties? (Ep. 22)

Residual Disability Insurance Claims and Applying For Disability Benefits

Deposition of medical consultant hired by MetLife for a disability insurance claim (Ep. 18)

Application Process for Short and Long Term Disability Insurance Benefits
---
The most important aspect of filing a claim for either short term or long term disability benefits is the information contained within the initial disability benefits application submitted to the disability insurance company. Disability insurance companies wrongfully treat every disability with the ultimate goal of returning the disability claimant back to work.
The disability benefits application process is complex and most applicants applying for disability benefits do not realize the manner in which disability insurance companies scrutinize and investigate claims for disability insurance benefits. Filing for disability requires a coordinated effort between your treating physicians, employer, accountant and past co-workers. Whether you are a physician, business owner, teacher, engineer, manager, lawyer, financial planner, or a salesperson, you should not assume that you know how to apply for disability benefits.
Our law firm has counseled and guided hundreds of applicants throughout the disability application process and we know how to file for disability. We always recommend that a claimant speak to a disability benefits lawyer before they even notify the insurance company of a potential claim for disability.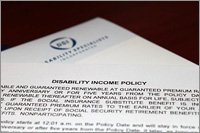 Anticipating all of the insurance company's future actions before filing a disability claim will put a claimant in the best position to secure long-term disability benefits.
Always keep in mind that the long-term disability benefits application is drafted by the insurance company. The disability benefits application is often drafted with vague questions which can both mislead the claimant and the claimant's treating doctors that complete the disability application claim forms. It is in your best interest to work with disability benefit attorneys that have reviewed thousands of long term disability applications.
What Type of Disability Benefit Application Can We Assist You With?
---
---
---