//= Helpers\Templates::to_string($resource_meta['hero'], 'hero') ?>
5 disability lawsuits recently filed against UNUM in TN, OH, MO, and MI
Five ERISA disability lawsuits have been recently filed against the UNUM Life Insurance Company of America for the wrongful denial of disability benefits. In each of the cases, a disability attorney from Tennessee, Ohio, Missouri and Michigan have filed suit for the payment of disability benefits that have been wrongfully denied and owed to their clients. Let's take a closer look at each of the lawsuits.
In this article we will discuss: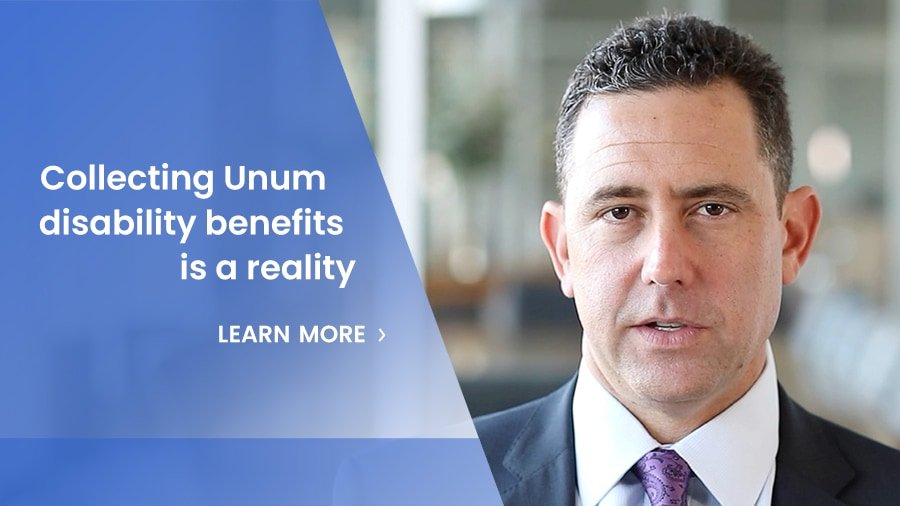 Case 1: Disability Benefits Lawsuit filed in Tennessee Against UNUM by Time Warner Employee
A miscalculation of disability benefits resulted in the filing of a lawsuit against Time Warner and UNUM Life Insurance Company of American under the Employee Retirement Insurance Security Act of 1974 (ERISA) in the United States District Court for the Middle District of Tennessee on August 9, 2011. In the lawsuit, the Plaintiff and his Tennessee disability attorney ask the District Court to order UNUM Life to "provide appropriate benefits" for the employee by correctly and accurately calculating the employee's disability benefits and provide him with:
Damages for the amount of disability income he is entitled to through the date of judgment;
Prejudgment and post-judgment interest;
Continuing disability benefit payments in the future in the correct amount;
Other insurance benefits he may be entitled to;
Reasonable attorney fees and court costs; and
Other relief the Court considers just and proper.
In the lawsuit, the employee accuses the insurer of being arbitrary and capricious in its denial to re-calculate his benefits. As a sufferer of Peroneal Muscular Atrophy, a progressive disease, the employee's condition will not improve to any significant degree that would allow him to return to work. Disabled and receiving disability benefits since February 27, 2010, the Employee is some $721.28 short each month due to miscalculation of his disability benefits by the insurer. After repeatedly requesting a review of his disability benefits amount, and the swapping of emails in which UNUM's evaluators provided the employee with confusing and contradictory information, the employee appeals for a reevaluation of his claim has expired, leaving him no option but to file suit against UNUM.
Case 2: Disability Benefits Lawsuit filed in Ohio against UNUM by Human Resources Manager
In the United States District Court of the Southern District of Ohio Eastern Division, a Human Resources Manager at CTL filed suit on July 15, 2011 against UNUM Life Insurance in an effort to procure his rightfully entitled disability benefits from the insurer. Gerald O. had worked for the engineering firm since 1992 performing the function of both office manager and facility manager until he succumbed to his disabling condition and ceased work on July 20, 2009 because of an inability to perform his assigned job duties. With duties that consisted of "both sedentary office work, as well as on and off sit non-sedentary work" requiring walking, transporting heavy objects and building maintenance duties (occasional landscaping and snow removal), Gerald O. became disabled following an injury at work that caused him to sustain "a lumbar strain/sprain injury to his lower back." Suffering from a diagnosed disc bulge, Gerald O. suffers from "constant back pain and numbness in his legs." Unable to walk, stand, sit or do any sedentary work due to" pain, Gerald O.'s September 2009 claim application to UNUM for long term disability was denied. Subsequently, his appeals were also denied by the insurer with UNUM determining that in its view Oreste's pain was not so severe that it precluded him "from performing sedentary work.
Relying on on-site medical reviewers, all unacquainted personally with Gerald O., UNUM refused to reveal the identity of Gerald O.'s claim reviewers so as to give Gerald O. an opportunity to "rebut the reviewer's findings as permitted by ERISA." After supplying more documentation and medical records attesting to his condition, Gerald O. was unable to convince the insurer to recant its denial of disability benefits. With no other option available, Gerald O. and his disability attorney filed a two-count lawsuit against the insurer for wrongful denial of benefits and breach of fiduciary duties and requested that the Ohio District Court order the insurer to pay his disability benefits as well as attorney's fees to make this situation right.
Case 3: Disability Benefits Lawsuit filed in Missouri against UNUM
A disability lawyer and his client filed a lawsuit against UNUM Life under the Employee Retirement Income Security Act of 1974 (ERISA) to assist Steve M. in his quest to receive the long term disability benefits he is entitled to under his employee insurance plan with his employer Central Bank of Kansas City. A bank employee since 1987, Steve M. ceased working in 2009 due to "severe chronic obstructive pulmonary disease, recurrent bronchitis, sleep apnea, Hepatitis C and Interferon therapy, and reactive depression, and anxiety. According to Steve M.'s physician, he is disabled. And according to the Social Security Administrative, which declared Steve M. totally disabled in 2005, Steve M. received SSDI benefits and then returned to work in 2007, only to be terminated in 2009 due to his disability.
Unable to work, Steve M. applied for his ERISA governed disability benefits from UNUM in 2009 and was summarily denied his long term disability benefits originally and on appeal, forcing Steve M. to file the subject lawsuit against the insurer. According to the complaint that Steve M. and his lawyer filed on August 15, 2011, UNUM wrongfully denied Steve M. his ERISA-protected benefits and has breached its fiduciary duty. Consequently, the two ask the Missouri District Court to:
Require UNUM to "compensate Plaintiff for losses incurred as a result of [UNUM's] violations;
Award Steve M. reasonable attorney's fees
Impose a surcharge on UNUM for money owed Steve M. under his UNUM long term disability plan; and
Award Steve M. any other relief the court sees as "just and appropriate."
Case 4: Disability Benefits Lawsuit filed in Michigan against UNUM
In their suit filed against UNUM Life Insurance Company in the United States Eastern District Court of Michigan (Southern Division), a health care employee and her disability attorney allege that the insurer ignored the medical records of Goldine F. when it discontinued paying her disability benefits in contradiction to the insurer's ERISA plan terms and conditions. A sufferer of degenerative disc disease, Goldine F.'s insurance disability benefits relief was short-lived.
In a letter, dated March 16, 2009, the insurer enumerated Goldine F.'s maladies, all which supported her disability and proceeded to discontinue her benefits anyway. And, while all insurance policies provide for some discretion, UNUM's discontinuation of Goldine F.'s disability benefits was unwarranted. Entitled to restoration of her disability benefits, Goldine F. has had to resort to hiring a disability lawyer to assist her in the pursuit of the restoration of her disability benefits from UNUM. With overwhelming evidence in support of her disabling condition, Goldine F. and her lawyer have asked the District Court of Michigan to enter a judgment in favor of Goldine F. and against UNUM and force the insurer to restore Goldine F.'s entitled disability benefits.
Case 5: Disability Benefits Lawsuit filed in Michigan against UNUM
An outside marketer, Henry L. was forced to cease work in August of 2009 due to multiple medical problems. Unable to "engage in any type of gainful employment," Henry L.'s original claim for disability benefits to UNUM was honored and he collected disability benefits for nine months. Then, as of March 23, 2010, Laten's disability benefits were revoked contrary to medial and other evidence of Henry L.'s disabling conditions.
Henry L. promptly appealed the termination of his disability benefits from UNUM and has wrongfully been denied his disability benefits by the insurer. Consequently, Henry L. and his disability lawyer filed a complaint in the United States District Court Eastern District of Michigan to ask the Court to force the insurer to award him entitled disability benefits, attorney's fees, court costs, and interest.
Resources to Help You Win Disability Benefits
Disability Benefit Denial Options
Submit a Strong Unum Appeal Package
We work with you, your doctors, and other experts to submit a very strong Unum appeal.
Sue Unum
We have filed thousands of disability denial lawsuits in federal Courts nationwide against Unum.
Policy Holder Rating
Timely Payments
1.8out of 5
Handling Claim
2.1out of 5
Customer Service
2.1out of 5
Showing 8 of 58 Reviews
Answered Questions by Our Lawyers
Showing 8 of 87 Answered Questions
Showing 12 of 805 Videos
JB Hunt Truck Driver Wins Unum Long Term Disability Appeal
Unum Disability Denial Lawyer Tips (Disability Benefit Tip #45)
Louisiana State College Director Wins Unum LTD Appeal But Then D...
What is Unum Relying Upon to Deny Disability Benefits?
Unum Approves LTD Benefits for Pharmacist with Eye Disorder
Senior Project Manager with Cognitive Limitations Wins Unum Long...
Billing Manager With Back Disorder Wins Unum Long Term Disabilit...
Legal Secretary with Depression Wins Unum Short and Long Term Di...
Financial Advisor with Fibromyalgia & Depression Wins Unum Long ...
Paralegal with Back & Neck Disorder Wins Unum Disability Appeal
Can Unum Use their Own Hired Doctors to Deny Disability Insuranc...
How to Protect Your Unum Disability Benefits
Showing 8 of 329 Benefit Tips
Showing 8 of 359 Dell Disability Cases
Disability Lawsuit Stories
Showing 8 of 763 Lawsuit Stories
Reviews from Our Clients
Martin R., Florida
I have nothing but deep, sincere thanks for the way in which you have taken care and protected me and my LTD income since April 2014. I am forever grateful to you both and your staff. You took a frightened man who was being hoodwinked by the Hartford who was fearful of losing his income, to one who was confident. I had a Lion protecting me and indirectly my dear wife Deborah. I will always be humbled by how you all treated me with reverence and professionalism. Your company is the standard to what all others should emulate.
Darryl Hammond
Attorney Alex Palamara and paralegal Danielle are both consummate professionals. Since the inception of my experience with them both they were very attentive thru the entire process and settled my case in a timely fashion.
Why would you recommend Dell Disability Lawyers?
I would unequivocally recommend attorneys Dell Disability Lawyers.
What could we do to improve?
They don't need improvement.
Rhiannon H., Alaska
I have a rare genetic condition that my insurance company didn't want to acknowledge. Stephen and his aide Sonia worked tirelessly for over a year and successfully forced The Standard into covering my policy. They are both empathetic and effective, the best combination.
Janice C., Vermont
Dell Disability Lawyers is an excellent law firm for dealing with disability companies. I tried for 18 months to get disability for a medical condition. I found Dell Disability Lawyers and spoke with Mr. Jay Symonds about my case. He was very understanding and explained how he could help me in a simple and easy to understand manner. Within 6 months of him taking on my case he was able to resolve the case to my satisfaction.
I could concentrate on my health instead of worrying about money to pay my bills. Mr. Symonds staff were all very kind and helpful. I never had a problem with contacting them for help and they were quick to respond to issues. I would highly recommend Mr. Symonds and his firm to anyone who needs assistance with disability claims with insurance companies.
Roycelyn G., Kentucky
After exhausting all efforts to find a local disability law firm to assist me with submitting claims for LTD non-ERISA and ERISA disability insurance policies, I resorted to a Google search for disability law firms. I decided to contact Dell Disability Lawyers after reading their clients reviews and watching videos on their website. Within 24 hours of contacting Dell Disability Lawyers, I received I call back and an appointment was made with Steven J. Dell, who after hearing my story decided to personally work with me.
He told me that he would put 100% effort to get me on claim. Mr. Dell and his assistant, Merlin Bryan were always available via phone or email to answer any questions that I had regarding my application for long term disability. He was meticulous in guiding me through the process leaving no stone unturned. My claims were approved on the initial application! I know that it was due to the diligence of my attorney, Steven J. Dell. Without Mr. Dell, my application for long term disability would have been rejected. I am very grateful to have had the representation of attorney, Steven J. Dell. 
Why would you recommend Dell Disability Lawyers?
Experts in non-ERISA and ERISA disability law. Dell & Schaefer Law Firm have a well-deserved reputation of taking on big disability insurance companies and winning for their clients. If you find yourself in need of a disability attorney, I highly recommend this firm. You will not be disappointed!
What could we do to improve?
Not a thing. I am a satisfied client.
Robert Z., Idaho
Awesome, super quick email response to my initial request, followed up by a phone call from the attorney to discuss details of my claim, all in the same day, and all free of charge.
Why would you recommend Dell Disability Lawyers?
Very responsive and super helpful, in addition I am very impressed at the level of service I received free of charge with no pitch to retain them.
What could we do to improve?
Nothing, perfect service.
David T., Florida
Appreciated the straight forward and direct answers to my questions. All paperwork and communication was handled in a timely manner.
Why would you recommend Dell Disability Lawyers?
Level of professionalism, excellent communication and world class client service.
What could we do to improve?
Nothing, very smooth process from A to Z !
James
This firm does exceptional work. I worked with them for my application for long term disability. My claim was approved on the initial application with one of the most notoriously difficult insurance carriers in the business. I'm 100% sure that this was due to my attorney Steven Dell. He was meticulous in shepparding me through the process making sure everything was done with precision and done correctly.
My anxiety thought this process was through the roof and Mr. Dell was always there to reassure me and peal me of the ceiling if needed. Mr. Dell and his assistant Merlin were always diligent and immediately responsive when I needed reassurance, help or something needed to be done. If you have a disability claim hire Mr. Dell and this firm. It will be the best money you ever spend.
Michael D., West Virginia
Efficient, energetic, experienced, and prompt. Quickly and cleanly dealt with. Each call was on time, outcomes reviewed, and confirmed. Highly professional and polite. I strongly recommend his services!
Why would you recommend Dell Disability Lawyers?
A professional dealing with professionals. Every time I thought … "I wonder what our status is?" I received an update, he provided great communication with awesome engagement.
What could we do to improve?
Advertise more so more people knew about your firm.