If you work as a financial advisor and are struggling with an illness, injury, or other disabling condition that is affecting your ability to continue working, you may want to know if you qualify for long term disability insurance benefits. In many cases, the answer is yes – and because long term disability insurance policies have some strict time limits when it comes to claiming benefits, time is often of the essence.
In this article:
We provide some tips and strategies that can benefit financial advisors and financial planners who are considering whether to seek long term disability benefits. Should you have any questions or would like a free review of your long term disability claim, please contact us for an immediate free phone consultation with one of our disability insurance lawyers.
Disability carriers often ignore the cognitive demands and duties required to be a financial advisor.
Through our experience of helping hundreds of financial advisors nationwide, we understand the way in which all of the disability insurance companies will evaluate the duties of a financial advisor. Long term disability insurance carriers tend to minimize the duties of the job, placing special focus on the physical demands a financial advisor endures. Most disability companies ignore the tremendous cognitive demands required to be a financial advisor. Job duties such as multi-tasking, attending meetings, researching, earning's calls, employer meetings, staffing responsibilities, and always being on-call for demanding clients make the job of financial advisor extremely demanding.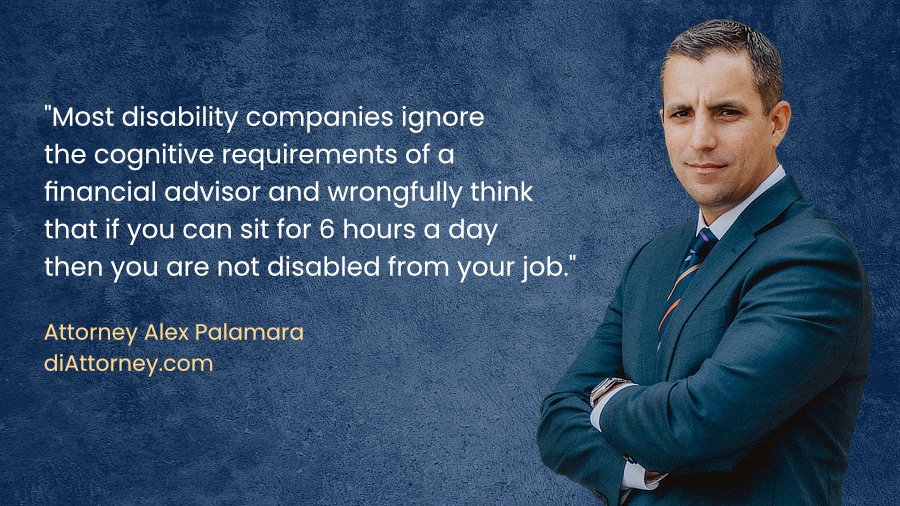 Because the job tends to be on the sedentary side, the focus on physical capabilities ignores the significant cognitive demands imposed on a financial advisor. Someone who is distracted by chronic pain or the side effects of certain medication won't be able to maintain the focus and concentration necessary to advise clients on their finances, taxes, or investments. The ability to sit in a chair for 6 out of 8 hours a day should not be the standard as to whether a financial advisor can perform the duties of their job.
The definition of "disability" will vary from one disability company to another.
Not only does every disability insurance carrier have a slightly different definition of "disability," but even within the same carrier, group and individual long term disability policies can be very different. Group disability policies are governed by the federal Employee Retirement Income Security Act (ERISA). Most of these policies will classify a claimant as disabled if they're unable to perform their "own occupation" – or the position they enjoyed before their disability. After about two years of benefits, the definition of disability switches to "any occupation," allowing benefits to continue only if the claimant is unable to perform any occupation. This stricter standard can lead to more denials.
Individual long term disability policies, on the other hand, generally have a more expansive definition of disability that allows more claimants to qualify for benefits. Unfortunately, even these policies tend to shift the definition of disability over time, requiring the financial advisor to keep their medical records up to date to be prepared for this shift. Most financial advisers have individual disability insurance policies and these policies usually have an "own occupation" definition of disability.
Diagnosis does not equal disability and you need to have strong documentation to win benefits.
Being diagnosed with a serious or chronic medical condition isn't the end of the story when it comes to qualifying for long term disability benefits. In addition to providing medical evidence supporting the disability, the claimant also will need to show how this disability affects their ability to work as a financial advisor. Some chronic conditions like multiple sclerosis may not initially impact a claimant's ability to do their job, but can progress over time and impact the claimant's ability to concentrate, comprehend, or perform even the limited physical functions of the position.
Proper medical record documentation is very important for claim approval.
Many financial advisors who seek disability benefits are dealing with "hidden" disabilities that aren't apparent to the naked eye. These conditions, ranging from chronic pain to autoimmune disorders, can be tough to document in a way that will capture the insurance carrier's attention. As a result, financial advisors must have sufficient medical documentation to support their claim for benefits. In some cases, this may require extra testing, including cognitive testing, that can better demonstrate the impact the disability is having on your physical and mental performance.
We've helped hundreds of financial advisors and financial planners recover the disability benefits they're entitled to, and we can help you too. Get in touch with one of our attorneys today so that we can discuss your long term disability claim.