From a disability insurance claimant's filing of their initial application for disability benefits to a courtroom victory, there are four important times when a claimant can really benefit from the expertise of an attorney. Learn more about how important it is to hire an ERISA-trained attorney if you're seeking benefits under your disability insurance policy.
There Are 4 Times You Can Hire a Disability Insurance Attorney: Applying, Monthly Claim Handling, The Appeal Process & the Litigation Process
There are four "trigger points" in a disability claim: application, monthly claim handling, the appeal of a claim denial, and the litigation process. At the application stage, a disability insurance attorney can help you set the groundwork for your disability insurance claim – essentially, telling your story to the insurance carrier that holds your long term disability insurance policy. Starting off with a strong disability application that includes all the elements the disability insurance carrier is looking for can significantly reduce the odds that your claim will be denied or you'll need to appeal.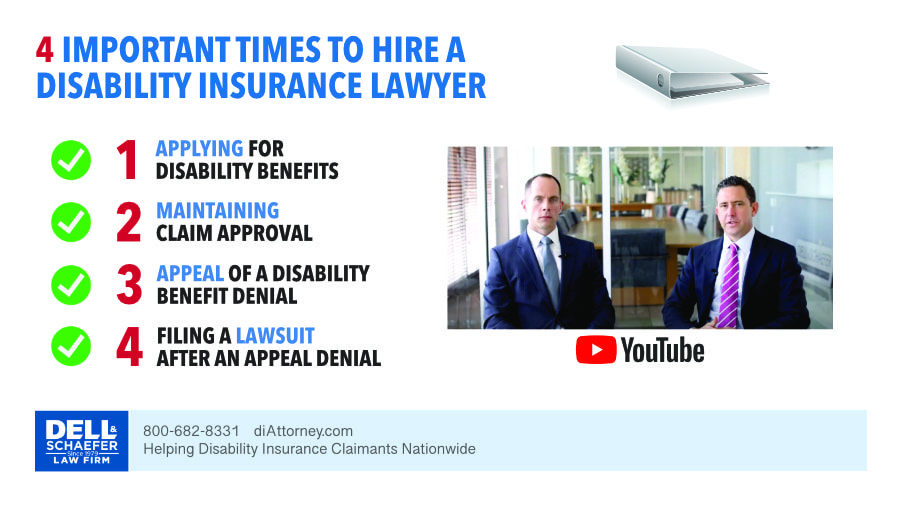 The Benefits of Monthly Claim Handling
A disability attorney can also help claimants manage their claims. In most cases, even if a claim is approved, that's not the end of the road – the insurance carrier is likely to follow up with forms, interviews, requests for medical records, or even video surveillance to see whether you're too disabled to work. By hiring a disability insurance attorney, claimants can delegate these documentation requirements to their legal counsel and focus on more important things.
Why It Is Important to Have a Disability Insurance Attorney Represent a Claimant for an Appeal
One of the most common points at which a disability insurance claimant will hire an attorney is when the disability insurance application has been denied. Many long term disability insurance policies require a claimant to file an appeal of the denial before the disability insurance claimant can sue. In an ERISA (or group) claim, the appeals process provides claimants with a final opportunity to create a complete administrative record. If an important piece of information doesn't make it into this record, it can't be considered later – even if it might otherwise be dispositive.
The Importance of Having an ERISA Trained Lawyer
When a claimant has unsuccessfully appealed the denial of their disability insurance claim, there is one option left: a disability insurance lawsuit. Although disability claimants technically can represent themselves in a lawsuit (and are called pro se litigants), attorneys have to graduate from law school and pass a bar exam before they ever appear in a courtroom – and for good reason. Having a lawyer with specific experience in ERISA claims ensures you'll be able to navigate the complicated web of disability insurance claims with ease. Under ERISA standards, a judge will reverse an insurer's denial of a claim only if two factors are met:
(1) the claimant is disabled; and
(2) the insurer's denial was either "arbitrary" or "capricious" (or both).
Simply proving the claimant is disabled is not enough.
If you've reached one of these pivot points in your own disability insurance claim, it's never too late to reach out for legal assistance. At Dell & Schaefer, our team of disability insurance lawyers is available nationwide. Let us provide you with a free consultation to discuss your disability insurance claim.