What should I be aware of if I am buying a disability insurance policy?
It is important to take into consideration that every disability income policy may have different features.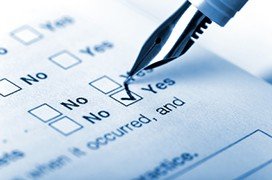 The following checklist will help you compare your current policies or one you may be considering:
How is disability defined? Inability to perform your own job? Inability to perform any job?
Does the policy cover accidents? Illness? Injuries?
Are benefits available for total disability? For partial disability? For residual disability? Only after total disability?
Are full benefits paid, whether or not you are able to work for loss of sight? Speech? Hearing? Use of Limbs?
The maximum benefit will replace what percentage of income?
Is the policy non-cancelable, guaranteed renewable, or conditionally renewable?
How long must I be disabled before premiums are waived?
How long will you continue to receive benefits after you are disabled?
How many days must you be disabled before you can receive benefits?
Does the policy offer an inflation adjustment feature? If so, what is the percentage rate of increase? Is there a maximum?
There are 7 opinions so far. Add your comment below.
My policy makes reference to an initial 24 month period after which they will not use an error in the application to deny benefits… or something to that effect. What is that all about?

Joe,

The provision you reference has to do with misrepresentations made in an application to secure coverage. However, it should be noted that if an insurance company deems that a misrepresentation made on an application to secure benefits is material or fraudulent they will seek to rescind the policy. It is incredibly important to be as thorough as possible when completing an application to purchase a disability policy.

I see… but from reading through your site, it seems that the insurance company will do almost anything to deny a claim. So someone forgets to tell tham they had a skin biopsy 10 years ago that was negative… Has a stroke and makes a claim only to be denied because of that omission… does that happen? Or, does the omission have to be "material" to the claim – say, omission of treatment for high blood pressure by someone who has a stroke?

Joe,

It really is a case by case analysis, and without knowledge of the specific facts it would be extremely difficult to provide any opinion as to the likelihood of a problem.

Thanks. It was just a hypothetical.

Since long term disability benefits can last years, do approved claims continue to be paid if the employer lays you off or terminates you at some point during the disability?

E,

No. Your entitlement to benefits under the policy will always go back to the date of disability. If you were covered under the policy at that time you went on disability (which you were given the fact they have been paying you) and you are still on disability at the date of termination of employment your rights under the policy will not be terminated if/when your employment ends.
---
---