//= Helpers\Templates::to_string($resource_meta['hero'], 'hero') ?>
What is disability insurance and what type of disability income policy should you buy?
Disability insurance also known as disability income insurance is an insurance product that will pay a monthly benefit amount if you are unable to work.
Disability Income Insurance should not be confused with Social Security Disability Benefits, which are extremely difficult to get approved and limited in the amount of money paid each month. Social security disability is often inadequate in replacing your income if you cannot work, therefore every person that works should make sure they have a long-term disability insurance policy.
Most disability insurance policies will cover up to 66% of your annual pre-disability work earnings and if the disability insurance company approves your claim, then benefits are paid monthly.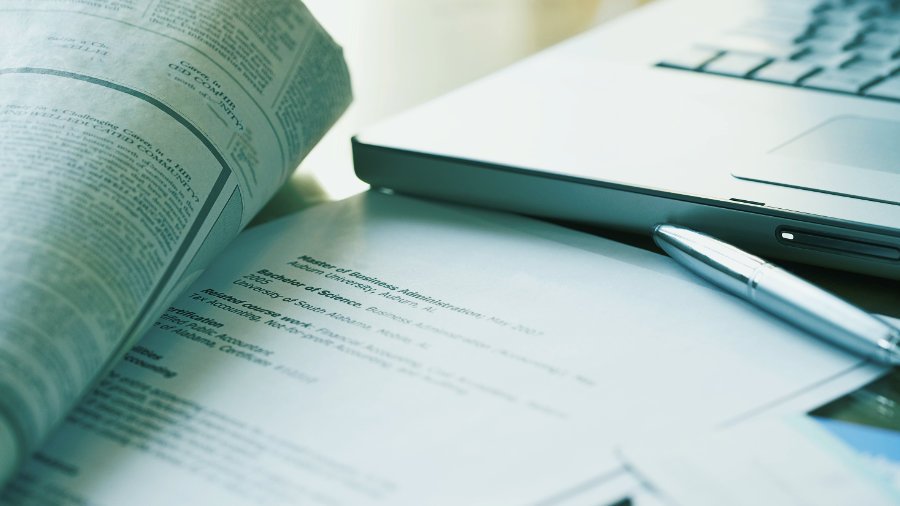 Disability insurance is sold by more than 40 different insurance companies and each company offers different policy language and different pricing. The monthly premium for disability insurance will vary based on more than 30 factors with the most common being the amount of your monthly benefit, your age at time of obtaining coverage, duration of time that benefits will pay, your definition of "disability", and whether your policy is an individual or employer provided disability policy. Short and long-term disability insurance claims are paid with high frequency, but you must be diligent in order to protect your monthly benefit on an ongoing basis. Every employee should have disability insurance in order to protect themselves and their family financially.
According to the Social Security Administration Disability Probability Tables For Insureds Born in 1997 more than 27% of employees will be unable to work for at least 12 months or more before reaching retirement age. Despite the high likelihood of being unable to work most people either never purchase disability insurance or are unaware of its existence.
As disability insurance lawyers that have helped thousands of people nationwide to get paid disability income benefits, this article will educate you about the different types of disability insurance policies and help you to buy the best disability insurance policy possible.
In this article we will discuss:
What are the different types of Disability Insurance Policies?
There are multiple types of disability insurance policies, because unlike life insurance which only pays if the insured dies, disability insurance policies are often 20 pages long and have numerous options available. Disability insurance policies usually contain language that is not easy to understand and when buying a disability income policy it's hard to understand the applicability of each disability policy provision. Most consumers are unaware of the state and federal laws that will apply to a disability policy depending upon whether your disability policy is either purchased through your employer or on your own from an insurance agent. You want to make sure you buy a disability insurance policy that will truly pay benefits and that you have the best legal remedies available should your short or long term disability benefit claim be denied.
Buying a disability insurance policy is similar to shopping for a computer that is offered with lots of different options. Most consumers don't fully understand the different available options and you don't really know if you will need all of the available options. The more favorable terms and language in your disability policy, the more it is going to cost.
We classify disability insurance policies into two types:
Individual / Private disability income policy
Group / Employer provided disability income policy
An individual disability policy is one that you buy from an agent that sells a custom designed disability policy to meet your needs and the premium will vary greatly based upon your age, prior medical history, type of work you perform and the options you decide to include in your policy. An individual disability policy is a contract between you and your disability company that will continue regardless of who you work for or what type of work you do.
With a Group / Employer disability policy, your employer negotiates one policy with the long-term disability insurance company, and almost every employee in your company has the same disability policy with the same terms and conditions. Group disability insurance offered by an employer is very similar to Group Health insurance in the sense that there are very few options and it's a take it or leave it situation. Some employers pay the premiums as an employee benefit and others allow the employee to pay the premiums if they want the employer provided disability. If you are either terminated or take a new job without being considered disabled, then your group/ employer disability policy will no longer cover you.
What is the difference between an Individual and a Group / Employer Provided Disability Income Policy?
There are significant differences between Individual and Group disability insurance policies and in the chart below Dell Disability Lawyers have created a comparison chart to highlight the major differences. Individual / Private disability insurance policies are far superior to a Group Disability insurance policy, but they often cost 8-10 times as much per every $1,000 of monthly benefit.
At www.diattorney.com, you can search for extensive information about how each disability company will act when it comes time to collect disability insurance benefits. If you have any disability insurance questions you can ask our disability lawyers a question and we usually answer the same day.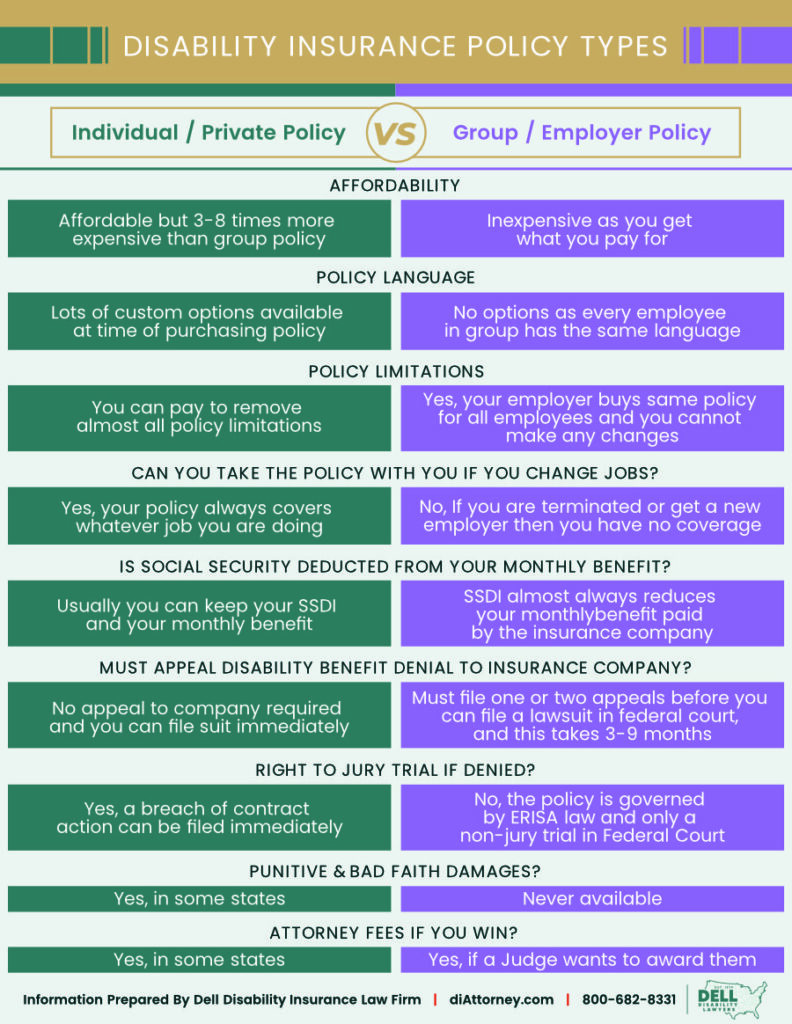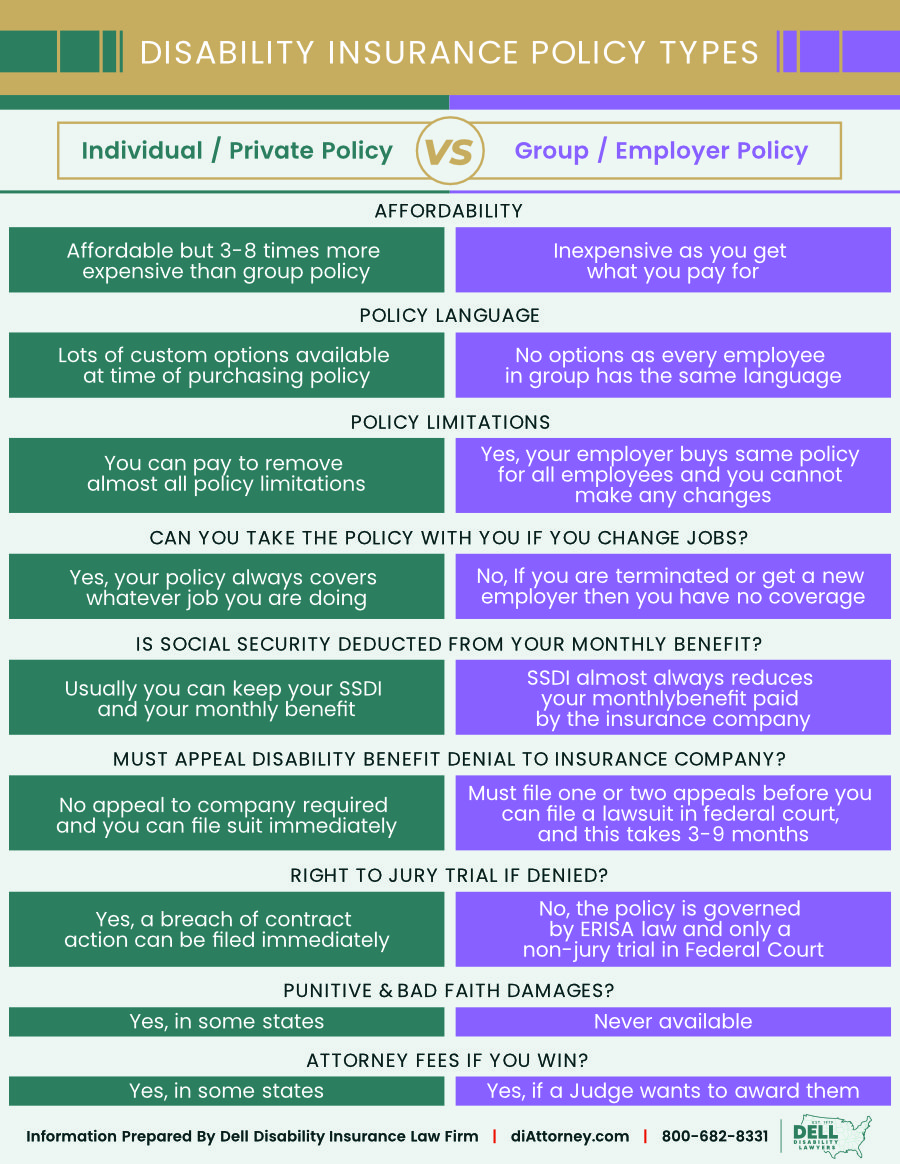 Where can you buy a Disability Insurance Policy?
A disability insurance policy can be purchased directly from an insurance company, an association that you may be a member of, or most commonly it's offered as a benefit by your employer. There are more than 40 different disability insurance companies that sell disability insurance and every company sells a different type of disability income policy. Whether you are an individual seeking to buy a private disability insurance policy or a company seeking to buy a group disability insurance for your employees, it is important to work with an insurance agent that specializes in long term disability insurance. Dell Disability Lawyers doesn't sell disability insurance but you can contact us for salesperson recommendations based upon our experience of working with some of the top disability insurance sales people in the country.
Who are the 20 largest disability insurance companies by LTD Premium Collection?
As you would suspect some disability insurance companies are better than others and you can learn about each of the disability insurance companies by reading disability insurance company reviews. According to Ibisworld.com, the disability insurance in 2020 was estimated at $19 billion dollars in short and long term disability premiums and a majority of the disability insurance policies sold were employer provided group disability insurance policies. According to Milliman's 2020 US Group Disability Insurance Market Study the top highest grossing companies for long term disability insurance premiums were:
| | | |
| --- | --- | --- |
| | Company | Premiums |
| 1 | Unum | $1,844,200,000 |
| 2 | The Hartford (purchased Aetna in 2017) | $1,804,900,000 |
| 3 | Lincoln (purchased Liberty in 2018) | $1,552,500,000 |
| 4 | New York Life (purchased CIGNA in 2020) | $1,537,600,000 |
| 5 | MetLife | $1,426,400,000 |
| 6 | The Standard | $867,000,000 |
| 7 | Prudential | $823,500,000 |
| 8 | Sun Life | $520,000,000 |
| 9 | Guardian | $484,000,000 |
| 10 | Reliance Standard | $419,600,000 |
| 11 | Mutual of Omaha | $363,100,000 |
| 12 | Principal Financial | $323.400,000 |
| 13 | Northwestern Mutual | $102,100,000 |
| 14 | Voya (formerly ING) | $97,400,000 |
| 15 | OneAmerica | $79,000,000 |
| 16 | Symetra | $68,800,000 |
| 17 | United Healthcare | $54,100,000 |
| 18 | Zurich (purchased by Aflac in 2020) | $53,700,000 |
| 19 | USAble Life | $37,300,000 |
| 20 | Equitable | $22,300,000 |
What type of Disability Insurance Policy should you buy?
The answer to this question is not clear cut because every individual has a different set of circumstances that makes their needs unique. Generally, individual / private disability policies are the most desirable because you can buy a true "own-occupation" definition of disability that pays disability insurance benefits if you are unable to perform the duties your occupation.  With an own occupation definition that lasts for the duration of your policy, you can be paid 100% of your benefits even if you can perform a different occupation that requires a different set of skills.
Most group disability policies offer an own-occupation definition of disability but it usually only last for 24 months and the definition of own occupation is how your occupation was performed in the national economy and not how you actually performed your job. For people with pre-existing conditions, a private policy will usually exclude those conditions, but a group disability policy will not exclude pre-existing conditions as long as you work and have your policy for at least 12 months prior to your date of disability.
A group disability policy is a fraction of the cost of an individual policy which is why many people prefer group over individual. The problem with a group / employer provided disability policy is that it is subject to the Federal law of ERISA. ERISA is a horrible law that protects insurance companies and limits the rights of individuals that have group insurance policies such as disability or health insurance.
With a private disability insurance policy you have the right to sue the disability company and you will get a jury to determine your eligibility. You also have the right in some states to seek bad faith and punitive damages for refusing to pay disability benefits. In a group disability policy if you are denied you must appeal to your disability insurance company and then if you lose the appeal you can only file a lawsuit in federal court. Your group disability denial will be decided by a Judge and often the Judge is limited to determining not whether you are disabled, but rather did the insurance company act reasonably in reviewing your disability insurance claim. If the Judge thinks you are disabled, but also finds the insurance company acted reasonably in reviewing your claim, then you lose and get nothing.
Further, with a group ERISA governed disability policy, the judge can never award punitive or bad faith damages. An award of attorney fees is possible with both a group and an individual disability policy. The inability to take a group disability policy with you when you change employers is a major disadvantage. There is no guarantee your next employer will offer long term disability insurance and if you have a pre-existing condition then you cannot buy a new policy to cover the pre-existing condition.
There are many pro and cons of private versus group disability insurance policies that must be considered. There are some good group disability insurance policies, but unfortunately most employers don't have the knowledge to buy a policy that provides the most protection for their employees.
If you can afford it then you can never go wrong with an individual disability insurance policy. Make your selection wisely as every disability insurance company is different and even though the prices may be similar you should investigate the reputation and reviews of each disability insurance company when it comes time to get paid benefits.
Resources to Help You Win Disability Benefits
Disability Benefit Denial Options
Submit a Strong Appeal Package
We work with you, your doctors, and other experts to submit a very strong appeal.
Sue Your Disability Insurance Company
We have filed thousands of disability denial lawsuits in federal Courts nationwide.
Disability Company Reviews
Answered Questions by Our Lawyers
Showing 12 of 805 Videos
Zurich Disability Denial Help. What To Expect. (Long Term Disabi...
Guardian Long Term Disability Denial Legal Help (Disability Atto...
Everything You Must Know About Your Disability Insurance Company
How Should You Present Your Medical Condition in a Long Term Dis...
JB Hunt Truck Driver Wins Unum Long Term Disability Appeal
Anesthesiologist Approved for Long Term Disability Benefits Plus...
New York Life's Number One Reason to Deny Disability Benefits
ADP Admin With Amputated Leg Denied Hartford Long Term Disabilit...
Filing For Unemployment Benefits Could Jeopardize Disability Ben...
Prudential Relies on Paper Medical Reviews to Deny Long Term Dis...
A private disability policy is better than an Employer provided ...
Hartford Disability Denial Reversed for Oracle Manager and Veter...
Showing 8 of 329 Benefit Tips
Showing 8 of 360 Dell Disability Cases
Disability Lawsuit Stories
Showing 8 of 763 Lawsuit Stories
Reviews from Our Clients
Martin R., Florida
I have nothing but deep, sincere thanks for the way in which you have taken care and protected me and my LTD income since April 2014. I am forever grateful to you both and your staff. You took a frightened man who was being hoodwinked by the Hartford who was fearful of losing his income, to one who was confident. I had a Lion protecting me and indirectly my dear wife Deborah. I will always be humbled by how you all treated me with reverence and professionalism. Your company is the standard to what all others should emulate.
Darryl Hammond
Attorney Alex Palamara and paralegal Danielle are both consummate professionals. Since the inception of my experience with them both they were very attentive thru the entire process and settled my case in a timely fashion.
Why would you recommend Dell Disability Lawyers?
I would unequivocally recommend attorneys Dell Disability Lawyers.
What could we do to improve?
They don't need improvement.
Rhiannon H., Alaska
I have a rare genetic condition that my insurance company didn't want to acknowledge. Stephen and his aide Sonia worked tirelessly for over a year and successfully forced The Standard into covering my policy. They are both empathetic and effective, the best combination.
Janice C., Vermont
Dell Disability Lawyers is an excellent law firm for dealing with disability companies. I tried for 18 months to get disability for a medical condition. I found Dell Disability Lawyers and spoke with Mr. Jay Symonds about my case. He was very understanding and explained how he could help me in a simple and easy to understand manner. Within 6 months of him taking on my case he was able to resolve the case to my satisfaction.
I could concentrate on my health instead of worrying about money to pay my bills. Mr. Symonds staff were all very kind and helpful. I never had a problem with contacting them for help and they were quick to respond to issues. I would highly recommend Mr. Symonds and his firm to anyone who needs assistance with disability claims with insurance companies.
Roycelyn G., Kentucky
After exhausting all efforts to find a local disability law firm to assist me with submitting claims for LTD non-ERISA and ERISA disability insurance policies, I resorted to a Google search for disability law firms. I decided to contact Dell Disability Lawyers after reading their clients reviews and watching videos on their website. Within 24 hours of contacting Dell Disability Lawyers, I received I call back and an appointment was made with Steven J. Dell, who after hearing my story decided to personally work with me.
He told me that he would put 100% effort to get me on claim. Mr. Dell and his assistant, Merlin Bryan were always available via phone or email to answer any questions that I had regarding my application for long term disability. He was meticulous in guiding me through the process leaving no stone unturned. My claims were approved on the initial application! I know that it was due to the diligence of my attorney, Steven J. Dell. Without Mr. Dell, my application for long term disability would have been rejected. I am very grateful to have had the representation of attorney, Steven J. Dell. 
Why would you recommend Dell Disability Lawyers?
Experts in non-ERISA and ERISA disability law. Dell & Schaefer Law Firm have a well-deserved reputation of taking on big disability insurance companies and winning for their clients. If you find yourself in need of a disability attorney, I highly recommend this firm. You will not be disappointed!
What could we do to improve?
Not a thing. I am a satisfied client.
Robert Z., Idaho
Awesome, super quick email response to my initial request, followed up by a phone call from the attorney to discuss details of my claim, all in the same day, and all free of charge.
Why would you recommend Dell Disability Lawyers?
Very responsive and super helpful, in addition I am very impressed at the level of service I received free of charge with no pitch to retain them.
What could we do to improve?
Nothing, perfect service.
David T., Florida
Appreciated the straight forward and direct answers to my questions. All paperwork and communication was handled in a timely manner.
Why would you recommend Dell Disability Lawyers?
Level of professionalism, excellent communication and world class client service.
What could we do to improve?
Nothing, very smooth process from A to Z !
James
This firm does exceptional work. I worked with them for my application for long term disability. My claim was approved on the initial application with one of the most notoriously difficult insurance carriers in the business. I'm 100% sure that this was due to my attorney Steven Dell. He was meticulous in shepparding me through the process making sure everything was done with precision and done correctly.
My anxiety thought this process was through the roof and Mr. Dell was always there to reassure me and peal me of the ceiling if needed. Mr. Dell and his assistant Merlin were always diligent and immediately responsive when I needed reassurance, help or something needed to be done. If you have a disability claim hire Mr. Dell and this firm. It will be the best money you ever spend.
Michael D., West Virginia
Efficient, energetic, experienced, and prompt. Quickly and cleanly dealt with. Each call was on time, outcomes reviewed, and confirmed. Highly professional and polite. I strongly recommend his services!
Why would you recommend Dell Disability Lawyers?
A professional dealing with professionals. Every time I thought … "I wonder what our status is?" I received an update, he provided great communication with awesome engagement.
What could we do to improve?
Advertise more so more people knew about your firm.