//= Helpers\Templates::to_string($resource_meta['hero'], 'hero') ?>
Cigna Long Term Disability Insurance Settlement Agreement Information
As long term disability insurance lawyers that have helped thousands of disability insurance claimants we are pleased to announce that Cigna / Life Insurance Company of North America (LINA) has entered into a "Regulatory Settlement Agreement" ( hereinafter known as "Cigna Settlement") with the Departments of Insurance from California, Connecticut, Maine, Massachusetts, and Pennsylvania. On May 8, 2013, five states and Cigna signed an Agreement which requires Cigna to implement new disability claim handling practices, re-evaluate long term disability claims that were denied during the time period of January 1, 2009 through December 31, 2010 and pay fines totalling $1,675,000. Residents of California are entitled to have a Cigna long term disability denial reconsidered if the claim was denied between January 1, 2008 through December 31, 2010.
This specific agreement only requires Cigna to reevaluate claims for residents of California, Connecticut, Maine, Massachusetts, and Pennsylvania. It is likely that other states will continue to investigate Cigna and require them to enter into a similar agreement. If your Cigna short or long term disability claim has been wrongfully denied in any state, then Attorneys Dell & Schaefer is offering an immediate free consultation to advise you of your potential right to collect disability benefits.
$77 Million and More of Wrongfully Denied Long Term Disability Benefit Payments
According to the California Department of Insurance press release on May 24, 2013, "Cigna has set aside $77 million for projected payments to policy holders potentially nationwide whose claims were not handled properly." If you have received a letter from Cigna advising of your rights to have your Cigna disability denial reconsidered, then you must respond to Cigna within 60 days of the date of the letter to preserve your right to a claim reassessment. We are recommending that all claimants that receive a Cigna reassessment letter contact Cigna immediately to advise of their desire to submit a reassessment of their prior claim denial.
The next recommended step is to contact Attorneys Dell & Schaefer so that a claimant can be advised of their rights and give themselves the best chance to have their claim approved. If you have not received any letters from Cigna, our lawyers can help you to obtain the proper documentation. "Our long term disability attorneys have helped thousands of Cigna disability claimants and we know exactly what Cigna requires in order to approve a long term disability claim," stated managing attorney Gregory Dell.
Our website contains a lot of information about Cigna, such as videos, public comments, court opinion summaries and resolved cases which you can view by clicking here.
Highlights of the May 13, 2013 Cigna Regulatory Settlement Agreement
The complete Cigna Agreement is 33 pages and reads similar to your typical legally drafted document. You can click here to review a complete copy of the May 13, 2013 Cigna Regulatory Settlement Agreement. We also welcome you to watch our Cigna Settlement video in which disability attorneys Gregory Dell and Stephen Jessup discuss the Cigna Agreement in greater detail.
The Cigna Agreement requires Cigna to implement a corrective plan of action, be subject to monthly monitoring by the five states department of insurance, and implement a reassessment program of previously denied claims.
The corrective plan of action requires Cigna to implement enhanced claim procedures for the handling of long term disability claims. The new claim handling procedures, which are specified in the Cigna Agreement discuss the following procedures which Cigna must comply with when making a determination on a long term disability claim:
a) Specific guidelines for how much weight must be given to an approved SSDI claim.
b) Procedures for gathering medical documentation, evaluating medical support of disability with co-morbid or co-existing conditions, and properly documenting conclusions.
c) Guideline for use of external medical resources for IME and FCE examinations and using a third party vendor to select the IME or FCE examiner.
d) "If a file is determined to lack sufficient information, claim handling personnel will take reasonable steps to work with claimant to identify and obtain such information."
e) Requirement that each clinical, vocational or medical professional employed by Cigna to execute a "Statement Regarding Professional Conduct".
f) In soliciting evaluations of claimant impairment from professionals, Cigna will provide each professional with all available medical, clinical and/or vocational evidence in the claim file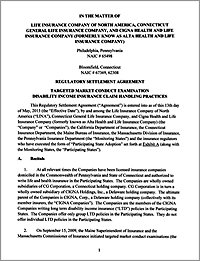 In addition to the implementation of the new enhanced claim procedures and a claim reassessment program, Cigna will be subject to constant monitoring by the five state departments of Insurance for a two year period. The states will be monitoring claims denied after January 1, 2013 and claims that Cigna is required to reassess that were previously denied in 2008 through 2010. Cigna will be required to meet with insurance company investigators and provide monthly and quarterly reporting to the states regarding their compliance with new claim handling procedures and the status on the number of previously denied claims they have reassessed. Cigna is required to establish a Disability Claim Quality Assessment Team which is comprised of 10 Cigna employees with at least 8 years of disability claim experience.
The Assessment team will be responsible for reviewing claims and making sure the new policies are being implemented properly. In addition, Cigna must form a Management Advisory Group, which will report to and meet on a quarterly basis with the department of insurance investigators. The Management Advisory Group includes the following Cigna high level employees: Vice President of Disability Operations, Group Claims Counsel, Director of Disability Claims, Total Quality Management, and Director of Policies and Procedures. At the conclusion of two years of monitoring by the states, Cigna will be subject to re-examination of their claim handling procedures.
If Cigna fails to comply, then they will be subject to additional fines. Cigna was fined $600,000 by the California Department of Insurance in 2006 and then was fined again in 2013 due to their lack of compliance following a 2010 re-examination by the California Department of Insurance. Only time will tell if Cigna will be able to comply with the requirements of the 2013 Settlement Agreement.
Legal Help With A Cigna Disability Denial Claim Reassessment
The Cigna Regulatory Settlement Agreement requires immediate action by a previously denied claimant. It is important to take immediate action if your Cigna long term disability claim was denied. It is important to gather copies of any prior documentation regarding your previous Cigna disability denial. It is anticipated that Cigna will challenge the reassessments with high scrutiny; therefore claimants must be very prepared when submitting a reassessment. Contact any of our disability lawyers for a free immediate consultation to discuss your potential Cigna disability claim reassessment.
Resources to Help You Win Disability Benefits
Disability Benefit Denial Options
Submit a Strong Cigna Appeal Package
We work with you, your doctors, and other experts to submit a very strong Cigna appeal.
Sue Cigna
We have filed thousands of disability denial lawsuits in federal Courts nationwide against Cigna.
Policy Holder Rating
Timely Payments
1.9out of 5
Handling Claim
2.0out of 5
Customer Service
2.0out of 5
Showing 8 of 103 Reviews
Answered Questions by Our Lawyers
Showing 8 of 70 Answered Questions
Showing 12 of 834 Videos
Tips To Prevent a Cigna Disability Benefit Denial
Applying for Cigna Disability Benefits? Top 5 Reasons for Claim ...
Cigna Disability Appeal Tips Following Disability Benefit Denial
Cigna Disability Benefit Denial Reversed For Woman With EDS Synd...
Trinity Health Care Registered Nurse Wins Cigna Long Term Disabi...
Colorado Court Reverses Cigna Disability Denial of Geico Employe...
Cigna ERISA Disability Benefit Lawsuits
We Win Long Term Disability Appeal Against Cigna For Cardiac Ca...
Cigna Disability Benefit Denial Won on Appeal by Alex Palamara
A Disability Lawyers' View of Cigna Disability Claim Handling
Watch Out For a Disability Benefit Denial Strategy Used By Cign...
Cigna Lump Sum Buyout & Settlement Disability Claim Assistance
Showing 8 of 329 Benefit Tips
Showing 8 of 363 Dell Disability Cases
Disability Lawsuit Stories
Showing 8 of 763 Lawsuit Stories
In Jerry Courville v. Life Insurance Co of North America (LINA), Plaintiff was employed as a shop manager for Schlum...
Read More >
In the case of Lapidus vs. Life Ins. Co. of N. Am. a Missouri federal court ruled against Cigna finding that Cigna wrongfully terminated long ...
Read More >
The Plaintiff in this case was vice-president of Medical Benefits at BJC Healthcare when a severe back condition required her to have a spinal...
Read More >
The case of Lani Kyle Moar v. Cigna Corporation, et al., demonstrates the lengths insurance companies will go to avoid paying long term disabi...
Read More >
Disability Insurance companies are criticized often for failing to perform independent medical evaluations and instead relying exclusively on ...
Read More >
Cal Van Steen had been employed as a Systems Integration Business Analyst at Lockheed Martin Corporation and participated in the company's g...
Read More >
In Johnson v. Life Insurance Company of America, a Colorado District Court ruled in favor of the claimant finding LINA's decision unsupporte...
Read More >
In Brasseur v. Life Insurance Company of America (LINA), Plaintiff Wilfred Brasseur, a computer engineer, worked in the Houston office of Chic...
Read More >
Reviews from Our Clients
Vain V.
Very satisfied with the work of this team. Took well care of my case and took all the necessary time to be responsive and attentive when I had questions. Guided me through recovery and returning to normalcy. All thanks to Jason & Tabitha, thank you!
I.P.
I'm extremely satisfied with the experience I have had with this firm from day one. The lawyer who has handled my case, Alex, is very efficient and attentive to all my questions and concerns. They are always aware of how my case has gone and they care about my health. I feel optimistic with them because they are very attentive during the process of my claim. I would not hesitate to recommend families and friends if in any situation they need their services. Kathleen as well has been very well and assisted me with this case. I highly appreciate everything they have done for me.
Steven P.
It's unfortunate when disability insurance companies come after older disabled policyholders just to help their bottom line. It can be a living nightmare the damage they can do to a family. Dell Disability Lawyers are polite, understanding and knowledgeable. They call you back and answer any question you have no matter how unimportant it can be. The amount of stress they took off of myself and family was incalculable. I recommend them highly to take care of any disability case whether it be filing for benefits or reversing a claim decision. They are outstanding.
Michael A.
I could not have been happier or more appreciative of the hard work they performed on my behalf. I was well briefed on my case and it was closed in a timely manner with a financially successful resolution.
Tonya D.
Mr. Symonds and Sonia as well as everyone else we have worked with throughout this process have been very helpful, professional and caring to our situation. We are very thankful to have this great team on our side.
Mommy M.
Without them my LTD company was dropping my plan with me still suffering from my accident, even with doctor's statements I'm still disabled. The LTD company didn't want to advance my policy to the next stage of years of pay. Dell Disability Lawyers saved my policy, and helped to enforce the LTD company's own policy (for its policy holder, me) that I would be covered still under the LTD policy I had paid for at my previous job, when my accident occurred. These lawyers know what they are doing and can help you too. LTD companies will try to drop you when you still need coverage just because they don't want to pay on your policy anymore. Don't let them break contract with ya because they are trying to get out of it. Hit em with legal action to ensure the continuation of your policy you paid for. Dell Disability worked very well for me and continue to do so.
Dawn D.
I was denied long term disability benefits from The Hartford after being on it for years. I found Dell Disability Lawyers after doing research online. In a matter of days they responded and explained to me everything that would be done. Dell Disability Lawyers were able to settle my suit against The Hartford very quickly and responded to me quickly. I would definitely recommend this team of lawyers for anyone that is fighting for their disability insurance.
Jimmy H.
I have had nothing but a great experience with Dell Disability Law Firm. Mr. Alex Palamara and his team went above and beyond my expectations. They will respond to emails and phone calls in a timely manner. Thank you once again for taking my case.
Michelle P.
This law firm is the best so far. MetLife denied me two times, they appealed two times for me and they won of course. So if you are on disability and want a chance at winning your case use this firm Dell disability lawyers, kind courteous understanding and they get the job done. You won't be disappointed.