During the pendency of an ERISA disability administrative appeal with Cigna disability insurance company our disability lawyers requested the resume of the in-house medical doctor at Cigna. The resume was requested in order to verify the qualifications and experience of the physician that was hired by Cigna. After more than 30 days of waiting for a response, Cigna provided an extremely generic resume for Dr. John M. Mendez which failed to provide either any dates or even state if Dr. Mendez has a valid medical license. The resume provided by Cigna provided the following information: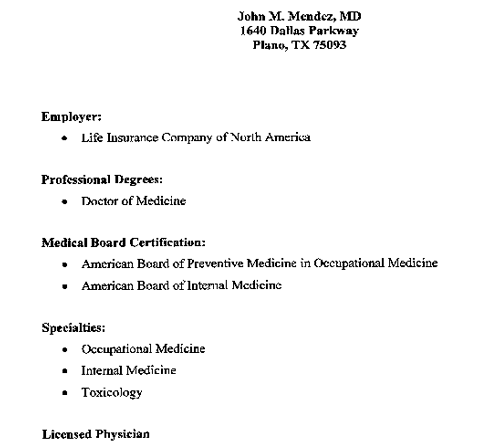 Dr. Mendez is believed to be the Medical Director for Cigna Disability division. How could Cigna send this resume out to a claimant and expect it to have any reasonable application. There is no way to use this resume in order to verify the qualification and experience of Dr. Mendez. A search of the Texas Medical Board website did not have any listing for a Dr. John M. Mendez, yet the resume provided by CIGNA reveals a Plano, Texas office address for Dr. Mendez. How is it that Cigna could possibly rely on the medical opinion of a doctor that appears to not be licensed to practice medicine in the State of Texas where his office is allegedly located? If Dr. Mendez is truly the Medical Director for Cigna, one would expect that they would select someone with a valid medical license and appropriate qualifications. The short and non-informative resume of Dr. Mendez is consistent with the short and often incomplete medical file reviews our lawyers have seen completed by Dr. Mendez.
A request has been made to Cigna for more detailed information about Dr. Mendez and his qualifications. Our law firm has seen numerous files that have been reviewed by Dr. Mendez since 2009 and it is unknown how long or how many files Dr. Mendez has been asked to review for Cigna. Any individual with a Cigna disability Claim should feel free to post their comments below about any interaction that have had with a disability claim reviewed by Dr. Mendez. Most Cigna disability claimants will have no interaction with Dr. Mendez unless their long term disability claim has been denied and you have requested a copy of your claim file.
Our disability lawyers have helped hundreds of Cigna disability insurance claimants and are available to answer questions related to a Cigna disability insurance claim or denial.