//= Helpers\Templates::to_string($resource_meta['hero'], 'hero') ?>
Don't Ignore Disability Insurance. Here's What to Buy.
Disability insurance is one of the most important insurance products, yet the vast majority of people working don't have it. 35% of employers in the USA offer disability insurance as an employee benefit and the coverage is referred to as a group disability insurance policy. Individuals also have the option to purchase an individual or private disability policy from an insurance agent.
In this article:
As disability insurance attorneys that help people get paid disability insurance benefits, people commonly ask us:
Is disability insurance worth paying for?
What kind of disability insurance policy should I buy?
In order to answer these two popular questions, disability insurance attorneys Gregory Dell and Rachel Alters sat down to discuss the value of having a disability insurance policy and to explain variations in the different types of disability insurance policies.
Why do you recommend for people to have disability insurance coverage?
RACHEL ALTERS: Everyone should have a disability policy, no matter where they work, no matter how much money they make. It is very important to protect yourself if all of a sudden one day you get sick, get in an accident, and you can't go to work for an extended period of time. Consider how you'd pay for your mortgage, groceries, medical bills, everything. Most people don't see themselves ever needing it, and those are the people that usually end up needing disability policies. I absolutely recommend that everybody exercise the option for disability if offered by an employer and buy a private disability policy on their own if they can.
There are a lot of stories about long term disability insurance denials, but how often are these disability benefit claims approved?
GREGORY DELL: The National Association of Disability Insurance Companies says that 90% of disability insurance claims are approved. Like any other type of insurance claim, disability insurance companies aren't just going to dish out money for a claim. Health insurance, auto insurance, homeowner's insurance, or renter's insurance are the most common forms of insurance. If you've ever had a claim, there are requirements that you have to satisfy. No matter what kind of claim, you have to follow the terms and conditions of the policy. You've got to know how to play the game so that you can put your claim in the best position possible to get paid, and that same strategy applies to whether it's short-term or long-term disability insurance claims.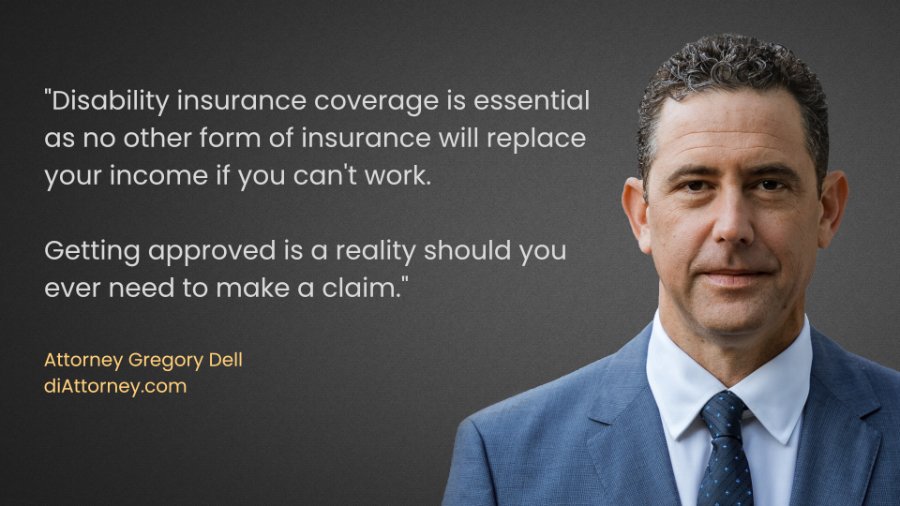 RACHEL ALTERS: The truth is that most of the disability insurance claims are approved. Clients call all the time saying they should never have gotten their disability insurance policy. What was the point? Once they hire me and I help them with the claim and I get them approved or we end up getting them a good settlement, they're always happy that they had the policy. At the moment where they get denied, they say that the policies aren't good. Everybody should have an insurance policy, even if you have to fight to get the carrier to approve the claim.
If my company offers disability insurance, why is it important to also have an individual policy?
GREGORY DELL: The policy with your employer is only good as long as you continue to have employment with that employer. If you end up switching jobs or you get fired and you're not disabled at the time, then your policy is done. It's the same thing if you're a university professor and you get a new job. You'd lose your policy that you had for years. If you go to try to buy an individual policy after having group coverage for ten or fifteen years, it's going to be two or three times the expense that it used to be. Age and health are big factors – the younger and healthier you are, the less expensive the policy will be.
The group disability policies are not portable. Very rarely you can convert them to an individual policy. Usually, when you leave your employment, you lose your policy. That's scary because not everyone stays with the same employer for their entire working career. Your new employer may not have group disability insurance, so it would have been nice to have your own individual policy that goes with you. Another thing to remember is that a disability policy that you buy on your own covers you for the job you were performing when you became disabled. Let's say you were a cardiac surgeon at the time you bought your policy, but you changed careers and became a carpenter because you didn't want to do heart surgery anymore. If you have an injury or a sickness while you're a carpenter, your individual policy is going to cover you from your occupation as a carpenter, not as a cardiac surgeon. That's very valuable because the policy is fluid, following you throughout your life to cover you no matter what you're doing.
What do you recommend for someone who is looking to purchase an individual policy?
GREGORY DELL: There are a lot of great agents out there that sell disability insurance policies. I highly recommend that you speak with an agent that is very experienced in selling them. Certain agents focus on doctors, others focus on business people. Some agents know how to handle everybody. Rachel and I, or any of our lawyers, are happy to make agent or disability company recommendations for you. We're also available to take a look at a policy or answer questions. We encourage you to subscribe to our YouTube channel because as you go through this process we have lots information that will answer all of your questions about long term disability insurance.
If you ever need to file a disability insurance claim down the road, we want to be there to help you. We have our opinions about which companies to buy policies from, which not to, and which policies are better for certain occupations. You can search through our website, look up your company, and look at the different stories and the reviews of each disability company. We have a lot of reviews about all the companies, probably one of the greatest resources on the entire internet for reviews of disability insurance companies so that you can get a flavor for who's doing what. Feel free to give any of our lawyers a call.
Does disability benefit approval mean that you're going to stay on claim for as long as you need those benefits?
GREGORY DELL: No. Every month disability insurance companies evaluate a claimant's eligibility for disability benefits. It's not hard to remain eligible but you need to make sure you understand all of the requirements of your policy to stay on claim. We manage long term disability insurance claims on a monthly basis for all of our clients so we always know all of the insurance company tactics.
What's the best type of long term disability policy to buy?
RACHEL ALTERS: If you're buying an individual policy from a broker, the best type of policy is an "own occupation" policy that will cover you until you are at least age 65 if you cannot perform the substantial duties of your own occupation. What that means is, at the time you become disabled, whatever your occupation is, whether you're a doctor, a lawyer, a legal secretary, you own a company, whatever it is that you do is your occupation. If you become disabled and can't do your specific job, the insurance carrier will pay you your monthly benefits. Then you can go and do another job with different skills and continue to collect total disability benefits. If you're a nurse and can no longer perform that duty because of a physical injury, you could review medical records. You could sit at a desk all day and still earn money in another job while you're getting paid under this policy. A true own occupation policy is the best policy to purchase. They may be a little more expensive, but it's extremely worth it.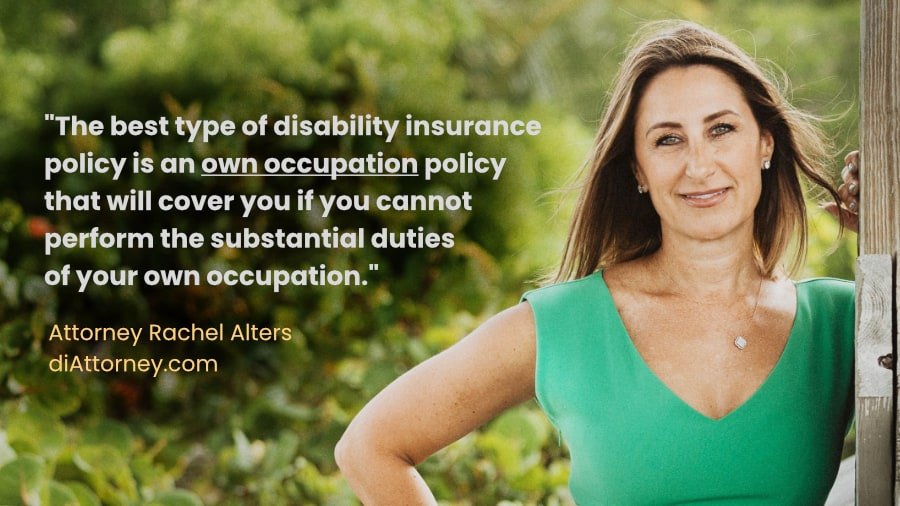 What kinds of different terms and conditions should a person ask for when buying a disability insurance policy?
GREGORY DELL: First it's important to understand that if your employer is offering group disability insurance coverage, then the employer has already negotiated the policy language and there is nothing you can do to change it. The employer provided group disability insurance policy has policy language that is the same for every similarly situated employee at your company.
If you are buying a disability insurance policy from an insurance agent, Rachel mentioned the most important policy language, which is a true own-occ definition of disability, but there are less expensive definitions of disability that you can purchase. Buying a disability insurance policy is like adding options onto a car that you would order. These policies are billed annually and paid monthly. You usually get an "own occupation" definition of disability that lasts for two years. Then after that, it changes to an "any occupation" definition of disability, which means that you're unable to perform the duties of any gainful occupation for which you have experience, education, and training. An own occupation definition is preferable because it covers the duties of your occupation at the time you became disabled, as opposed to any occupation. With an "any occupation" definition the disability insurance company could say they think that you could do another job that you would probably have the qualifications to do but is nothing like the skills of what you used to do.
You also pay a higher price for a shorter elimination period, which is the period of time that you have to be unable to work before you're eligible to make a claim. The elimination period is usually 180 days, buy them as short as 30 to 90 days. The longer the elimination period, the lower the premium's going to be. Most people purchase a 90 day elimination period.
Rachel mentioned a disability policy that pays to age 65, but some policies only pay for 24 months, 5 years, or they could pay for your lifetime. A policy that will pay for the rest of your life is going to be a lot more money.
What is a cost of living Increase option in a disability policy?
RACHEL ALTERS: Disability insurance policies are standard with a set monthly amount that will be the same for each month that you remain eligible. The disability companies offer a Cost of Living increase (COLA) rider which will raise you disability benefit every 12 months by either a fixed percentage or the percentage in which the consumer price index increases. A person should buy a disability policy with a Cost of Living increase option because your benefit can increase each year. A COLA is a really good option because it doesn't usually cost that much to have in the policy and it can increase the benefit greatly over several years.
Why is the "national economy" definition of disability bad for disability claimants?
RACHEL ALTERS: Disability insurance companies mislead people into thinking they have an "own occupation" definition of disability, but when you look at the definition of disability you realize that it is not actually protecting the way in which you performed the job for your employer. Insurance carriers can place language in the disability policy that describes your own occupation as it's defined in the national economy, or ONET, which provides a list of generic occupational duties for all types of jobs. Let's say you are a salesperson that is required to travel multiple times a month, to lift heavy boxes, to be in sales meetings. Things that as a sales manager are required in your specific job, that aren't necessarily how ONET defines the duties of a salesperson in the national economy. This can hurt a claim because if the insurance carrier goes by the national economy definition, and then you have to get on a plane multiple times a month, and can't do that with your disability, the insurance carrier won't even consider that because it's not listed in the occupational duties in the national economy. So, I always recommend that my clients make sure the definition of own occupation is as it's defined at the job that you are performing on the date you become disabled.
How do pre-existing conditions play into the application process and what should applicants do if they have one?
GREGORY DELL: A claimant should understand that when they go out to buy their policies you have to be honest about every question that you get asked. If you are untruthful or forget something, it's possible that when you go to file your claim that the disability insurance company will say that you misrepresented on your application, and therefore your policy is void. They'll give you back the premiums that you paid, but they're not going to cover your claim. The first thing they do when you file a claim is to look for pre-existing conditions and verify everything that you put on that application. I have seen where claimants make a claim 20 years after applying, and the insurance company sees something that is related to something that wasn't disclosed on the application. Then they void or attempt to void the entire policy. Be honest about every single thing because your policy may be worthless if you aren't truthful in your application. It's a tremendous issue that you have to be aware of.
RACHEL ALTERS: Sometimes I'm asked by applicants if they can still get coverage if they have a herniated disk in their back. The truth is, the insurance company will probably put an exclusion on your policy. A "rider" says that they will cover you for any and all disabilities other than the back issue that you currently have. So, if you try and make a claim down the road for that specific back condition, it's going to be excluded. However, if you become sick with something else, like Alzheimer's or Parkinson's, or something else that doesn't involve that specific area of the back, then the insurance company is required to cover you. So, it doesn't hurt to get a policy with an exclusion – it's better off than having no policy at all.
What is a mental nervous limitation in a disability policy?
RACHEL ALTERS: A lot of people don't realize that mental nervous limitations are included in a disability policy for medical conditions such as depression, anxiety, bipolar disorder, or sometimes schizophrenia. Insurance companies will limit payments under these disabilities to 24 months during the lifetime of the policy. Certain companies have no mental nervous limitations in their policies. They may cost a little bit more, but it's one hundred percent worth purchasing those policies because it is a very common to be disabled by a mental nervous condition.
Resources to Help You Win Disability Benefits
Disability Benefit Denial Options
Submit a Strong Appeal Package
We work with you, your doctors, and other experts to submit a very strong appeal.
Sue Your Disability Insurance Company
We have filed thousands of disability denial lawsuits in federal Courts nationwide.
Disability Company Reviews
Answered Questions by Our Lawyers
Showing 12 of 729 Videos
You Must File for SSDI With a Group Disability Policy (Long Term...
Metlife Approves Disability Benefits for Emergency Room Doctor W...
Treat With Your Doctor Often (Long Term Disability Lawyer Tip #1...
Understand Your Definition of Disability (Disability Attorney Ti...
Project Manager Denied Disability Benefits by Hartford After 15 ...
Keep a Pain Journal or Symptom Log (Disability Lawyer Tip #13)
Principal Financial Approves Long Term Disability Benefits for E...
Medical Device Manager With Shoulder Injury Wins Mutual of Omaha...
United Healthcare Disability Denial (Long Term Disability Attorn...
Senior Project Manager with Cognitive Limitations Wins Unum Long...
Hospitalist at Kaiser Permanente Disabled by Knee & Back Pain Wi...
Respiratory Therapist with Fibromyalgia Wins Hartford Short and ...
Showing 8 of 324 Benefit Tips
At Dell & Schaefer we've handled hundreds of long term disability insurance claims against Reliance Standard, and have learned a few thi...
Read More >
At Dell & Schaefer, we've helped hundreds of clients recover long term disability benefit...
Read More >
When you finally receive a letter from Guardian Disability informing you that your claim for ...
Read More >
Every disability insurance policy is different, and whether your disability insurance claim i...
Read More >
One common question the attorneys here at Dell & Schaefer receive comes from policyholder...
Read More >
Disability insurance is one of the most important insurance products, yet the vast majority of people working don't have it. 35% of employer...
Read More >
If you have a disability claim that involves neck pain, you might be wondering exactly how mu...
Read More >
Disability insurance also known as disability income insurance is an insurance product that will pay a monthly benefit amount if you are unabl...
Read More >
Showing 8 of 349 Dell Disability Cases
Disability Lawsuit Stories
Showing 8 of 764 Lawsuit Stories
Reviews from Our Clients
Martin R., Florida
I have nothing but deep, sincere thanks for the way in which you have taken care and protected me and my LTD income since April 2014. I am forever grateful to you both and your staff. You took a frightened man who was being hoodwinked by the Hartford who was fearful of losing his income, to one who was confident. I had a Lion protecting me and indirectly my dear wife Deborah. I will always be humbled by how you all treated me with reverence and professionalism. Your company is the standard to what all others should emulate.
Darryl Hammond
Attorney Alex Palamara and paralegal Danielle are both consummate professionals. Since the inception of my experience with them both they were very attentive thru the entire process and settled my case in a timely fashion.
Why would you recommend Dell Disability Lawyers?
I would unequivocally recommend attorneys Dell Disability Lawyers.
What could we do to improve?
They don't need improvement.
Rhiannon H., Alaska
I have a rare genetic condition that my insurance company didn't want to acknowledge. Stephen and his aide Sonia worked tirelessly for over a year and successfully forced The Standard into covering my policy. They are both empathetic and effective, the best combination.
Janice C., Vermont
Dell Disability Lawyers is an excellent law firm for dealing with disability companies. I tried for 18 months to get disability for a medical condition. I found Dell Disability Lawyers and spoke with Mr. Jay Symonds about my case. He was very understanding and explained how he could help me in a simple and easy to understand manner. Within 6 months of him taking on my case he was able to resolve the case to my satisfaction.
I could concentrate on my health instead of worrying about money to pay my bills. Mr. Symonds staff were all very kind and helpful. I never had a problem with contacting them for help and they were quick to respond to issues. I would highly recommend Mr. Symonds and his firm to anyone who needs assistance with disability claims with insurance companies.
Roycelyn G., Kentucky
After exhausting all efforts to find a local disability law firm to assist me with submitting claims for LTD non-ERISA and ERISA disability insurance policies, I resorted to a Google search for disability law firms. I decided to contact Dell Disability Lawyers after reading their clients reviews and watching videos on their website. Within 24 hours of contacting Dell Disability Lawyers, I received I call back and an appointment was made with Steven J. Dell, who after hearing my story decided to personally work with me.
He told me that he would put 100% effort to get me on claim. Mr. Dell and his assistant, Merlin Bryan were always available via phone or email to answer any questions that I had regarding my application for long term disability. He was meticulous in guiding me through the process leaving no stone unturned. My claims were approved on the initial application! I know that it was due to the diligence of my attorney, Steven J. Dell. Without Mr. Dell, my application for long term disability would have been rejected. I am very grateful to have had the representation of attorney, Steven J. Dell. 
Why would you recommend Dell Disability Lawyers?
Experts in non-ERISA and ERISA disability law. Dell & Schaefer Law Firm have a well-deserved reputation of taking on big disability insurance companies and winning for their clients. If you find yourself in need of a disability attorney, I highly recommend this firm. You will not be disappointed!
What could we do to improve?
Not a thing. I am a satisfied client.
Robert Z., Idaho
Awesome, super quick email response to my initial request, followed up by a phone call from the attorney to discuss details of my claim, all in the same day, and all free of charge.
Why would you recommend Dell Disability Lawyers?
Very responsive and super helpful, in addition I am very impressed at the level of service I received free of charge with no pitch to retain them.
What could we do to improve?
Nothing, perfect service.
David T., Florida
Appreciated the straight forward and direct answers to my questions. All paperwork and communication was handled in a timely manner.
Why would you recommend Dell Disability Lawyers?
Level of professionalism, excellent communication and world class client service.
What could we do to improve?
Nothing, very smooth process from A to Z !
James
This firm does exceptional work. I worked with them for my application for long term disability. My claim was approved on the initial application with one of the most notoriously difficult insurance carriers in the business. I'm 100% sure that this was due to my attorney Steven Dell. He was meticulous in shepparding me through the process making sure everything was done with precision and done correctly.
My anxiety thought this process was through the roof and Mr. Dell was always there to reassure me and peal me of the ceiling if needed. Mr. Dell and his assistant Merlin were always diligent and immediately responsive when I needed reassurance, help or something needed to be done. If you have a disability claim hire Mr. Dell and this firm. It will be the best money you ever spend.
Michael D., West Virginia
Efficient, energetic, experienced, and prompt. Quickly and cleanly dealt with. Each call was on time, outcomes reviewed, and confirmed. Highly professional and polite. I strongly recommend his services!
Why would you recommend Dell Disability Lawyers?
A professional dealing with professionals. Every time I thought … "I wonder what our status is?" I received an update, he provided great communication with awesome engagement.
What could we do to improve?
Advertise more so more people knew about your firm.