//= Helpers\Templates::to_string($resource_meta['hero'], 'hero') ?>
Will your COVID-19 Stimulus Money be an Offset to your LTD Benefits?
Lately we have had a common question continually arise from our clients and even potential clients. As everyone on claim and receiving disability insurance benefits knows (or has unfortunately learned while on claim), insurance companies reduce the amount of money they pay each month if the claimant is receiving certain other source of income. Most often, insurance companies are able to reduce the amount of money they pay due to the claimant receiving Social Security Disability Income Benefits.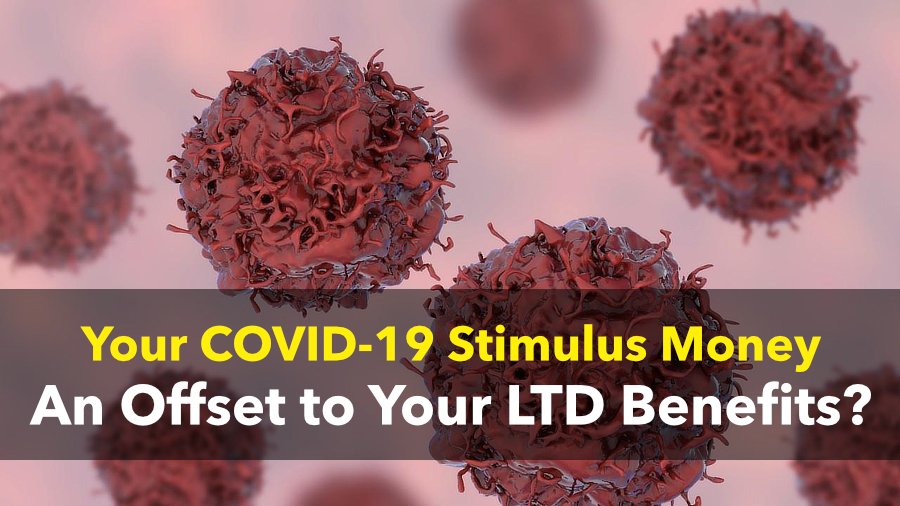 Due to the COVID-19 pandemic that is affecting the United States and World and its great impact on the economy, Congress has responded with a $2 trillion dollar stimulus package, which is formally known as the Coronavirus Aid, Relief and Economy Security (CARES) Act.
With this Act, the federal government will pay $1,200 to individual taxpayers ($2,400 for co-filing married couples), with an additional $500 per qualifying child under the age of 17, with certain limitations or reductions depending on your income (For more specific information regarding the amounts to be paid, see recent news articles on the subject or contact your local government representative).
It has been stated that those receiving disability insurance benefits are eligible to receive Stimulus Funds. As such, many individuals currently on claim will be receiving additional monies from the Federal Government in the near future.
This has left many people asking: Will the Stimulus Funds be an Offset to my Disability Insurance Claim?
In all likelihood, the answer is NO.
Over the course of the last few weeks, we have reviewed multiple policies with multiple insurance companies. Most policies require that the other income benefits you receive must be as a result of your Disability or the Sickness or Injury that caused your Disability. In policies with this or similar language, the argument can be made that the Stimulus Money is not being paid due to your Disability and thus cannot be an offset.
Meanwhile, other policies are written with vague language whereby an insurance company could potentially make the argument that the Stimulus Money could be considered "other income benefits."
For instance, Hartford's policies often state that other income benefits include "The Amount of any temporary and permanent benefits to which you are entitled under any:
workers' compensation law;
occupational disease law;
unemployment compensation law;
compulsory benefit act or law;
other act or law of like intent."
While an argument could be made that the Stimulus Money could fall under some of those subsections, we do not believe that any insurance company will attempt to make the argument that this Stimulus Money should be an offset.
The main reason we are fairly confident that the Stimulus Money will not be an offset (if they could even make the argument that it should be) is that the insurance companies would be creating a Public Relations Nightmare. It would look terrible if insurance companies attempted this as they would then in effect be the beneficiaries of this Congressional Act. Insurance companies would essentially be stealing money out of the pockets of those who Congress intended to receive money.
Once word leaked that this was occurring (and you can be assured that Dell & Schaefer would get this to every major news outlets as well as Congressional Representatives), Congress, the Media and our Firm would then come down hard on the industry which would impact its business and stock value. Thankfully, we believe that the insurance companies do not have any intent to offset this money and claimants should be assured that they should be able to keep every Stimulus dollar received.
However, should your disability insurance provider attempt to offset your Stimulus Funds, please contact us immediately as we would love to fight each and every insurance company that attempts to do so.
Resources to Help You Win Disability Benefits
Disability Benefit Denial Options
Submit a Strong Appeal Package
We work with you, your doctors, and other experts to submit a very strong appeal.
Sue Your Disability Insurance Company
We have filed thousands of disability denial lawsuits in federal Courts nationwide.
Disability Company Reviews
Answered Questions by Our Lawyers
Showing 12 of 834 Videos
Lawyer Wins 24 Month Mental Nervous Prudential Disability Denial
Florida Disability Insurance Denial Lawyers Discuss Florida Disa...
KPMG Tax Consultant Wins Prudential Disability Appeal
How Our Disability Lawyers Get Long Term Disability Benefits App...
California Disability Insurance Denial Lawyers Discuss CA Disabi...
Don't Apply For Disability Benefits Without a Lawyer
Corporate Attorney with Long COVID & Cognitive Limitations Wins ...
Is it Easy To Get Disability Benefits Paid?
Insurance Companies Don't Want You to Have a Long Term Disabilit...
Don't Fear Video Surveillance in Disability Insurance Benefit ...
Building Engineer Wins Lincoln Financial Disability Appeal
Reliance Standard Denies LTD Benefits 4 times in 24 Months for 6...
Showing 8 of 329 Benefit Tips
Showing 8 of 363 Dell Disability Cases
Disability Lawsuit Stories
Showing 8 of 763 Lawsuit Stories
Reviews from Our Clients
Vain V.
Very satisfied with the work of this team. Took well care of my case and took all the necessary time to be responsive and attentive when I had questions. Guided me through recovery and returning to normalcy. All thanks to Jason & Tabitha, thank you!
I.P.
I'm extremely satisfied with the experience I have had with this firm from day one. The lawyer who has handled my case, Alex, is very efficient and attentive to all my questions and concerns. They are always aware of how my case has gone and they care about my health. I feel optimistic with them because they are very attentive during the process of my claim. I would not hesitate to recommend families and friends if in any situation they need their services. Kathleen as well has been very well and assisted me with this case. I highly appreciate everything they have done for me.
Steven P.
It's unfortunate when disability insurance companies come after older disabled policyholders just to help their bottom line. It can be a living nightmare the damage they can do to a family. Dell Disability Lawyers are polite, understanding and knowledgeable. They call you back and answer any question you have no matter how unimportant it can be. The amount of stress they took off of myself and family was incalculable. I recommend them highly to take care of any disability case whether it be filing for benefits or reversing a claim decision. They are outstanding.
Michael A.
I could not have been happier or more appreciative of the hard work they performed on my behalf. I was well briefed on my case and it was closed in a timely manner with a financially successful resolution.
Tonya D.
Mr. Symonds and Sonia as well as everyone else we have worked with throughout this process have been very helpful, professional and caring to our situation. We are very thankful to have this great team on our side.
Mommy M.
Without them my LTD company was dropping my plan with me still suffering from my accident, even with doctor's statements I'm still disabled. The LTD company didn't want to advance my policy to the next stage of years of pay. Dell Disability Lawyers saved my policy, and helped to enforce the LTD company's own policy (for its policy holder, me) that I would be covered still under the LTD policy I had paid for at my previous job, when my accident occurred. These lawyers know what they are doing and can help you too. LTD companies will try to drop you when you still need coverage just because they don't want to pay on your policy anymore. Don't let them break contract with ya because they are trying to get out of it. Hit em with legal action to ensure the continuation of your policy you paid for. Dell Disability worked very well for me and continue to do so.
Dawn D.
I was denied long term disability benefits from The Hartford after being on it for years. I found Dell Disability Lawyers after doing research online. In a matter of days they responded and explained to me everything that would be done. Dell Disability Lawyers were able to settle my suit against The Hartford very quickly and responded to me quickly. I would definitely recommend this team of lawyers for anyone that is fighting for their disability insurance.
Jimmy H.
I have had nothing but a great experience with Dell Disability Law Firm. Mr. Alex Palamara and his team went above and beyond my expectations. They will respond to emails and phone calls in a timely manner. Thank you once again for taking my case.
Michelle P.
This law firm is the best so far. MetLife denied me two times, they appealed two times for me and they won of course. So if you are on disability and want a chance at winning your case use this firm Dell disability lawyers, kind courteous understanding and they get the job done. You won't be disappointed.