Our Connecticut Disability Attorneys assist disability insurance claimants during all stages of a claim for disability insurance benefits. Since 1979, our disability law firm has represented disability claimants against every major disability insurance company. We have earned our reputation in both Connecticut and Nationwide as aggressive, competent, and reliable disability insurance lawyers.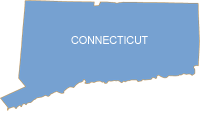 It is essential to hire a disability insurance law firm that has the resources, co-counsel network and experience to effectively represent disability insurance claimants against these nationwide disability insurance companies. We have relationships with lawyers throughout Connecticut and if we are not able to assist you with your disability claim, then we may be able to recommend a Connecticut disability lawyer. If you have a disability insurance claim in either Connecticut or any other state, contact our disability insurance attorneys for a free consultation.
Connecticut residents that have had their disability insurance benefits denied can file a lawsuit in the Connecticut Superior Court under a limited set of circumstances. Connecticut's state appellate courts include the Appellate Court and the Connecticut Supreme Court. If the disability claimant resides in Connecticut and the disability insurance company is located in a different state, and the amount of disability benefits payable is greater than $75,000, then the lawsuit can be filed in Connecticut Federal District Court. If the disability insurance policy is an employer provided policy governed by ERISA, then the disability claim must be filed in federal court. Connecticut has one Federal District Court. An ERISA governed disability claim denial lawsuit can usually be filed in any state that the insurance company conducts business. According to the Connecticut Department of Insurance there are more than 1,200 insurance companies that sell insurance products in Connecticut.
Do I Need To Come To Your Office In Order For Your Firm To Evaluate My Claim?
No. We are certainly available to meet with you at any of our satellite offices located in either Connecticut or another state, however following a review of your disability policy or any other pertinent documents and a free telephone conversation we are usually able to make a determination. It is our job to try to get our clients paid their disability insurance benefits as quick as possible; therefore we prefer to have an initial consultation via telephone.
Do I Have to File My Disability Denial Lawsuit in Connecticut?
In the event of a disability claim denial, our disability attorneys will usually have the option of selecting one of several states to file the disability lawsuit. More than 80% of short term and long term disability insurance policies are governed by a federal law called ERISA, which means that a Connecticut disability insurance attorney can usually file a lawsuit in any federal court in any state.
Connecticut Courts, Government and Connecticut Department of Insurance Information
FEDERAL COURTS