Attorneys for Assurant Disability Claims
---
Assurant or Union Security Disability Benefit Appeal, Denial. Lawsuit, and Claim
---
Assurant Employee Benefits insurance company, also known as Union Security Insurance Company, often seems more interested in getting people back to work rather than paying disability benefits. Assurant is proud of their trademarked "WillReturn" program which is suppose to help employees get back to work quickly.
From our experience of handling thousands of disability insurance claim denials, companies such as Assurant use these self created "return to work computer programs" in order to create unjustified recovery periods for disabled policy holders. Assurant employees are trained to rely on computer data in order to determine disability duration periods based on the type of medical condition that is disabling a claimant. Assurant claims analyst are further trained to look for specific medical documentation which if left out of a claimant's medical record will result in a claim denial. Assurant Employee Benefits has more than 1,000 employees and they have their own medical consultants, vocational consultants and private investigators which they rely upon in order to investigate every aspect of an Assurant disability claim and Union Security disability claim.
As disability insurance lawyers we have the experience, knowledge and resources to prepare and strengthen a disability insurance claim against Assurant. A claimant must be prepared when dealing with Assurant or they could have a difficult time achieving the appropriate amount of disability payments from Assurant.
Obtaining payment of Assurant Short Term or Long Term Disability Benefits may not be as easy as Assurant makes it seem
In an Assurant marketing video, Assurant claims to handle more than 16,000 claims each year. Assurant has a very strong sales force and they sell their short term and long term disability insurance products to employers with at least three employees. Assurant makes claimants think approval of disability benefits will be relatively easy by using catchy slogans in their marketing videos such as: "Insurance that helps you go on living", "To do the right thing at the right time", and "Choose the provider who cares".
We found two of Assurant's disability insurance marketing videos published on YouTube, which can be viewed below:
Kansas Federal Judge reverses Union Security and Assurant denial of Long Term Disability Benefits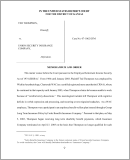 Reading about lawsuits involving your disability insurance company is one of the best methods for a disability claimant to learn about the claims handling tactics used by their own disability insurance company.
We have uploaded for your review a 41 page court decision prepared by a Kansas Federal judge, which provides great detail about a nurse's denial of long term disability benefits and the reason the court reversed Union Security's denial of disability benefits.
This particular case was not handled by our law firm, however we have represented numerous disability claimants with Assurant and Union Security disability policies. The judge wrote an extremely detailed court Order which documents all of the unreasonable actions taken by Union Security and Assurant. Our disability lawyers welcome the opportunity to provide a free consultation regarding your Assurant disability benefit claim.
Who is Assurant and why do they have so many different company names?
Assurant Employee Benefits is the brand name for insurance products underwritten by Union Security Insurance Company. Assurant Employee Benefits is subsidiary of Assurant Inc., which is a publicly traded New York Stock Exchange company with more than $25 billion in assets and $8 billion in revenues.
Assurant has had many different company names since their initial incorporation in 1910 as the Montana Life Insurance Company. It was not until 2004 that the company name was changed to Assurant. Prior to 2004 Assurant sold long term disability policies under the company name of Fortis Benefits Insurance Company. In 2005 the company name of Fortis Benefits was changed to Union Security Insurance Company.
Currently Assurant markets all of their short term and long term disability policies through the brand name of Assurant Employee Benefits, but the actual policies are underwritten by Union Security Insurance Company. Assurant Employee Benefits is headquartered in Kansas City, MO and they claim to have over 1,000 employees. Assurant also claims to be the fourth largest provider of disability insurance policies that are in force.
It is important to be aware of the corporate structure of Assurant, because most disability claim denial lawsuits are filed against Union Security Insurance Company.
There are 20 opinions so far. Add your comment or complaint below.
I totally hate Assurant for the way they treated me after I filed for benefits under my long-term-disability insurance plan. I have Chronic Fatigue Syndrome, Fibromyalgia, Severe Sleep Apnea, and Irritable Bowel Syndrome. Assurant paid my LTD benefits for a while, then denied me. My attorney wrote to them and he got my benefits reinstated. Assurant then reclassified my illness as mental, i.e. depression and anxiety, so that they would only have to pay my benefits for 2 more years. Luckily, I obtained Social Security disability benefits about the time my LTD ran out.

Most people with chronic illnesses do suffer from depression and anxiety at times. Mostly, the depression and anxiety are caused by the LTD insurance companies.

Thank God there are attorneys such as you to help the victims of insurance company greed!

I have RSD and other injuries (shoulder wrist), I have been on LTD through Assurant for 11 years. They assigned a new case worker to me who has a black hole for a heart. They are now trying to drop me. She wants to send a nurse to interview myself and my doctor after my appointment who probably knows nothing about RSD. I have 60 emails from her, she has me stressed out so bad my BP and Pulse are very high. I hate them! She wanted me to go through an FCE with the pain I have it would kill me. My BP and Pulse are too high to take that test from hell! She has me so upset I can't think. They obviously don't understand Chronic Pain or Illness.

Patricia,

RSD is a horribly disabling and painful condition. There are very few doctors that actually understand the condition. It is shame to hear that Assurant is giving you such a difficult time. You should definitely video tape the FCE exam. Let us know if we can assist you.

Thank you, I was unable to do the FCE as I figured my BP was 189/128 the PT wanted to call an ambulance. I asked him not to as this happens to me because my sympathetic nervous system is haywire, due to the RSD. The fight/flight mechanism. I have no health insurance right now so he didn't call and ambulance because my husband was with me to drive me home. I have finally found a local attorney that handles private disability. I can't take their harassment anymore! Thank you for your response and offer. Yes Really Sucks Dystrophy is horrid :(

Patricia,

You should document the situation with your treating doctor ASAP. We handle claims nationwide, if we can assist you in the future, please let us know. Take care of yourself.

The tricks that Assurant employ in order to release themselves from their responsibilities in providing the appropriate services to those who pay Short and Long Term disability Insurance premiums is appalling.

After being on LTD for less than ien year, Assurant informed me that I was required to apply for SSDI or they would cut my disability payments in half. Not only do they under duress force you to file for SSDI, they insist that you pay them back any monies you receive retroactively from Social Security, but also demand repayment as overpayment for SSDI benefits that are awarded to your dependants.

If you dispute their right to take these monies awarded to you from your SSDI benefits, they threaten to stop your payments entirely.

It is disgusting, how Assurant treats and takes advantage of those who are on disability. Assurant does not care about the health status of those they insure, they are only concerned in how they can get and sell premiums and avoid paying the disabled the Disability Benefits truely deserved.

It is important to make as many disabled persons as possible aware of the crude and insidious tactics of this insurance company.

Paul,

Unfortunately, almost ALL ERISA based disability policies allow for the offset of SSDI benefits.

The long term disability from Assurant is nothing more than a loan program. Matter of fact; the worker that is handling my case at assurant confirmed it is nothing more than a loan program. She suggested I apply for welfare benefits. I have paid in over eighteen thousands dollars in premiums. I will end up with not one cent from them because they will take my back payments from my retirement funds as well as social security. This policy was grossly misrepresented. Nothing was said about paying the insurance company back for the monthly benefit if qualified for disability. Matter of fact; the presentation and private consulation stated it is prorated forward. I want my premiums paid back to me for grossly misrespresenting their product. I would never take out such a policy if I had been properly informed. It is a rip off.

Jordan,

It is unfortunate to say, but you are not alone. The majority of employer provided disability insurance policies, and even some privately purchased policies, write offsets to the monthly benefit received for other sources of income received such as Social Security or Retirement.

Assurant will take my Social Security back pay. In the end they will not have paid me one cent. They are also taking my retirement disability income back pay. This is a loan program not an insurance program. People would not take out this type of insurance if it was explained appropriately. The way they have figured my income is also a rip off. They do not include what I normally would earn in overtime. They do not include the thousand dollars a month I am paying for the Corba insurance. My employer use to make these payments for health insurance as part of my wages. How can they get away with calling themselves an insurance policy? Why is no one standing up for the disabled workers against the rip off by the long term disability insurance companies? What does the interest rate figure out for paying benefits for five months then making you pay them back? I paid in over eighteen thousand dollars. That is extremely high interest rate.

Had a heart attack in February. Filed a claim. First it took over a month to get the forms back from my former employer and now I am told my Mr. McDaniels that I have to wait for release forms from the hospital and attending Dr's. I feel they could have been doing that while they were waiting on the other forms. I'm not going to take too many more of these excuses and delays.

Caldwell,

Have they issued a benefit? Please note that as the insured it is your duty to provide any and all information required to evaluate your claim- to include medical records and claim forms. Please feel free to contact our office how we may be able to assist you with your monthly claims handling.

I had Assurant LTD. 2 months before my 3 year review and 11 days after my SSDI hearing they canceled me without notice. In February 5 months later I received SSDI. And, 3 weeks after that they called wanting their overpayment back. Long story short yesterday I got a call from a collection agency wanting twice what they ask for. During the conversation the gentleman told me that in my file Assurant stated that I was awarded SSDI 10 days after my hearing. When I told him that I didn't know anything about that and that they had not contacted me about negotiating a settlement amount he quickly and did they gave a judgement against me to pay. He quickly stated he was going to call Assurant legal department. This company will break every law to screw you. They wanted my Tax returns, they wanted me to pay for them to talk to my doctors, on and on. If you have to deal with these people more than once get a lawyer!

Barb,

What is the current status of your claim? Did you appeal the denial? Please feel free to contact our office to discuss your claim in detail.

I have been harasses threatened and denied by Assurant for over 7 years. They have created great mental and physical abuse with their relentless tactics. I had 2 near death experiences from botulism toxin and it destroyed my central nervous system which cause horrible chronic fatigue and pain. I was awarded SSD but they are requiring more money and that I recieved and now have decided o just stop payments. I am a former Marine and never missed a day a work in my entire life and became a corporate executive until the botulism toxin. What Assurant is doing to people needs to be brought out in the public so the world can see. Also every company that chooses Assurant needs to know and be accountable to the choice they made and how it hurts their employees and former employees. I would like to pursue this for what they have done to me but also others who could not stand up to their abuse. I used be a Director of 3 fortune 100 companies and had responsibility of helping choose insurance benefits and I would want to know what they are doing to by employees . David

David, when was your claim denied? Did you go through an administrative appeal with them?

Assistant denied my claim in 2012 due to a "pre-existing" condition that was non-existent. I had held a conversation with my doctor which didn't result in any diagnosis or prescription but this one note essentially robbed me and my family of thousands of dollars of money. I had held a policy with Assistant for over 9 years. I was beyond disappointed in their tactics.

I had to step away from work in January of 2016 due to mounting health issues. Nearly a year later, and nearly 6 months after SSD awarded me disability, I'm still receiving letters telling me they require an extension, as my claim is being investigated to meet certain requirements. Granted, I submitted dozens of medical documents myself and they've received everything from Social Security, which included documents from the department of Veterans affairs as well. All told, probably close to 600 documents. After all of this I'm still getting the runaround. Of course after they reduce for SSD, I'll be lucky to see $100 a month from those people. That of course begs the question, what recourse do I have when any legal battle would cost far and above any payout I could potentially receive if I win that battle. If it's so obvious to some of the most scrutinizing Federal agencies that I'm disabled and in able to work, then how could these people squander my claim? This isn't what I paid for.

We are going through an ongoing battle with this insurance company for a mortgage disability policy that they started to pay and are now finding every reason they can – including mismatched dates on forms – to not pay our benefit. I cannot believe after seeing all the same complaints that someone cannot or will not put a stop to this company ripping off disabled people. This is disgraceful! We have been going through this with them for over 7 months with multiple phone calls between me and our doctors office staff. We have provided every paper form they have requested but they keep finding more paperwork they need. They are even harassing our doctor's office staff with affidavits and phone calls insinuating they are lying. How are they able to get away with this? My husband was put on depression medicine because of this and now back 7 months on our mortgage benefit. I am also losing sleep on this and now I am calling them and leaving messages and they are not even calling me back.

Karen, I am sorry to hear that you are having so much trouble with your insurance carrier. Unfortunately this is typical behavior on their part. If you would like a free consultation you can call into our office and ask to speak to an attorney. We can either represent you or possibly give you advice as to how to better handle the situation. The number is (888) 729-3355.
---
---