As long term disability insurance lawyers that have helped thousands of disability insurance claimants we are pleased to announce that Cigna / Life Insurance Company of North America (LINA) has entered into a "Regulatory Settlement Agreement" ( hereinafter known as "Cigna Settlement") with the Departments of Insurance from California, Connecticut, Maine, Massachusetts, and Pennsylvania. On May 8, 2013, five states and Cigna signed an Agreement which requires Cigna to implement new disability claim handling practices, re-evaluate long term disability claims that were denied during the time period of January 1, 2009 through December 31, 2010 and pay fines totalling $1,675,000. Residents of California are entitled to have a Cigna long term disability denial reconsidered if the claim was denied between January 1, 2008 through December 31, 2010.
This specific agreement only requires Cigna to reevaluate claims for residents of California, Connecticut, Maine, Massachusetts, and Pennsylvania. It is likely that other states will continue to investigate Cigna and require them to enter into a similar agreement. If your Cigna short or long term disability claim has been wrongfully denied in any state, then Attorneys Dell & Schaefer is offering an immediate free consultation to advise you of your potential right to collect disability benefits.
$77 Million and More of Wrongfully Denied Long Term Disability Benefit Payments
According to the California Department of Insurance press release on May 24, 2013, "Cigna has set aside $77 million for projected payments to policy holders potentially nationwide whose claims were not handled properly." If you have received a letter from Cigna advising of your rights to have your Cigna disability denial reconsidered, then you must respond to Cigna within 60 days of the date of the letter to preserve your right to a claim reassessment. We are recommending that all claimants that receive a Cigna reassessment letter contact Cigna immediately to advise of their desire to submit a reassessment of their prior claim denial.
The next recommended step is to contact Attorneys Dell & Schaefer so that a claimant can be advised of their rights and give themselves the best chance to have their claim approved. If you have not received any letters from Cigna, our lawyers can help you to obtain the proper documentation. "Our long term disability attorneys have helped thousands of Cigna disability claimants and we know exactly what Cigna requires in order to approve a long term disability claim," stated managing attorney Gregory Dell.
Our website contains a lot of information about Cigna, such as videos, public comments, court opinion summaries and resolved cases which you can view by clicking here.
Highlights of the May 13, 2013 Cigna Regulatory Settlement Agreement
The complete Cigna Agreement is 33 pages and reads similar to your typical legally drafted document. You can click here to review a complete copy of the May 13, 2013 Cigna Regulatory Settlement Agreement. We also welcome you to watch our Cigna Settlement video in which disability attorneys Gregory Dell and Stephen Jessup discuss the Cigna Agreement in greater detail.
The Cigna Agreement requires Cigna to implement a corrective plan of action, be subject to monthly monitoring by the five states department of insurance, and implement a reassessment program of previously denied claims.
The corrective plan of action requires Cigna to implement enhanced claim procedures for the handling of long term disability claims. The new claim handling procedures, which are specified in the Cigna Agreement discuss the following procedures which Cigna must comply with when making a determination on a long term disability claim:
a) Specific guidelines for how much weight must be given to an approved SSDI claim.
b) Procedures for gathering medical documentation, evaluating medical support of disability with co-morbid or co-existing conditions, and properly documenting conclusions.
c) Guideline for use of external medical resources for IME and FCE examinations and using a third party vendor to select the IME or FCE examiner.
d) "If a file is determined to lack sufficient information, claim handling personnel will take reasonable steps to work with claimant to identify and obtain such information."
e) Requirement that each clinical, vocational or medical professional employed by Cigna to execute a "Statement Regarding Professional Conduct".
f) In soliciting evaluations of claimant impairment from professionals, Cigna will provide each professional with all available medical, clinical and/or vocational evidence in the claim file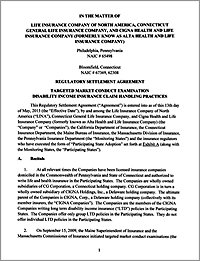 In addition to the implementation of the new enhanced claim procedures and a claim reassessment program, Cigna will be subject to constant monitoring by the five state departments of Insurance for a two year period. The states will be monitoring claims denied after January 1, 2013 and claims that Cigna is required to reassess that were previously denied in 2008 through 2010. Cigna will be required to meet with insurance company investigators and provide monthly and quarterly reporting to the states regarding their compliance with new claim handling procedures and the status on the number of previously denied claims they have reassessed. Cigna is required to establish a Disability Claim Quality Assessment Team which is comprised of 10 Cigna employees with at least 8 years of disability claim experience.
The Assessment team will be responsible for reviewing claims and making sure the new policies are being implemented properly. In addition, Cigna must form a Management Advisory Group, which will report to and meet on a quarterly basis with the department of insurance investigators. The Management Advisory Group includes the following Cigna high level employees: Vice President of Disability Operations, Group Claims Counsel, Director of Disability Claims, Total Quality Management, and Director of Policies and Procedures. At the conclusion of two years of monitoring by the states, Cigna will be subject to re-examination of their claim handling procedures.
If Cigna fails to comply, then they will be subject to additional fines. Cigna was fined $600,000 by the California Department of Insurance in 2006 and then was fined again in 2013 due to their lack of compliance following a 2010 re-examination by the California Department of Insurance. Only time will tell if Cigna will be able to comply with the requirements of the 2013 Settlement Agreement.
Legal Help With A Cigna Disability Denial Claim Reassessment
The Cigna Regulatory Settlement Agreement requires immediate action by a previously denied claimant. It is important to take immediate action if your Cigna long term disability claim was denied. It is important to gather copies of any prior documentation regarding your previous Cigna disability denial. It is anticipated that Cigna will challenge the reassessments with high scrutiny; therefore claimants must be very prepared when submitting a reassessment. Contact any of our disability lawyers for a free immediate consultation to discuss your potential Cigna disability claim reassessment.