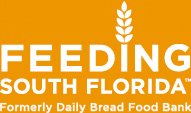 Feeding South Florida, is a not-for-profit organization, that empowers other South Florida not-for-profit organizations, to assist people in need and improve their lives, by providing food and other grocery products to local food banks and by educating and engaging our local community to fight hunger and poverty.
There are over 619,000 people who live in poverty throughout South Florida, 214,000 of which are children. Many of those in need are not so different from either you or I but due to the housing crisis, and a 14.2% unemployment rate here in south Florida, they suddenly find themselves in need of help with the most basic of things, finding their next meal.
Feeding South Florida distributes approximately 1.8 million pounds of food each month to hungry South Floridians, including children and the elderly, the unemployed and the working poor, the disabled, the homeless, and victims of natural disasters, illness and violence.
Through the generosity of our employees and our friends at Kobeni, we were able to provide two full pallets of food to those in need.
For more information on Feeding South Florida please visit their website at: http://www.feedingsouthflorida.org/home.htm
Letter received from Feeding South Florida (PDF):