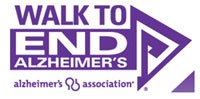 Attorneys Dell & Schaefer has committed to match all donations raised by the Dell & Schaefer Team in the Walk To End Alzheimer's. That means a donation of $10 will actually be a donation of $20. Dell & Schaefer employee and team Captain Melissa Machuca has set a goal to raise at least $500 to support the Alzheimer's Association, which provides consultation, information and referral, and support programs in communities around the country.
Team Captain Melissa Machuca grandmother was diagnosed with Alzheimer's a few years ago and has moved closer to home to help assist with her full time care. "My grandmother and I are very close and it's been really hard seeing her struggle with this disease," said Melissa Machuca. "But there is something we can do to stop this devastating disease. We can walk together to end this disease. That's why I'm participating in the 2.5 mile Alzheimer's Association Walk to End Alzheimer's® in Hollywood on Saturday October 24, 2015. I hope you can join me."
Alzheimer's is a disease that affects over 5 million Americans and millions more are faced with the financial and emotional challenges of caring for a loved one with the disease.
If you are interested in donating or walking in the event please click this link.