Attorneys Dell & Schaefer Support the MD Anderson Cancer Center in their Fight Against Cancer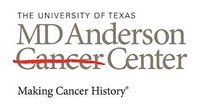 Attorneys Dell & Schaefer is happy to contribute to the MD Anderson Cancer Center as they lead the way with industry leading quality care that is accessible to everyone. MD Anderson Cancer Center provides the latest cancer treatments for patients and is one of the leading hospitals in the world for cancer research. As attorneys helping the disabled we have witnessed the treatment and help that MD Anderson and their team have provided to our own clients. MD Anderson makes life better for those dealing with cancer.
"Every financial gift brings us closer to a future free of cancer, and makes a difference in the lives of cancer patients everywhere," said Gregory Dell, Managing Partner at Dell & Schaefer. You can make a difference too. If you would like to contribute, please visit MD Anderson Ways-of-Giving.
---
---