The Police Athletic League (PAL) is a youth activities program run by Police Officers of the Hollywood, Florida Police Department. The Hollywood PAL is an organization that strives to help youth meet those challenges and perform to the best of their ability. PAL offers athletics, recreational and educational activities that instill positive life principles and character building tools.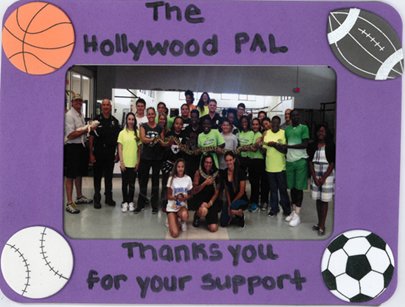 This summer Hollywood PAL offered, at no charge, a 4 week summer camp to 20 local kids. The kids participated in activities that promote physical activity, team work, leadership and safety.
Resource officers were also building bridges of trust and friendship with the youth in the community. Some youth in the community grow up with no positive contact with Police Officers. PAL provides positive role models for youth and a drug free, safe place and atmosphere for youth to play and learn.
PAL is a cooperative effort of the Hollywood Police Department, community volunteers, businesses leaders and citizens. Programing made possible by the fundraising efforts and support of the community.