As Parkinson's symptoms worsen, your ability to maintain a continuous work schedule begins to falter. A short or long term disability insurance claim for people with Parkinsons needs to be properly documented in order for you to have the best chance to collect disability benefits. No definitive tests exist for Parkinson's disease, so it can be very difficult to diagnose, particularly in the disease's early stages. Our disability lawyers have helped hundreds of claimants with Parkinson's and we will work with your doctor(s) to obtain the proper medical documentation necessary to support you claim. Our lawyers know exactly what the disability insurance company look for in order to deny your claim. We advise you throughout every step of your claim so that you have the best chance to collect benefits for as long as you need them. If your neurologist is not documenting your file properly, then we will help you to educate your doctor and also recommend a new doctor if your doctor cannot deal with the insurance company demands. It is essential to document every aspect of your disability. We want to make the disability claim process as easy as possible for you.
Whether you are applying for disability insurance benefits, on claim, or have recently been denied, our disability lawyers will provide you with a free consultation and let you know immediately if we can assist you.
Documenting Restrictions and Limitations From Parkinson's Disease
The Parkinson's Action Network has created a form to assist individuals with Parkinson's in documenting their restrictions, limitations and physical complaints. While this form is very helpful, you must consider your insurance policy's specific definition of disability when completing the form. Additionally, all disability insurance companies have their own forms that they require. Contact our office for assistance with your long-term disability application.
The more documentation you have relating to your disability, the stronger your case will be. This includes records of symptoms, treatments, doctor visitations, medication and time off from work, and a detailed occupational description of your pre-disability job. Include dates and descriptions.
How Parkinson's Restricts your Ability to Work
The symptoms of Parkinson's disease vary from person to person. Early signs may be very slight and easy to overlook. Symptoms characteristically begin on one side of the body and usually remain worse on that side even after symptoms begin to affect both sides of the body.
The signs and symptoms of Parkinson's may consist of:
Uncontrollable tremors
Inability to make voluntary movement
Muscle stiffness
Impaired posture and balance
A losing automated movements (blinking or smiling)
Changes in speech
Dementia (in the late stages of the disease)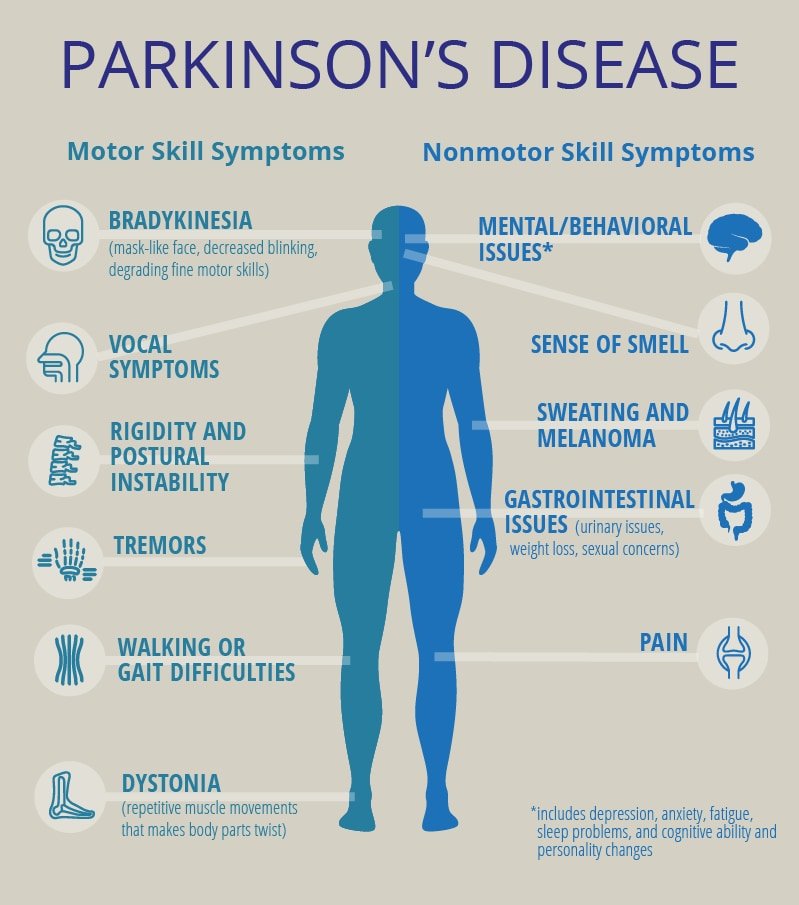 Our Experience with Parkinson's Disability Benefits
Our legal team has helped many Parkinson's claimants receive benefits after their provider arbitrarily denied their claims. Explore these resolved cases to discover the services we offer people in your position:
– Prudential Awards Long Term Disability Benefits to Doctor Suffering From Parkinson's Disease
– Attorneys Dell & Schaefer win long term disability insurance appeal against MetLife on behalf of engineer suffering from Parkinson's
– Cigna approves internal medicine doctor for long-term total disability benefits
We offer free consultations to all our potential clients. We assist clients all over the USA. We have been helping claimants since 1979.
Resources for Parkinson's Disease
Visit the following resources for more information about Parkinson's:
Several charities devote their resources to Parkinson's treatment, detection and research, such as:
For frequently updated information about Parkinson's Disease and how new cases and laws could affect your benefits, check back on this page.
Recently Resolved Cases (6)
Cases & Claim Tips (2)