Nationwide Disability Insurance Claim Representation
---
---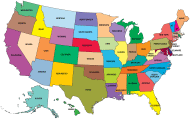 The Attorneys Dell & Schaefer disability income division managed by Gregory Michael Dell, represents disability insurance claimants throughout the nation.
We welcome the opportunity to provide you with a free consultation regarding your claim for disability income benefits.
Our law firm has built the infrastructure and established an aggressive nationwide reputation by assisting thousands of short term and long term disability insurance claimants. Our initial communication with all potential clients is always a free phone consultation with one of our disability attorneys. We are available for consultation at satellite office locations in every state. Most disability insurance companies conduct business and sell disability insurance coverage in every state; therefore our disability lawyers usually file claim denial lawsuits in federal court. We have co-counsel relationships with attorneys in each state throughout the country.
Here's a list of disability insurance information for each state:
Our law firm is continually striving to provide prompt and efficient legal services for our clients. We engage in regular phone conferences with our clients and utilize technology such as GoToMeeting and Skype in order to review and discuss any documents.
We maintain a custom designed case management system which allows us to constantly monitor the current status and history of a client's claim. In addition, our office is paperless, which allows our lawyers to have nationwide web-based access to any document in a client's file within a matter of seconds. As a result of our paperless system all correspondence and documentation is sent to our Hollywood, Florida nationwide headquarters for scanning and processing.
Call our nationwide main phone number 800-682-8331 to schedule a free telephone consultation with one of our disability attorneys.
All correspondence shall be mailed or faxed to:
Attorneys Dell & Schaefer Nationwide Headquarters:
2404 Hollywood Boulevard
Hollywood, Florida 33020
Nationwide Central Fax: 1-888-776-3876
Outside USA Phone Number: 954-620-8300
---
---
---