Knee disorder claims are often challenged by long-term disability insurance companies, but objective testing and proper documentation can help get your disability benefits approved. In our knee disorder disability video, disability insurance attorneys Rachel Alters and Gregory Dell provide tips on how your doctor should document your knee limitations and how the use of outside evaluations will support your case. Contact any of our disability insurance attorneys for a free initial phone consultation to answer any of your long-term disability insurance questions.
Most disability insurance companies wrongfully think that if you have a sedentary job, like a desk job or anything that requires you to sit for at least six out of eight hours a day, then you should be able to deal with your knee pain and work. They believe that you shouldn't have knee problems if you can sit all day. As disability insurance attorneys that have handled hundreds of knee disability insurance claims we want to share some information to give you the best chance to have your disability insurance claim approved.
In this article:
How do you prove that a person with a disabling knee condition can't do a sedentary job?
It's really important to work with the treating physicians on the way they document the knee restrictions and limitations so that when the carrier obtains the medical records they'll see that the doctor is not saying that as long as the claimant isn't standing for long periods or walking or lifting heavy objects, it's OK for them to work. When somebody has a disabling knee condition, whether it's caused by injury, arthritis or another chronic condition, they often cannot stand for long periods. It's important that the treating physician states in the medical records that the claimant also can't sit for long periods and needs to change positions often. I find that my clients who have severe knee issues need to elevate their legs throughout the day but in different positions. They need to lie down. They can't just sit all day and be OK – they're really uncomfortable.
If somebody is in severe pain, whether or not they're sitting at a desk all day, they are unable to focus and concentrate on their job. So, I tell my clients to ask their treating physicians to make sure they're documenting that they're only able to sit in small increments of time – not for extended periods. They must elevate the leg during the day, change positions, and walk around. Most jobs aren't going to allow somebody to lie down when they're supposed to be sitting at a desk using a computer all day. It's very difficult to use a computer while your leg is elevated in the air, so it makes it impossible with somebody for a knee condition to be able to work in a sedentary capacity on a full-time basis.
How important is the documentation of medical records by the treating doctor?
It's very important for the doctor to document as much as they possibly can in your medical records. There should be documentation that shows the pain that the claimant is in, any range of motion issues, and if there is swelling or other issues with the knees. It has to all be consistently documented in the records. Often my clients will say, "I went to the doctor four months ago. I had knee surgery. And he says there's nothing else he can do for me, so I'm not going to go back." That's the number one mistake that clients make when their doctors tell them there's nothing more to do for the knee and that it's now a chronic condition. They tell their patients that they are going to have to deal with this pain. So, they no longer go see the doctor. The insurance carrier takes the fact that you stopped seeing the doctor as their cue that you're cured and can go back to work. So, I tell my clients to make sure they see their doctor at least every three months. Make sure you're telling your doctor every issue that you're having with your knee. If it's pain while you're sitting in one position and it only feels better when it's elevated, you need to tell the doctor.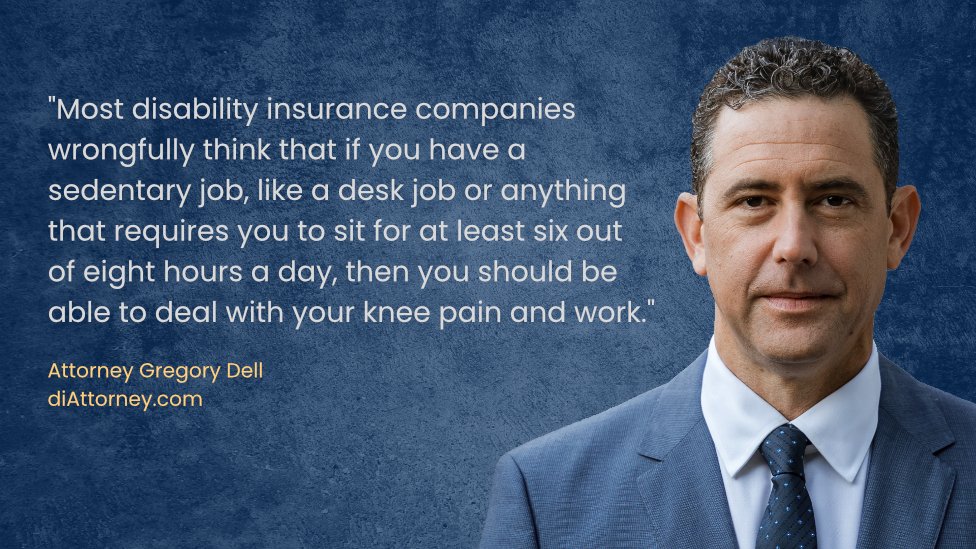 I have clients who, after sitting 15 minutes in a chair, their knee starts to throb. If they had to do some sort of job where they needed to focus and concentrate, they wouldn't be able to. They need to tell their doctors that they can't concentrate for long periods due to their pain. If they take pain medication to alleviate the pain, and can't focus because it causes side effects such as fatigue and drowsiness, they need to lay down and take a nap. It all needs to be in the medical records. The doctors need to document that they cannot sit for long periods and therefore cannot work in a full-time capacity due to the knee issue.
Could a disability company challenge my claim even if I have multiple doctors who have been treating me for years and support it?
They can do this in many ways. The most inexpensive way for the disability company to challenge your doctor's opinions about your restrictions and limitations is to hire their own peer review doctors to review your medical records and determine that they disagree. They look at the test results and the medical records. Even though the claimant's doctors say they believe the restrictions and limitations prevent them from being able to work in their occupation due to issues with their knee, they have an orthopedic doctor who reviewed the records and disagrees. This claimant can sit for six to eight continuous hours a day with no problems whatsoever. They can bend, stoop, all that's required in a sedentary job with absolutely no problem.
My clients will ask how they can do that when they haven't met and examined me? They've never even talked to my doctors. Can they just look at my medical records and render their own medical opinion which will trump my treating doctor's opinion? The answer to that question, unfortunately, is yes. The insurance companies routinely send peer review reports to us with a denial letter stating that our doctors disagree with the treating doctors, and cut off the benefit.
What is an independent medical evaluation or an IME?
Disability insurance companies can also send claimants for an independent medical evaluation. It's a little more costly for the insurance company, so if somebody has a little higher benefit, they will go and send them for an evaluation by one of their doctors. They are biased – they're being hired by the insurance companies. The companies are paying the doctor to render an opinion. More often than not, when you go to an IME, the opinion is likely going to be that you could go back to work full time in a sedentary capacity. If these doctors were rendering opinions that state that claimants are disabled, they would no longer get hired by the insurance companies. So, they're biased. I make sure that I very carefully prepare my clients for an independent medical examination to make sure that they know what to say and what not to say. Most importantly, they're usually followed with video surveillance on the way and walking into the independent medical exam. It allows the insurance company an opportunity to know where the client's going to be at a particular time to get them on video. I tell my clients to be very mindful that they're being watched. After the evaluation, make sure you go home because there are many ways in which the insurance carrier can rebuke what your physicians are telling them.
Do I have to undergo knee surgery to get my disability benefits approved?
A disability company can never make a claimant undergo surgery. That's not something that's in the disability policy. However, they can try and hold it against you if you don't follow the doctor's recommendations. I've had clients who are afraid to have surgery. The insurance carrier is not going to require the surgery, but often they will point out that the surgery was recommended and suggest that the claimant is not receiving appropriate care. They can't force you to undergo surgery because no surgery is 100% going to work and guarantee that you're going to be back to yourself. Whether it's a knee or an elbow or a back or a neck, there are always risks involved when it comes to operating. It's a risk-benefit analysis. If the physician can't guarantee, which they never can, that after the surgery the patient will be good to go, there's no real requirement that they undergo the surgery under the terms of the policy.
What is a functional capacity exam and how can it be helpful to prove a knee disability?
The FCE is a test performed by a physical therapist that we often use to give objective proof of somebody's inability to function and perform a sedentary job 40 hours a week. It's typically a 3 to 4-hour evaluation that's going to test your ability to sit for long periods, how long you can stand, how much weight you can carry, and if you can bend, stoop, or climb a ladder. It's an evaluation of all the physical functions that can be required in any typical workday. The physical therapist will interpret the data generated from the testing to determine whether, in their opinion, they believe that you could sit for long periods, stand for long enough, lift enough to be able to perform a sedentary job. These are very useful tools in proving to the insurance company that the claimant could not do a sedentary job 40 hours a week with their knee condition.
Correlating Your Occupational Duties and Medical Restrictions with a Vocational Expert
Another thing we take into consideration is the claimant's occupational duties. You take all of the restrictions and limitations from the medical records and correlate that with either the duties of the claimant's occupation at the time they became disabled or of any gainful occupation, if that is the definition of disability. Often, we'll even take it a step further and retain a vocational expert, who will then coordinate everything dealing with the occupational component and the physical component as well. We work closely with the claimant, with their doctors, to obtain those objective testing results. It's a complete package, and you have to know how to present it to the disability insurance company, especially if your claim has been denied so that you can get your benefits approved.
What do you recommend for someone who has questions about their disability insurance claim?
We encourage you to contact us for a free initial telephone consultation, where Rachel, myself, or any of our lawyers will review your disability insurance policy. Or if you've been denied, we'll review a copy of your denial letter. We'll let you know immediately how we can assist you. Our clients are located all over the country. So, no matter where you live, we're available to assist you. We encourage you to search through our website and to look up valuable information based on your disability insurance company, your medical condition, or your occupation. You'll find articles about cases we've handled or other lawsuits that have been filed.
There are reviews of insurance companies where other people share their experiences, which may be similar to yours. You're also going to find thousands of questions and answers from all our lawyers. We want you to have all this information because it's going to educate you about the disability insurance process. It's a complicated process with a bit of gamesmanship involved. You have to know how the disability insurance company thinks to put yourself in the best position to get approved. After reviewing this information and having the opportunity to speak with us, I hope that you feel you're in a better position to either get your disability benefits approved or continue your benefits. Should you need us in the future, we look forward to the opportunity to speak with you.
Recently Resolved Cases (7)
Cases & Claim Tips (36)