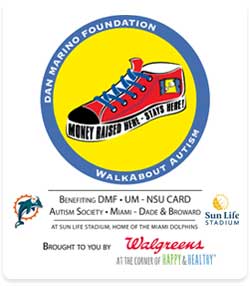 Attorneys Dell & Schaefer is a financial supporter of The Dan Marino Foundation's WalkAbout Autism event.
Nearly 17,000 people participated in the second annual Walk at Sun Life Stadium, including current and alumni Miami Dolphins players, community business leaders and elected officials.
To date, more than $500,000 has been raised for The Dan Marino Foundation, which helps individuals with autism spectrum disorders receive the support and resources they need to reach their full potential, as well as provide training and awareness to community professionals. Diagnosis and treatment of autism at a young age can help improve the functioning of someone living with autism. "Autism is a challenging disease and we are thankful for the Dan Marino Foundation's efforts to educate and help those suffering with this disease", stated Attorney Gregory Dell.
To learn more about the Marino Foundation, visit www.danmarinofoundation.org. For more information or to make a donation in benefit of the Dan Marino Foundation WalkAbout Autism, please visit www.dmfwalkaboutautism.org.
Founded in 1979, Attorneys Dell & Schaefer are proud members and supporters of the community. The firm volunteers its time and donates to wide variety of organizations and charities.