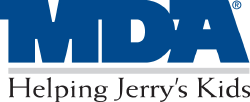 We are proud contributors to MDA's Lock Up Program, taking place on June 30, 2010 at the Palm Aire Country Club. The Lock Up Program involves local business and community leaders who agree to be "arrested" for having a "big heart". This community-wide event raises funds for children and adults living with muscular dystrophy in Sarasota, Manatee, Hardee, Highlands, and DeSoto counties of Florida.
MDA is the nonprofit health agency dedicated to curing muscular dystrophy, ALS and related diseases by funding worldwide research. The MDA supports more research on neuromuscular diseases than any other private-sector organization in the world. They also provide comprehensive health care, support services, advocacy and education for those living with muscle and nerve disease.
The MDA was created in 1950 by a group of adults with muscular dystrophy, parents of children with muscular dystrophy and a physician-scientist studying the disorder. The MDA's most recognized volunteer and national chairman is entertainer Jerry Lewis. Since 1966 Jerry Lewis has hosted the Jerry Lewis MDA Telethon, which has raised over 1.46 billion dollars for MDA research and support.