After being twice denied continued disability benefits, an Addiction Medicine Physician, with the help of his California Disability Attorney, was forced to file a lawsuit against Hartford.
Dr. K has been employed by Loma Linda University School of Medicine ("Loma Linda") as an Addiction Medicine Physician. In June 2007, Dr. K was forced to leave work due to acute myocardial infarction and severe coronary artery disease. After undergoing a quintuple bypass surgery, Dr. K. made a claim with Hartford, his disability insurance carrier, and was paid short-term disability ("STD") insurance benefits followed by long-term disability ("LTD") benefits.
This is a case about the relationship between a disability insurance company and its allegedly "independent" third party IME providers.
Hartford terminates payments of LTD benefits
In February 2009, Dr. K was notified by letter from a Hartford Investigative Specialist, that he no longer satisfied the definition of disability under the policy. As a result, Hartford denied further disability benefits payments to Dr. K.
Dr. K. appealed Hartford's decision to terminate his LTD benefits. Two months later, Hartford denied Dr. K's appeal. With his administrative remedies exhausted, Dr. K was forced to file a lawsuit against the Hartford. (View more information and other similar cases involving The Hartford).
Court finds Hartford was wrong
Following his unsuccessful appeal, Dr. K and his California disability attorney sued Hartford in a California court. After reviewing the record, the court concluded that Hartford's decision was wrong.
When conducting a review of Dr. K's claim, Hartford had lingering questions regarding Dr. K's functionality. Instead of arranging for a Functional Capacity Evaluation ("FCE"), Hartford referred Dr. K's claim to MES Solutions and UDC – two companies with which Hartford has long, well-established relationships. In fact, as the court later discovered, both companies relied heavily on Hartford for a sizeable portion of their overall revenues.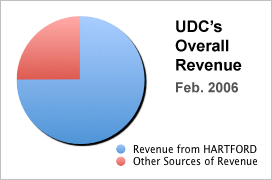 From the end of 2004 to February 2006, Hartford referred to UDC an average of 200 to 250 claims per month. By February 2006, UDC derived 70-75 percent of its overall revenue from Hartford.
From 2007 to 2009, the year when Dr. K's benefits were terminated, Hartford referrals to MES increased from 673 to 1,496 claims and the amount billed by MES for these referrals almost tripled – from about $.5 million in 2007 to roughly $1.5 million in 2009.
As the court explained, these numbers cast doubts on the reliability of the claim reviews done by UDC and MES as well as Hartford's decision to terminate Dr. K's benefits. The court explained that the nature of Hartford's relationship with UDC and MES creates an incentive for the companies to reach results that are favorable to Hartford in order to keep their business. In other words, UDC and MES both had strong motivations to support the denial of Dr K's claim.
Accordingly, the court was unconvinced UDC and MES had provided an unbiased review of Dr. K's claim and concluded that Hartford had failed to conduct a full and fair review of Dr. K's claim.