New Mexico Disability Attorney – Disability Insurance Lawyers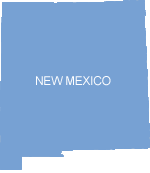 Our New Mexico Disability Attorneys assist disability insurance claimants during all stages of a claim for disability insurance benefits. Since 1979, our disability law firm has represented disability claimants against every major disability insurance company. We have earned our reputation in both New Mexico and Nationwide as aggressive, competent, and reliable disability insurance lawyers.
It is essential to hire a disability insurance law firm that has the resources, co-counsel network and experience to effectively represent disability insurance claimants against these nationwide disability insurance companies. We have relationships with lawyers throughout New Mexico and if we are not able to assist you with your disability claim, then we may be able to recommend a New Mexico disability lawyer. If you have a disability insurance claim in either New Mexico or any other state, contact our disability insurance attorneys for a free consultation.
New Mexico residents that have had their disability insurance benefits denied can file a lawsuit in the District Court under a limited set of circumstances. New Mexico's state appellate courts includes the Court of Appeals and the New Mexico Supreme Court. If the disability claimant resides in New Mexico and the disability insurance company is located in a different state, and the amount of disability benefits payable is greater than $75,000, then the lawsuit can be filed in New Mexico Federal District Court. If the disability insurance policy is an employer provided policy governed by ERISA, then the disability claim must be filed in federal court. New Mexico has one Federal District Court. An ERISA governed disability claim denial lawsuit can usually be filed in any state that the insurance company conducts business. According to the New Mexico Department of Insurance there are more than 1,300 insurance companies that sell insurance products in New Mexico.
Do I Need To Come To Your Office In Order For Your Firm To Evaluate My Claim?
No. We are certainly available to meet with you at any of our satellite offices located in either New Mexico or another state, however following a review of your disability policy or any other pertinent documents and a free telephone conversation we are usually able to make a determination. It is our job to try to get our clients paid their disability insurance benefits as quick as possible; therefore we prefer to have an initial consultation via telephone.
Click here to see how we increase efficiency and reduce legal expenses for our clients.
Do I Have to File My Disability Denial Lawsuit in New Mexico?
In the event of a disability claim denial, our disability attorneys will usually have the option of selecting one of several states to file the disability lawsuit. More than 80% of short term and long term disability insurance policies are governed by a federal law called ERISA, which means that a New Mexico disability insurance attorney can usually file a lawsuit in any federal court in any state. Click here to learn more.
New Mexico Disability Insurance Claim Locations (Short Term and Long Term Disability Benefits)
The list below includes the cities in New Mexico in which our disability attorneys are available for a free review of your short term or long term disability claim. If you require assistance in another state please click here.
Get assistance from a Disability Attorney in all New Mexico cities.
Alamogordo
Albuquerque
Anthony
Artesia
Aztec
Belen
Carlsbad
Clovis
Deming
Edgewood
Espanola
Farmington
Gallup
Hobbs
Las Cruces
Las Vegas
Los Alamos
Los Lunas
Portales
Rio Rancho
Roswell
Santa Fe
Shiprock
Shiprock
Taos
New Mexico Courts, Government and New Mexico Department of Insurance Information
FEDERAL COURTS
---
Request a Free Consultation
Click here or call

800-682-8331

now!
We respond the same day.
We represent disability insurance claimants all over the United States.
Resolved Cases
We have handled thousands of disability claims and you can read about them.
Testimonials
Read what our clients say about us.
Celestine D.

·

I am a 61 year old Senior Business Analyst. I had been working at a health insurance company for approximately 11 years when I became disabled and have had numerous...› continue
Kathy C.

·

I consulted with Attorney Cesar Gavidia when my disability insurance benefits were cancelled after 4 and a half years, even though my doctor said that there was no...› continue
Rose L.

·

My husband had paid for private disability insurance from the first year he worked. 30 some years later he filed a claim, it was denied. Together we submitted the claim...› continue
---